Why Are Beverage Stocks The Next Focus For Wall Street? FBEC Worldwide Inc (OTCMKTS:FBEC), Celsius Holdings, Inc. (OTCMKTS:CELH)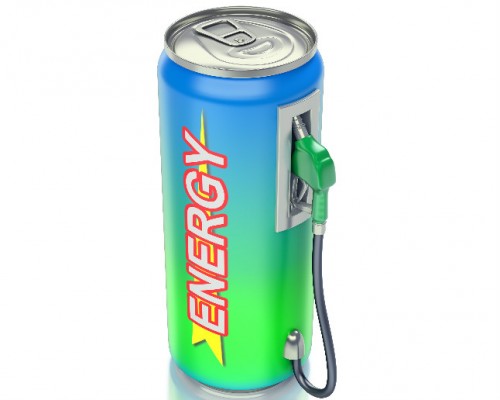 In the United States, hemp is often confused with marijuana since they are both derived from cannabis. The main difference, though, is that hemp does not contain high amounts of THC, the psychoactive ingredient in marijuana that can get one high. The dietary supplement industry can gain a lot from hemp, though, because of a substance called cannabidiol (CBD). CBD has shown nutritional value for decades, but the association it has with marijuana makes it frowned upon in the United States. That is changing now, as hemp begins to gain a better reputation which could lead to a growth in the market. The challenge is not selling hemp to consumers, but creating an industry that supports the cultivation and selling of hemp.
Luckily, some companies are trying to pave the way to a hemp-friendly industry. One of those companies, for instance, is FBEC Worldwide Inc (OTCMKTS:FBEC), which is an innovative beverage company whose main product, the WolfShot™ Hemp Energy™ shot, is infused with CBD. Not only has FBEC Worldwide, Inc. made a proprietary beverage using hemp, but they will also resume selling in on Friday, November 6. Consumers will be able to purchase the energy shot on www.Alibaba.com, www.Ebay.com, and www.WolfEnergyShot.com with more online destinations to be announced. Here is what CEO Jason Spatafora had to say:
 "We are all very excited to get WolfShot™ back online for retail purchase. FBEC's current strategy is one that preserves wholesale & retail distribution for the long term. With that said, online sales are a key component to the revenue equation given the cost that goes into the first round of production. Many of these costs associated with designing, packaging and sourcing ingredients on a large scale have fees that get factored into the first run of any product being made there by increasing the overall cost per unit. Our strategy is one that should potentially reduce our costs and improve upon our margins, giving us far more latitude with the wholesalers/distributors we currently have in place."
FBEC Worldwide Inc (OTCMKTS:FBEC) is also working on developing other e-platforms to carry multiple brands of products that are currently being made not by just FBEC, but other partners that the company is currently in negotiations with. Distribution channels plan to reach dispensaries, gas stations, head shops, and other brick locations. "WolfShot™ is the only hemp infused energy drink on the market that I know of using 100% real hemp juice. Competing products use either hemp seed oil or hemp powder. Hemp juice is derived from the actual hemp plant itself and, therefore, contains phytonutrients that oil and powder do not. When looking at the health benefits of hemp juice versus hemp oil or powder, a comparable analogy would be a shot of wheatgrass compared to a slice of wheat bread," Spatafora added. Over the last three months, FBEC has seen a high of $0.12 and a low of $0.011. That's a difference of 990%. With such a major expansion, FBEC is a great company to watch.
ConforMIS Inc (NASDAQ: CFMS): Premium Members Made A Quick 65% Profit In Just 1 week
Well, as we know there are two types of person in the stock market one is trader and another is investor. Investors tend to put money for longer time, while traders make short term bets. We know, its not at all easy to make money in the short term especially in the equity markets. However, premium members at Traders Insights are making awesome money on our calls on our swing trading calls. WE ARE OFFERING A SPECIAL 7-Day Trial Period at Just $5 (so that everybody can make money with us and join us if satisfied). Register Here http://tradersinsights.com/pricing/
JOIN US NOW: For Details Contact us at info@tradersinsights.com
Or You can send me a friend request on facebook here https://www.facebook.com/sebastian.gomestradersinsights
Now let me show you how we made quick 43% in just 1-week which was posted to our premium members:-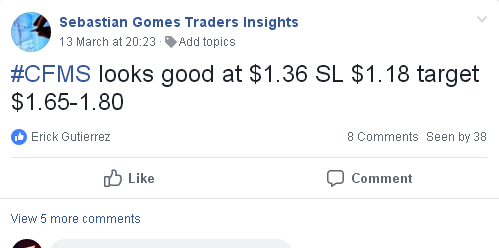 We told our members in facebook private group to buy ConforMIS Inc (NASDAQ: CFMS) yesterday (march 13th) at $1.36. Now look at the price of the stock – its up 65% at $2.25 from our buy price. This is how easy money they made. If you had invested $5,000 in CFMS, it could had been moved up to $8,250. It's not yet late, join us at info@tradersinsights.com
Rockwell Medical Inc (NASDAQ: RMTI): Premium Members Made A Quick 20% Profit In 24 Hours
Well, as we know there are two types of person in the stock market one is trader and another is investor. Investors tend to put money for longer time, while traders make short term bets. We know, its not at all easy to make money in the short term especially in the equity markets. However, premium members at Traders Insights are making awesome money on our calls on our swing trading calls. WE ARE OFFERING A SPECIAL 7-Day Trial Period at Just $5 (so that everybody can make money with us and join us if satisfied). Register Here http://tradersinsights.com/pricing/
JOIN US NOW: For Details Contact us at info@tradersinsights.com
Or You can send me a friend request on facebook here https://www.facebook.com/sebastian.gomestradersinsights
Now let me show you how we made quick 43% in just 1-week which was posted to our premium members:-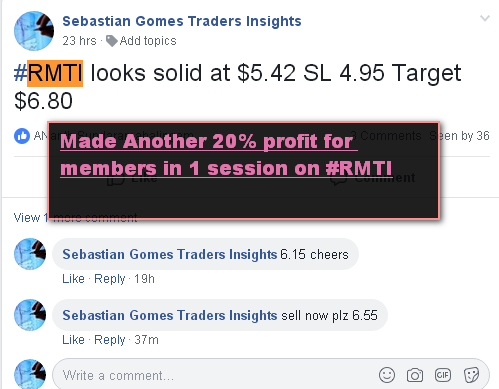 We told our members in facebook private group to buy Rockwell Medical Inc (NASDAQ: RMTI) yesterday (march 18th) at $5.42. Now look at the price of the stock – its up 20% at $6.55 from our buy price. This is how easy money they made. If you had invested $5,000 in RMTI, it could had been moved up to $6,000. It's not yet late, join us at info@tradersinsights.com
Sorrento Therapeutics Inc (NASDAQ: SRNE): Members Made A Hefty 15% Profit In 24 Hours
Well, as we know there are two types of person in the stock market one is trader and another is investor. Investors tend to put money for longer time, while traders make short term bets. We know, its not at all easy to make money in the short term especially in the equity markets. However, premium members at Traders Insights are making awesome money on our calls on our swing trading calls. WE ARE OFFERING A SPECIAL 7-Day Trial Period at Just $5 (so that everybody can make money with us and join us if satisfied). Register Here http://tradersinsights.com/pricing/
 JOIN US NOW: For Details Contact us at info@tradersinsights.com
 Or You can send me a friend request on facebook here https://www.facebook.com/sebastian.gomestradersinsights
Now let me show you how we made quick 43% in just 1-week which was posted to our premium members:-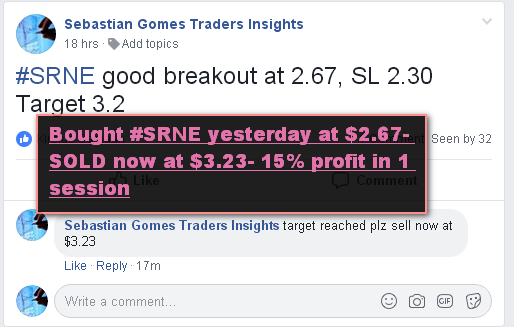 We told our members in facebook private group to buy Sorrento Therapeutics Inc (NASDAQ: SRNE) yesterday (march 18th) at $2.67. Now look at the price of the stock – its up 15% at $3.23 from our buy price. This is how easy money they made. If you had invested $5,000 in SRNE, it could had been moved up to $5,750.  It's not yet late, join us at info@tradersinsights.com