New Products In Energy Drink Market Bring In Hemp Products; FBEC Worldwide Inc (FBEC), The Coca-Cola Co (KO), Monster Beverage Corp (MNST)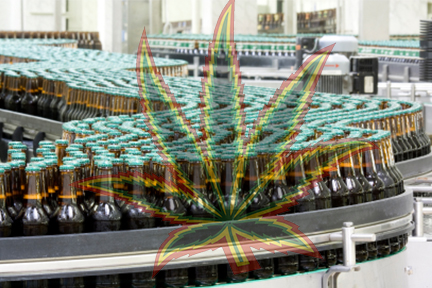 According to a survey from this past summer, Mintel, a global research firm, predicts that the United States energy drink market will grow by almost 52% from now to 2019. The target market for these drinks are older Millennials and parents that need that extra boost for the day. Mintel also predicts that the energy drink market will reach $10.8 billion very soon. Between 2009 and 2014, the United States energy drink and shots market grew by an impressive 56%. The growth rate up to now has been tremendous and it would not be a surprise to see it continue.
FBEC Worldwide Inc (OTCMKTS:FBEC) is a company with a unique product called the WolfShot™. The WolfShot™ is an energy shot infused with hemp. The beverage company is committed to making more proprietary products, such as the WolfShot™, and reaching specific target markets domestically and internationally. Through creative marketing and customer satisfaction, the company has formulated many growth strategies that will be geared towards specific demographic groups.
The company has stayed true to its promise to grow, as they have announced two letters of intent (LOI) recently. The first one was with CBD Globe Distributors Ltd. to sell the Company's WolfShot™ in both Europe and the United Kingdom. The LOI states that FBEC Worldwide Inc (OTCMKTS:FBEC) would also collaborate with CBD Globe Distributors' CBD product line, the Ma Brand, and manage sales, marketing and distribution in the United States. The second LOI was aimed at forming a strategic Joint Venture with the recognized hemp energy shot brand, DuBe(R). This partnership would also result in entering a new infusion into the market, CBD infusion.
The best part about FBEC Worldwide's expansion is that one LOI even turned into a Joint Venture Agreement. On November 16th, the company announced that a Joint Venture agreement was signed with CBD Globe Distributors Ltd. As a result, FBEC Worldwide will own 50.1% of the new Joint Venture LLC and receive 50% of the net profit from its projects. Here's what CEO Jason Spatafora had to say:
"Executing this Joint Venture enters FBEC Worldwide, Inc. into the rapidly expanding CBD industry. I have been searching for the best way to cost effectively capitalize on this growing market and CBD Globe Distributors offers a turnkey operation built around their ultra-high-end CBD Ma brand. I couldn't be more excited to work with a company with such a high quality product."
All of this great news was reflected in the market as well. On October 27th, FBEC was at a low of $0.0262 and had a volume of 404k. On November 19th, FBEC grew 167% and saw a high of $0.07 with a volume of three million shares. With the company working to expand, it would not see a surprise to see FBEC grow at similar rates in the future.
Eanings Review: Rambus Inc. (NASDAQ:RMBS), Revlon Inc (NYSE:REV)
Revlon Inc(NYSE:REV) +2.5% after-hours after announcing that President and CEO Fabian Garcia is stepping down "to pursue other opportunities," and Executive Vice Chair Paul Meister will oversee operations on an interim basis.
REV also says it expects Q4 revenues of $785M, below $801M from the year-earlier quarter but ahead of analyst consensus estimate of $743M, and a $60M-$80M net loss for the quarter due to a charge related to the recent tax law changes.
REV expects Q4 adjusted EBITDA of $110M-$115M vs. $115M analyst consensus.
CFO Chris Peterson also denies rumors that the company is considering a material asset transfer that would shield assets from lenders.
Rambus Inc.(NASDAQ:RMBS) shares are down 5.5% aftermarket following Q4 results that beat revenue estimates and met on EPS. In-line Q1 guidance (under ASC 605 accounting change) has revenue from $94M to $100M (consensus: $100.38M) and EPS from $0.17 to $0.23 (consensus: $0.18).
Revenue breakdown: Royalties, $77.9M (+10% Y/Y); Product, $8.5M (-27%); Contract and other revenue, $15.5M (+2%); Licensing billings, $76.6M (+18%).Key metrics: Non-GAAP operating margin, 31%; total operating expenses, $67.5M; cash and equivalents, $172.2M; cash flow from operations, $33.3M.
ADTRAN, Inc. (NASDAQ:ADTN) Hits New Lows After Issuing disappointing Earnings Forecast
ADTRAN, Inc.(NASDAQ:ADTN) slumped to a 52-week low after forecasting below consensus guidance for Q4, revising its revenue estimate downward  to $125M from $155M-$165M earlier and seeing EPS of ~$0.01; analysts had expected EPS of ~$0.14 and revenue of $161.2M.
ADTN also projects Q1 to come in at roughly the same as Q4, misses analyst consensus of $167.5M.
CEO Tom Stanton says Q4 results have been hurt by a merger-related review, which ADTN expects to be completed in 60-90 days, and slowdown in the spending at a domestic Tier 1 customer.
MKM Partners analyst Michael Genovese believes the customer is CenturyLink (CTL -2%), which accounted for 24% of ADTN's total sales in 2016.
The analyst thinks the weakness should prove temporary, adding that ADTN's performance likely will accelerate into 2019 as the company stands to benefit from 5G spending; MKM trims its ADTN target price to $25 from $27 but keeps its Buy rating.
Big IPO Coming: Celator Pharmaceuticals Inc(NASDAQ:CPXX), Moleculin Biotech's (MBRX)

Today at 10am Eastern, Moleculin Biotech ticker symbol MBRX will debut on the Nasdaq stock exchange and is being considered as one of the most highly anticipated IPO's of 2016 by the street. The excitement and anticipation is arising from many experts saying that Moleculin Biotech's (MBRX) drug annamycin is far superior to Celator Pharmaceuticals Inc(NASDAQ:CPXX) drug daunorubicin.
CPXX which has been bought out by Jazz Pharmaceuticals plc – Ordinary Shares(NASDAQ:JAZZ) for $1.5 Billion Dollars last week, share price ran from $1.6 to $31 in 2 months. Moleculin Biotech's share structure is a 1.5m public float Priced at $6.