New Products In Energy Drink Market Bring In Hemp Products; FBEC Worldwide Inc (FBEC), The Coca-Cola Co (KO), Monster Beverage Corp (MNST)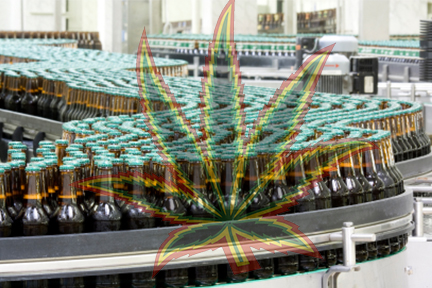 According to a survey from this past summer, Mintel, a global research firm, predicts that the United States energy drink market will grow by almost 52% from now to 2019. The target market for these drinks are older Millennials and parents that need that extra boost for the day. Mintel also predicts that the energy drink market will reach $10.8 billion very soon. Between 2009 and 2014, the United States energy drink and shots market grew by an impressive 56%. The growth rate up to now has been tremendous and it would not be a surprise to see it continue.
FBEC Worldwide Inc (OTCMKTS:FBEC) is a company with a unique product called the WolfShot™. The WolfShot™ is an energy shot infused with hemp. The beverage company is committed to making more proprietary products, such as the WolfShot™, and reaching specific target markets domestically and internationally. Through creative marketing and customer satisfaction, the company has formulated many growth strategies that will be geared towards specific demographic groups.
The company has stayed true to its promise to grow, as they have announced two letters of intent (LOI) recently. The first one was with CBD Globe Distributors Ltd. to sell the Company's WolfShot™ in both Europe and the United Kingdom. The LOI states that FBEC Worldwide Inc (OTCMKTS:FBEC) would also collaborate with CBD Globe Distributors' CBD product line, the Ma Brand, and manage sales, marketing and distribution in the United States. The second LOI was aimed at forming a strategic Joint Venture with the recognized hemp energy shot brand, DuBe(R). This partnership would also result in entering a new infusion into the market, CBD infusion.
The best part about FBEC Worldwide's expansion is that one LOI even turned into a Joint Venture Agreement. On November 16th, the company announced that a Joint Venture agreement was signed with CBD Globe Distributors Ltd. As a result, FBEC Worldwide will own 50.1% of the new Joint Venture LLC and receive 50% of the net profit from its projects. Here's what CEO Jason Spatafora had to say:
"Executing this Joint Venture enters FBEC Worldwide, Inc. into the rapidly expanding CBD industry. I have been searching for the best way to cost effectively capitalize on this growing market and CBD Globe Distributors offers a turnkey operation built around their ultra-high-end CBD Ma brand. I couldn't be more excited to work with a company with such a high quality product."
All of this great news was reflected in the market as well. On October 27th, FBEC was at a low of $0.0262 and had a volume of 404k. On November 19th, FBEC grew 167% and saw a high of $0.07 with a volume of three million shares. With the company working to expand, it would not see a surprise to see FBEC grow at similar rates in the future.
ConforMIS Inc (NASDAQ: CFMS): Premium Members Made A Quick 65% Profit In Just 1 week
Well, as we know there are two types of person in the stock market one is trader and another is investor. Investors tend to put money for longer time, while traders make short term bets. We know, its not at all easy to make money in the short term especially in the equity markets. However, premium members at Traders Insights are making awesome money on our calls on our swing trading calls. WE ARE OFFERING A SPECIAL 7-Day Trial Period at Just $5 (so that everybody can make money with us and join us if satisfied). Register Here http://tradersinsights.com/pricing/
JOIN US NOW: For Details Contact us at info@tradersinsights.com
Or You can send me a friend request on facebook here https://www.facebook.com/sebastian.gomestradersinsights
Now let me show you how we made quick 43% in just 1-week which was posted to our premium members:-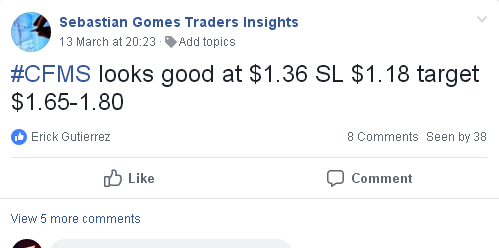 We told our members in facebook private group to buy ConforMIS Inc (NASDAQ: CFMS) yesterday (march 13th) at $1.36. Now look at the price of the stock – its up 65% at $2.25 from our buy price. This is how easy money they made. If you had invested $5,000 in CFMS, it could had been moved up to $8,250. It's not yet late, join us at info@tradersinsights.com
Rockwell Medical Inc (NASDAQ: RMTI): Premium Members Made A Quick 20% Profit In 24 Hours
Well, as we know there are two types of person in the stock market one is trader and another is investor. Investors tend to put money for longer time, while traders make short term bets. We know, its not at all easy to make money in the short term especially in the equity markets. However, premium members at Traders Insights are making awesome money on our calls on our swing trading calls. WE ARE OFFERING A SPECIAL 7-Day Trial Period at Just $5 (so that everybody can make money with us and join us if satisfied). Register Here http://tradersinsights.com/pricing/
JOIN US NOW: For Details Contact us at info@tradersinsights.com
Or You can send me a friend request on facebook here https://www.facebook.com/sebastian.gomestradersinsights
Now let me show you how we made quick 43% in just 1-week which was posted to our premium members:-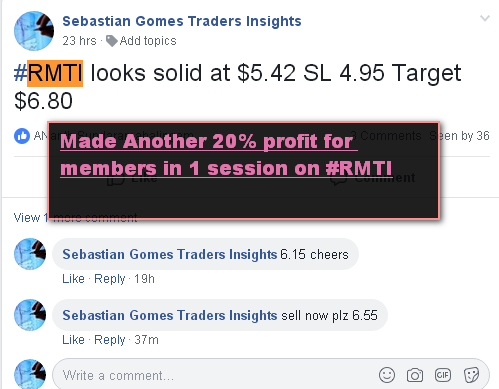 We told our members in facebook private group to buy Rockwell Medical Inc (NASDAQ: RMTI) yesterday (march 18th) at $5.42. Now look at the price of the stock – its up 20% at $6.55 from our buy price. This is how easy money they made. If you had invested $5,000 in RMTI, it could had been moved up to $6,000. It's not yet late, join us at info@tradersinsights.com
Sorrento Therapeutics Inc (NASDAQ: SRNE): Members Made A Hefty 15% Profit In 24 Hours
Well, as we know there are two types of person in the stock market one is trader and another is investor. Investors tend to put money for longer time, while traders make short term bets. We know, its not at all easy to make money in the short term especially in the equity markets. However, premium members at Traders Insights are making awesome money on our calls on our swing trading calls. WE ARE OFFERING A SPECIAL 7-Day Trial Period at Just $5 (so that everybody can make money with us and join us if satisfied). Register Here http://tradersinsights.com/pricing/
 JOIN US NOW: For Details Contact us at info@tradersinsights.com
 Or You can send me a friend request on facebook here https://www.facebook.com/sebastian.gomestradersinsights
Now let me show you how we made quick 43% in just 1-week which was posted to our premium members:-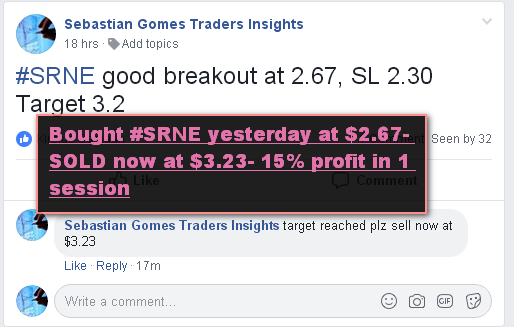 We told our members in facebook private group to buy Sorrento Therapeutics Inc (NASDAQ: SRNE) yesterday (march 18th) at $2.67. Now look at the price of the stock – its up 15% at $3.23 from our buy price. This is how easy money they made. If you had invested $5,000 in SRNE, it could had been moved up to $5,750.  It's not yet late, join us at info@tradersinsights.com