INVESTOR ALERT: December's Trending Biotech Stocks; VBI Vaccines Inc (VBIV), KaloBios Pharmaceuticals Inc (KBIO), Anavex Life Sciences Corp. (AVXL)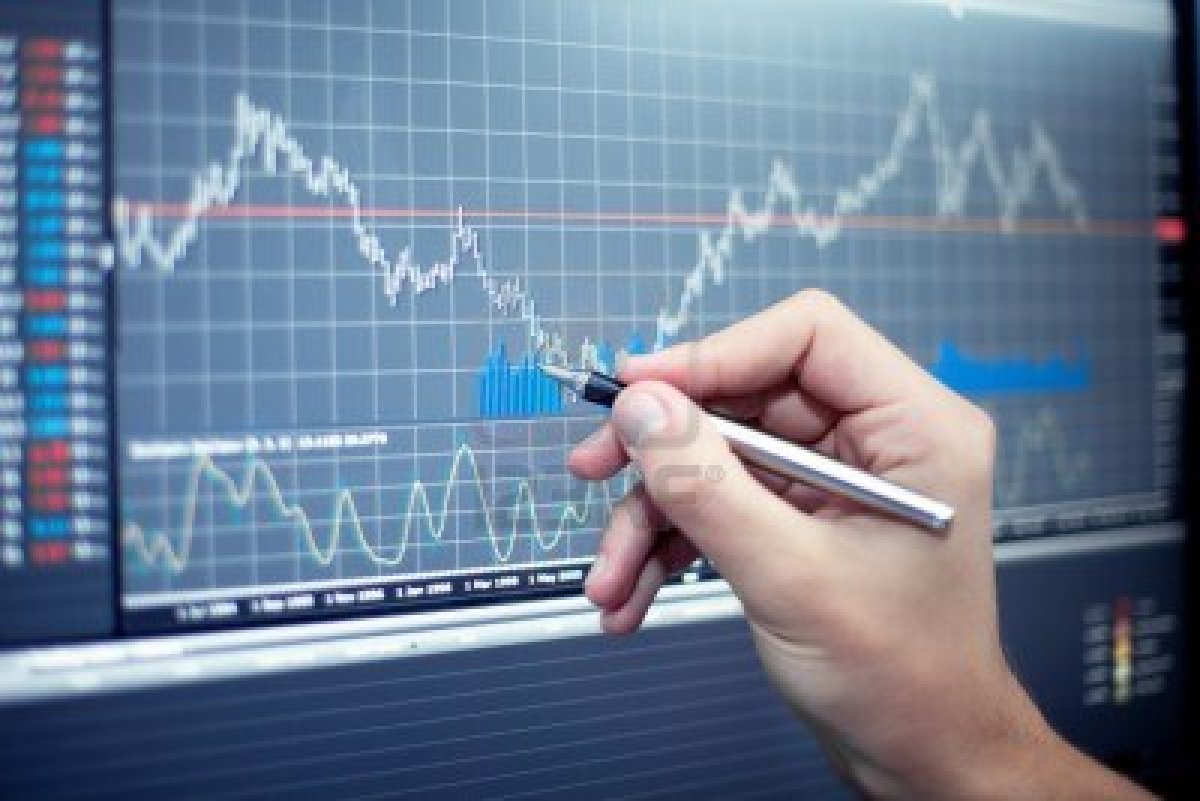 Biotechnology stocks have had their fair share of bumps and bruises after heavy concern surrounding pricing was brought up by several presidential candidates during the first round of debates. However, since then many stocks in this sector have taken a sharp turn in favor of the bulls. In fact, several have seen news releases on new management and even merger deals spark increased attention not only on the companies but also on the industry as a whole. Companies like VBI Vaccines Inc (NASDAQ:VBIV), KaloBios Pharmaceuticals Inc (NASDAQ:KBIO), Anavex Life Sciences Corp. (NASDAQ:AVXL).
VBI Vaccines Inc (NASDAQ:VBIV) is presenting at the LD Micro Conference this week with President and CEO Jeff Baxter as the presenter. Over the more recent weeks of the last 2 months the company has undergone several key changes including a planned merger with SCIVAC THERAPEUTICS INC (OTCMKTS:SVACF). "We believe that our proposed merger with SciVac would bring a commercial vaccine together with unique vaccine development and manufacturing capabilities. We look forward to potentially combining SciVac's assets and talent to create what we believe will become a leading global vaccine developer," stated Baxter in a recent corporate announcement.
This planned merger also brings to the table some of the biotech industry's notable veteran investors including Dr. Phillip Frost. This is from being SciVac's majority shareholder, at 25% (14% post-merger) through Opko Health Inc. (NYSE:OPK). Furthermore, since hitting lows in October of $2.25, shares of VBI have rebounded by as much as 27% with volume becoming increasingly more consistent over recent weeks.
Amidst much excitement in the market, KaloBios Pharmaceuticals Inc (NASDAQ:KBIO) has been the source both pain and pleasure depending on how the stock was traded during the incredible run it had beginning in November of this year. What began on November 16th was one of the largest stock runs of 2015 based on overall dollar volume and price movement. Following an opening price of $0.442 on the 16th, shares of KaloBios ran to highs of $45.82 days later. This 10,266.5% move caught many traders short as Martin Shkreli acquired 70% of the outstanding shares of the company and subsequently became its CEO.
Shkreli, as well as other investors committed to an equity investment of "at least $3million apart from a $10 million equity financing facility, subject to shareholder approval," as cited by Zacks Equity Research.
Anavex Life Sciences Corp. (NASDAQ:AVXL) announced earlier this week that it has appointed Ulrigh Elben, PhD as VP of Preclinical Operations to oversee pipeline development and optimization. Earlier in November the company reported positive results from an Alzheimer's study. The company announced the publication of further data for Anavex 3-71 in the peer reviewed scientific journal Neurodegenerative Diseases. Evidence provided a positive and more "upstream" effect on reducing synaptic loss, amyloid and tau pathologies and neuroinflammation.
Anavex 3-71 is part of Anavex's pipeline that also includes Anavex 2-73, which targets sigma-1 and muscarinic receptors. Since hitting lows of $3.16 in mid-November, the stock has seen a rebound of more than 150% after hitting highs of $8.16 on November 30th. The stock currently has held a price between $5.57-$7.08 since hitting those highs.
About Biotech Stocks (www.BiotechStocks.com)
Biotech Stocks (www.biotechstocks.com) is your best resource for today's emerging biotech industry. Whether you're looking for the best biotech stocks to buy, biotech news, trends in biotech, articles within the biotech industry and so much more, BiotechStocks.com is your destination for it all. Our goal is to become the central hub for all who are seeking current Biotech Stock News as well as biotech industry, political and social news, articles, trends & overall insight, delivered in a way that we all can relate to.
Legal Disclaimer
Except for the historical information presented herein, matters discussed in this article contain forward-looking statements that are subject to certain risks and uncertainties that could cause actual results to differ materially from any future results, performance or achievements expressed or implied by such statements. BiotechStocks.com, is not registered with any fvb inancial or securities regulatory authority, and does not provide nor claims to provide investment advice or recommendations to readers of this release. BiotechStocks.com, may from time to time have a position in the securities mentioned herein and may increase or decrease such positions without notice. For making specific investment decisions, readers should seek their own advice. BiotechStocks.com, may be compensated for its services in the form of cash-based compensation or equity securities in the companies it writes about, or a combination of the two. MAPH Enterprises LLC BiotechStocks.com | was paid an advertising fee of $30,000 cash & ZERO shares by the issuer for visual sponsorship on BiotechStocks.com and for visual placement of VBIV. within written materials. FOR A DURATION OF 30 DAYS BEGINNING 11/30/2015 – 1/1/2016.
Contact Info:
Email:info@biotechstocks.com
URL: www.BiotechStocks.com
SOURCE: BioTechStocks.com
ConforMIS Inc (NASDAQ: CFMS): Premium Members Made A Quick 65% Profit In Just 1 week
Well, as we know there are two types of person in the stock market one is trader and another is investor. Investors tend to put money for longer time, while traders make short term bets. We know, its not at all easy to make money in the short term especially in the equity markets. However, premium members at Traders Insights are making awesome money on our calls on our swing trading calls. WE ARE OFFERING A SPECIAL 7-Day Trial Period at Just $5 (so that everybody can make money with us and join us if satisfied). Register Here http://tradersinsights.com/pricing/
JOIN US NOW: For Details Contact us at info@tradersinsights.com
Or You can send me a friend request on facebook here https://www.facebook.com/sebastian.gomestradersinsights
Now let me show you how we made quick 43% in just 1-week which was posted to our premium members:-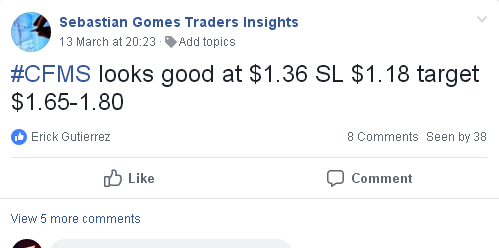 We told our members in facebook private group to buy ConforMIS Inc (NASDAQ: CFMS) yesterday (march 13th) at $1.36. Now look at the price of the stock – its up 65% at $2.25 from our buy price. This is how easy money they made. If you had invested $5,000 in CFMS, it could had been moved up to $8,250. It's not yet late, join us at info@tradersinsights.com
Rockwell Medical Inc (NASDAQ: RMTI): Premium Members Made A Quick 20% Profit In 24 Hours
Well, as we know there are two types of person in the stock market one is trader and another is investor. Investors tend to put money for longer time, while traders make short term bets. We know, its not at all easy to make money in the short term especially in the equity markets. However, premium members at Traders Insights are making awesome money on our calls on our swing trading calls. WE ARE OFFERING A SPECIAL 7-Day Trial Period at Just $5 (so that everybody can make money with us and join us if satisfied). Register Here http://tradersinsights.com/pricing/
JOIN US NOW: For Details Contact us at info@tradersinsights.com
Or You can send me a friend request on facebook here https://www.facebook.com/sebastian.gomestradersinsights
Now let me show you how we made quick 43% in just 1-week which was posted to our premium members:-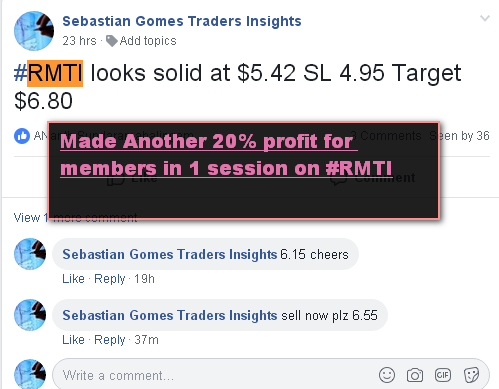 We told our members in facebook private group to buy Rockwell Medical Inc (NASDAQ: RMTI) yesterday (march 18th) at $5.42. Now look at the price of the stock – its up 20% at $6.55 from our buy price. This is how easy money they made. If you had invested $5,000 in RMTI, it could had been moved up to $6,000. It's not yet late, join us at info@tradersinsights.com
Sorrento Therapeutics Inc (NASDAQ: SRNE): Members Made A Hefty 15% Profit In 24 Hours
Well, as we know there are two types of person in the stock market one is trader and another is investor. Investors tend to put money for longer time, while traders make short term bets. We know, its not at all easy to make money in the short term especially in the equity markets. However, premium members at Traders Insights are making awesome money on our calls on our swing trading calls. WE ARE OFFERING A SPECIAL 7-Day Trial Period at Just $5 (so that everybody can make money with us and join us if satisfied). Register Here http://tradersinsights.com/pricing/
 JOIN US NOW: For Details Contact us at info@tradersinsights.com
 Or You can send me a friend request on facebook here https://www.facebook.com/sebastian.gomestradersinsights
Now let me show you how we made quick 43% in just 1-week which was posted to our premium members:-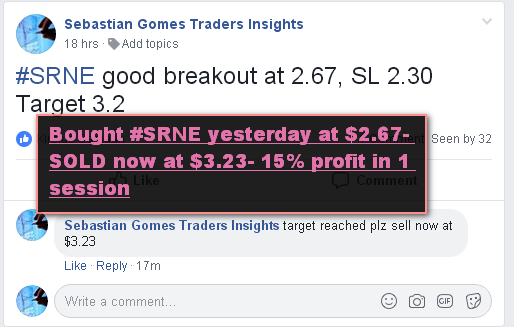 We told our members in facebook private group to buy Sorrento Therapeutics Inc (NASDAQ: SRNE) yesterday (march 18th) at $2.67. Now look at the price of the stock – its up 15% at $3.23 from our buy price. This is how easy money they made. If you had invested $5,000 in SRNE, it could had been moved up to $5,750.  It's not yet late, join us at info@tradersinsights.com