U.S. Healthcare Market Leaders ID New Frontiers; Progressive Care Inc (OTCMKTS:RXMD), SCIVAC THERAPEUTICS INC (OTCMKTS:SVACF), Galmed Pharmaceuticals Ltd (NASDAQ:GLMD), NeoGenomics, Inc. (NASDAQ:NEO)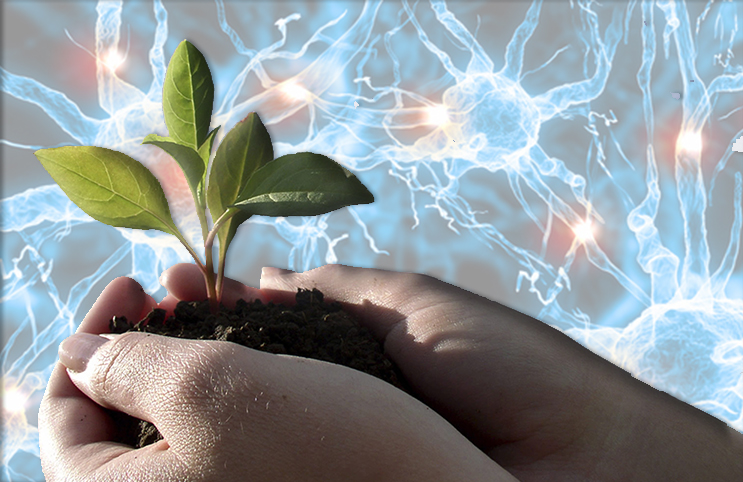 In the U.S., healthcare spending is now approximately 17% of gross domestic product (GDP). In the middle of an economic recovery, healthcare costs are growing double what the Unites State's economic growth rate is. In Europe, with their own economic hardships, healthcare costs are also growing exponentially beyond the national and regional economic growth rates. The organization for Economic Co-operation and Development (OECD) states that healthcare spending has an average of 9.5 percent of GDP in the 34 OECD countries in North and South America, Europe, and Asia. The annual growth rate in healthcare costs for the group has an average of about 4.9%.
You're not going to believe what this Biotech Company just did
Progressive Care Inc (OTCMKTS:RXMD) is a company looking to be apart of these percentages for the U.S. Progressive Care Inc. is based in South Florida and provides prescription pharmaceuticals. More specifically, it focuses on anti-retroviral patient management, long-term care, and durable medical equipment. Through its subsidiary, PharmCo., they use demographics to fulfill public needs. Furthermore, by using different market strategies, Progressive Care Inc. seeks to be a part of the market growth with their outstanding performances.
On Tuesday morning, Progressive Care Inc (OTCMKTS:RXMD) announced that they have had a strong third quarter, brining in $10 million in revenue. This was well-expected after having record breaking sales for three months in a row. Here's what COO Shital Parikh Mars had to say: "This year we have been able to truly capitalize on PharmCo's status as an industry leader in providing unmatched products and services. Our marketing efforts to healthcare institutions has proved fruitful in advancing the company's financial position as well cementing PharmCo as a preferred pharmacy for insurance carriers. As we enter our busiest quarter, we are excited to grow our operation and expand on our success." On the day this news came out, RXMD saw lows of $0.0061 and spiked 59% to a high of $0.0097. Furthermore, RXMD was trading with a volume of 23,002,703 by the end of the day.
Phil Frost Just Invested BIG with this Biotech Stock; Click For More
ConforMIS Inc (NASDAQ: CFMS): Premium Members Made A Quick 65% Profit In Just 1 week
Well, as we know there are two types of person in the stock market one is trader and another is investor. Investors tend to put money for longer time, while traders make short term bets. We know, its not at all easy to make money in the short term especially in the equity markets. However, premium members at Traders Insights are making awesome money on our calls on our swing trading calls. WE ARE OFFERING A SPECIAL 7-Day Trial Period at Just $5 (so that everybody can make money with us and join us if satisfied). Register Here http://tradersinsights.com/pricing/
JOIN US NOW: For Details Contact us at info@tradersinsights.com
Or You can send me a friend request on facebook here https://www.facebook.com/sebastian.gomestradersinsights
Now let me show you how we made quick 43% in just 1-week which was posted to our premium members:-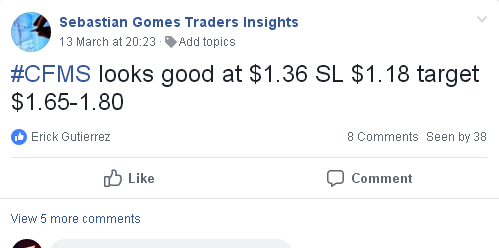 We told our members in facebook private group to buy ConforMIS Inc (NASDAQ: CFMS) yesterday (march 13th) at $1.36. Now look at the price of the stock – its up 65% at $2.25 from our buy price. This is how easy money they made. If you had invested $5,000 in CFMS, it could had been moved up to $8,250. It's not yet late, join us at info@tradersinsights.com
Rockwell Medical Inc (NASDAQ: RMTI): Premium Members Made A Quick 20% Profit In 24 Hours
Well, as we know there are two types of person in the stock market one is trader and another is investor. Investors tend to put money for longer time, while traders make short term bets. We know, its not at all easy to make money in the short term especially in the equity markets. However, premium members at Traders Insights are making awesome money on our calls on our swing trading calls. WE ARE OFFERING A SPECIAL 7-Day Trial Period at Just $5 (so that everybody can make money with us and join us if satisfied). Register Here http://tradersinsights.com/pricing/
JOIN US NOW: For Details Contact us at info@tradersinsights.com
Or You can send me a friend request on facebook here https://www.facebook.com/sebastian.gomestradersinsights
Now let me show you how we made quick 43% in just 1-week which was posted to our premium members:-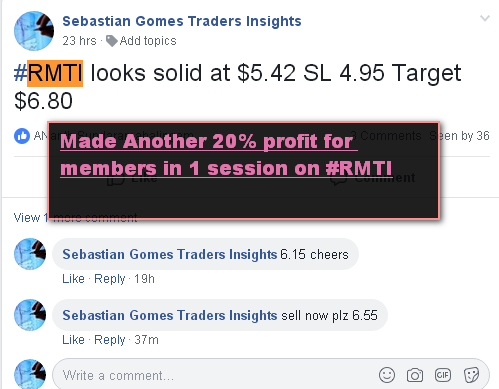 We told our members in facebook private group to buy Rockwell Medical Inc (NASDAQ: RMTI) yesterday (march 18th) at $5.42. Now look at the price of the stock – its up 20% at $6.55 from our buy price. This is how easy money they made. If you had invested $5,000 in RMTI, it could had been moved up to $6,000. It's not yet late, join us at info@tradersinsights.com
Sorrento Therapeutics Inc (NASDAQ: SRNE): Members Made A Hefty 15% Profit In 24 Hours
Well, as we know there are two types of person in the stock market one is trader and another is investor. Investors tend to put money for longer time, while traders make short term bets. We know, its not at all easy to make money in the short term especially in the equity markets. However, premium members at Traders Insights are making awesome money on our calls on our swing trading calls. WE ARE OFFERING A SPECIAL 7-Day Trial Period at Just $5 (so that everybody can make money with us and join us if satisfied). Register Here http://tradersinsights.com/pricing/
 JOIN US NOW: For Details Contact us at info@tradersinsights.com
 Or You can send me a friend request on facebook here https://www.facebook.com/sebastian.gomestradersinsights
Now let me show you how we made quick 43% in just 1-week which was posted to our premium members:-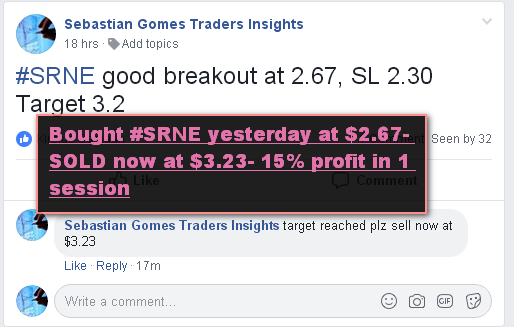 We told our members in facebook private group to buy Sorrento Therapeutics Inc (NASDAQ: SRNE) yesterday (march 18th) at $2.67. Now look at the price of the stock – its up 15% at $3.23 from our buy price. This is how easy money they made. If you had invested $5,000 in SRNE, it could had been moved up to $5,750.  It's not yet late, join us at info@tradersinsights.com