Biotech Figurehead Endorsing the Little Guys; SCIVAC THERAPEUTICS INC (OTCMKTS:SVACF), Opko Health Inc. (NYSE:OPK), Teva Pharmaceutical Industries Ltd (ADR) (NYSE:TEVA), GlaxoSmithKline plc (ADR) (NYSE:GSK)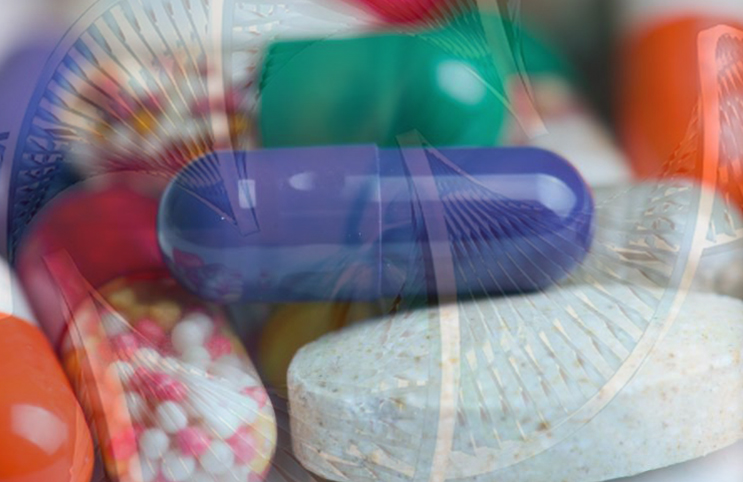 Though weakness in China, volatile commodity prices and increasing concerns over the health of the U.S. economy have had an opposing impact on capital markets and have caused a number of market participants to sit out, healthcare companies continue to be active. Experts don't believe macro fears will impact M&A. David Blume, Co-founder and Managing Director at Edgemont Capital stated, "I feel healthcare will be more resilient than most sectors, because the fundamentals that are driving M&A in healthcare aren't as sensitive to overall macro-economic factors," He continued with, "What's driving M&A activity in pharma is the challenge of bringing new products to market in a cost effective way. Companies that are cash rich and product poor are looking for access to products, and use lower cost capital and cash reserves in order to do so." Healthcare began 2015 on strong note, seeing $95.3 billion worth of deals in the first quarter of 2015, amounting for 12% of all the merger and acquisitions, seeing a 70% increase year over year. Next in the first half of 2015 the pharmaceutical sector saw approximately $221 billion in deals, almost three times the amount for the first six months of 2014. "Pharmaceutical companies have to buy, especially in the biotech arena for fear of their pipelines drying," said Afsaneh Naimollah, Partner at Marlin & Associates. He concluded with, "The pharmaceutical companies have to consolidate not only for cost synergies, but to get their patent portfolios fortified."
In today's world, there are over 400 million people infected with hepatitis in all its forms. Last year, there were 1.3 million deaths recorded. And the world's deadliest form of hepatitis is Hepatitis B, with over 240 million infections and approximately 780,000 deaths per year. This brings us to a biotech company that is looking to take the hepatitis B market by storm, SCIVAC THERAPEUTICS INC (OTCMKTS:SVACF). SciVac Therapeutics, Inc, has already begun to attract the big players such as former Chariman of Teva Pharmaceutical Industries Ltd (ADR) (NYSE:TEVA) and current CEO and Chairman of Opko Health Inc. (NYSE:OPK) Philip Frost. About a month ago Philip Frost closed an agreement with SciVac that brought the company public and immediately available to investors. The company's flagship product hepatitis B (HBV) vaccine is called SciVac's Sci-B-Vac has already been approved in 10 countries globally, and is proven to be 98% effective. If that's not enough the vaccine has been shown to be 100% effective on newborns that were administered the treatment. The treatment has already been tested in 20 separate clinical trials on more than 5,000 patients.
Dr. Phillip Frost, states, SCIVAC THERAPEUTICS INC (OTCMKTS:SVACF) intends to pursue marketing approvals for Sci-B-Vac in the United States and other territories worldwide, initially focusing on at-risk populations such as End-Stage Renal Disease and HIV patients." The company has a market cap of almost 150 million with current sales of about $10 million annually in vaccine. If by any chance Sci-B-Vac can successfully infiltrate pharma giant GlaxoSmithKline plc (ADR) (NYSE:GSK) vaccine Engerix market of over $1 billion a year to even 30%, that then equates to $300 million in sales annually for SciVac. With the proper support from biotech figurehead like Dr. Frost along evidence from clinical trials I think it's fair to say SciVac's vaccine has the potential of wiping hepatitis B from existence.
About SciVac Therapeutics Inc.
SciVac Therapeutics Inc., headquartered in Rehovot Israel, is in the business of developing, producing and marketing biological products for human healthcare. The Company's flagship product, Sci‐B‐Vac™, is a recombinant 3rd generation hepatitis B vaccine. The Company is also developing an early-stage enzyme-based product designated S-Graft, which is a recombinant human deoxyribonuclease I, a repurposed biological therapeutic intended for the prevention and treatment of graft-versus-host disease (GVHD). The Company also offers contract development and manufacturing services to the life sciences and biotechnology markets.
ConforMIS Inc (NASDAQ: CFMS): Premium Members Made A Quick 65% Profit In Just 1 week
Well, as we know there are two types of person in the stock market one is trader and another is investor. Investors tend to put money for longer time, while traders make short term bets. We know, its not at all easy to make money in the short term especially in the equity markets. However, premium members at Traders Insights are making awesome money on our calls on our swing trading calls. WE ARE OFFERING A SPECIAL 7-Day Trial Period at Just $5 (so that everybody can make money with us and join us if satisfied). Register Here http://tradersinsights.com/pricing/
JOIN US NOW: For Details Contact us at info@tradersinsights.com
Or You can send me a friend request on facebook here https://www.facebook.com/sebastian.gomestradersinsights
Now let me show you how we made quick 43% in just 1-week which was posted to our premium members:-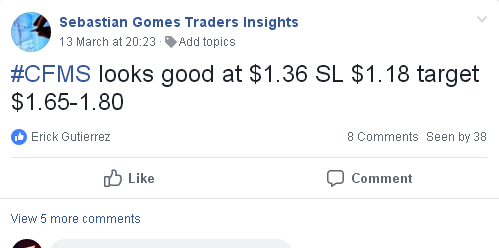 We told our members in facebook private group to buy ConforMIS Inc (NASDAQ: CFMS) yesterday (march 13th) at $1.36. Now look at the price of the stock – its up 65% at $2.25 from our buy price. This is how easy money they made. If you had invested $5,000 in CFMS, it could had been moved up to $8,250. It's not yet late, join us at info@tradersinsights.com
Rockwell Medical Inc (NASDAQ: RMTI): Premium Members Made A Quick 20% Profit In 24 Hours
Well, as we know there are two types of person in the stock market one is trader and another is investor. Investors tend to put money for longer time, while traders make short term bets. We know, its not at all easy to make money in the short term especially in the equity markets. However, premium members at Traders Insights are making awesome money on our calls on our swing trading calls. WE ARE OFFERING A SPECIAL 7-Day Trial Period at Just $5 (so that everybody can make money with us and join us if satisfied). Register Here http://tradersinsights.com/pricing/
JOIN US NOW: For Details Contact us at info@tradersinsights.com
Or You can send me a friend request on facebook here https://www.facebook.com/sebastian.gomestradersinsights
Now let me show you how we made quick 43% in just 1-week which was posted to our premium members:-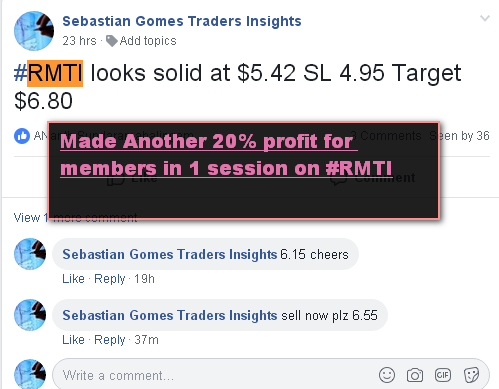 We told our members in facebook private group to buy Rockwell Medical Inc (NASDAQ: RMTI) yesterday (march 18th) at $5.42. Now look at the price of the stock – its up 20% at $6.55 from our buy price. This is how easy money they made. If you had invested $5,000 in RMTI, it could had been moved up to $6,000. It's not yet late, join us at info@tradersinsights.com
Sorrento Therapeutics Inc (NASDAQ: SRNE): Members Made A Hefty 15% Profit In 24 Hours
Well, as we know there are two types of person in the stock market one is trader and another is investor. Investors tend to put money for longer time, while traders make short term bets. We know, its not at all easy to make money in the short term especially in the equity markets. However, premium members at Traders Insights are making awesome money on our calls on our swing trading calls. WE ARE OFFERING A SPECIAL 7-Day Trial Period at Just $5 (so that everybody can make money with us and join us if satisfied). Register Here http://tradersinsights.com/pricing/
 JOIN US NOW: For Details Contact us at info@tradersinsights.com
 Or You can send me a friend request on facebook here https://www.facebook.com/sebastian.gomestradersinsights
Now let me show you how we made quick 43% in just 1-week which was posted to our premium members:-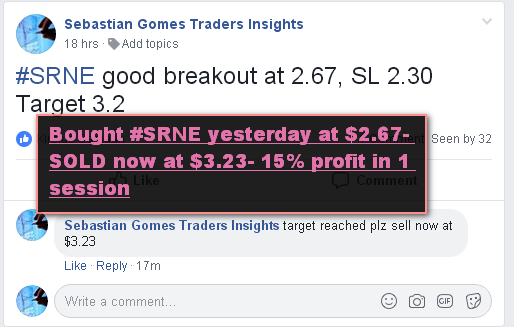 We told our members in facebook private group to buy Sorrento Therapeutics Inc (NASDAQ: SRNE) yesterday (march 18th) at $2.67. Now look at the price of the stock – its up 15% at $3.23 from our buy price. This is how easy money they made. If you had invested $5,000 in SRNE, it could had been moved up to $5,750.  It's not yet late, join us at info@tradersinsights.com