Clean Power Solutions Take Aim At New Markets; Pacific Green Technologies Inc (PGTK), Plug Power Inc (PLUG), Liberty Star Uranium & Metals Corp. (LBSR)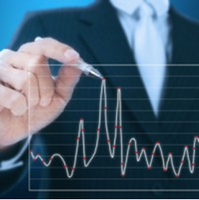 According to the IEA's annual market report, renewable energy will be the largest source of electricity up to 2020 because of falling costs as well as eagerness to fight climate change. The report states that there is great promise within renewables because of their affordability, energy security, and positive impact on the environment. Here is what IEA's Executive Director, Faith Birol, had to say: "Renewables are poised to seize the crucial top spot in global power supply growth, but this is hardly time for complacency."
Pacific Green Technologies Inc (OTCMKTS:PGTK) has been hard at work trying to be a part of a future that is eco-friendly. The company has developed unique emission control technologies as a solution to the Earth's need for healthier and more sustainable energy. Pacific Green Technologies Inc. also develops Renewable Power Plants though its unique Emissions Control Technology and licenses ENVI-Clean and ENVI-Pure, patented emissions control technologies.
On December 1st, Pacific Green Technologies Inc. reported that it signed a commercial joint venture agreement with POWERCHINA SPEM Co., Ltd. in order to sell its techonolgy to people in China. POWERCHINA SPEM is one of the biggest Chinese power equipment manufacturers and is a subsidiary of POWER CHINA, the leader in power plant equipment manufacturing in the People's Republic of China ("PRC"). Chief Executive of PGTC, Alex Shead, said: "With the scale of POWERCHINA's reach and capabilities as one of China's leading State owned Enterprises, we are convinced that PGT's technology will become the preeminent emissions control technology in China."
This has definitely proven to be great news for Pacific Green Technologies Inc (OTCMKTS:PGTK). On December 1st, PGTK was trading sideways at a price of $0.3 and a volume of zero. Since that time, the stock has grown 83.33% to a high of $0.55. In addition, the stock traded with a volume of approximately 18,500 on December 7th. The press release definitely was beneficial for the company. This is not a surprise considering that it was, after all, great news.
ConforMIS Inc (NASDAQ: CFMS): Premium Members Made A Quick 65% Profit In Just 1 week
Well, as we know there are two types of person in the stock market one is trader and another is investor. Investors tend to put money for longer time, while traders make short term bets. We know, its not at all easy to make money in the short term especially in the equity markets. However, premium members at Traders Insights are making awesome money on our calls on our swing trading calls. WE ARE OFFERING A SPECIAL 7-Day Trial Period at Just $5 (so that everybody can make money with us and join us if satisfied). Register Here http://tradersinsights.com/pricing/
JOIN US NOW: For Details Contact us at info@tradersinsights.com
Or You can send me a friend request on facebook here https://www.facebook.com/sebastian.gomestradersinsights
Now let me show you how we made quick 43% in just 1-week which was posted to our premium members:-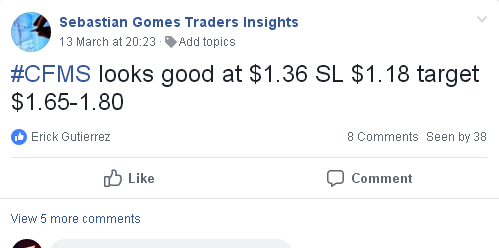 We told our members in facebook private group to buy ConforMIS Inc (NASDAQ: CFMS) yesterday (march 13th) at $1.36. Now look at the price of the stock – its up 65% at $2.25 from our buy price. This is how easy money they made. If you had invested $5,000 in CFMS, it could had been moved up to $8,250. It's not yet late, join us at info@tradersinsights.com
Rockwell Medical Inc (NASDAQ: RMTI): Premium Members Made A Quick 20% Profit In 24 Hours
Well, as we know there are two types of person in the stock market one is trader and another is investor. Investors tend to put money for longer time, while traders make short term bets. We know, its not at all easy to make money in the short term especially in the equity markets. However, premium members at Traders Insights are making awesome money on our calls on our swing trading calls. WE ARE OFFERING A SPECIAL 7-Day Trial Period at Just $5 (so that everybody can make money with us and join us if satisfied). Register Here http://tradersinsights.com/pricing/
JOIN US NOW: For Details Contact us at info@tradersinsights.com
Or You can send me a friend request on facebook here https://www.facebook.com/sebastian.gomestradersinsights
Now let me show you how we made quick 43% in just 1-week which was posted to our premium members:-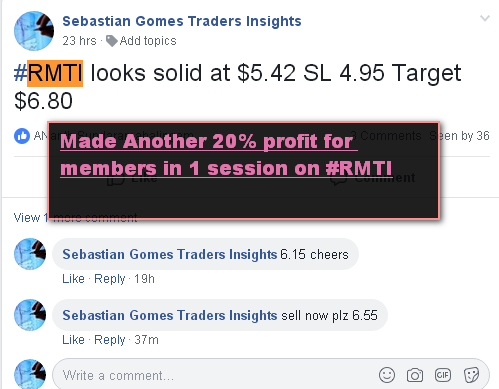 We told our members in facebook private group to buy Rockwell Medical Inc (NASDAQ: RMTI) yesterday (march 18th) at $5.42. Now look at the price of the stock – its up 20% at $6.55 from our buy price. This is how easy money they made. If you had invested $5,000 in RMTI, it could had been moved up to $6,000. It's not yet late, join us at info@tradersinsights.com
Sorrento Therapeutics Inc (NASDAQ: SRNE): Members Made A Hefty 15% Profit In 24 Hours
Well, as we know there are two types of person in the stock market one is trader and another is investor. Investors tend to put money for longer time, while traders make short term bets. We know, its not at all easy to make money in the short term especially in the equity markets. However, premium members at Traders Insights are making awesome money on our calls on our swing trading calls. WE ARE OFFERING A SPECIAL 7-Day Trial Period at Just $5 (so that everybody can make money with us and join us if satisfied). Register Here http://tradersinsights.com/pricing/
 JOIN US NOW: For Details Contact us at info@tradersinsights.com
 Or You can send me a friend request on facebook here https://www.facebook.com/sebastian.gomestradersinsights
Now let me show you how we made quick 43% in just 1-week which was posted to our premium members:-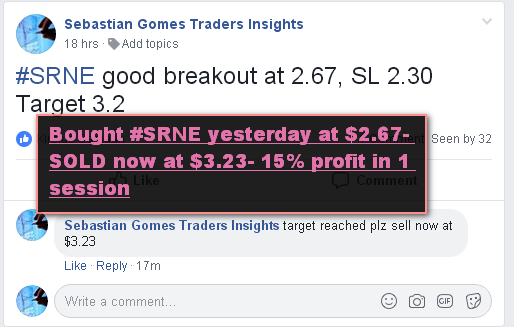 We told our members in facebook private group to buy Sorrento Therapeutics Inc (NASDAQ: SRNE) yesterday (march 18th) at $2.67. Now look at the price of the stock – its up 15% at $3.23 from our buy price. This is how easy money they made. If you had invested $5,000 in SRNE, it could had been moved up to $5,750.  It's not yet late, join us at info@tradersinsights.com