Marijuana Beverages Begin To Take Hold: FBEC Worldwide Inc (FBEC), ROCKY MOUNTAIN HIG COM (RMHB)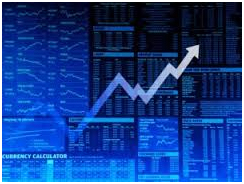 Estimates of the size of the 2013 U.S. retail market for hemp products were released by the Hemp Industries Association (HIA). The estimated total retail sales of hemp food and body care products in 2013 totaled at around $184 million. The sales primarily consisted of items such as milk, seeds, soaps and lotions which have been very popular thanks to the Farm Bill, which allowed hemp to be grown domestically. Sales of clothing, paper, auto parts, building materials and many other products totaled to approximately $581 million.
However, there is one use of hemp that has not been accounted for and that is energy shots.  FBEC Worldwide Inc (OTCMKTS:FBEC) is a unique beverage company that works to provide proprietary products geared towards special target markets internationally and domestically. The company is committed to increasing its market size through creative marketing and is committed to providing customer satisfaction.
On November 6, 2015, FBEC Worldwide Inc (OTCMKTS:FBEC) announced that their product, the WolfShot(TM) Hemp Energy(TM), was now available to sell online. The products were available on Ebay, Alibaba, and even Amazon. Ten days later, on November 16, 2015, the company announced that the WolfShot (TM) sold out on Amazon over the weekend. In addition, the product received the #1 new best seller rating. Here is what CEO Jason Spatafora said: "Our early success on Amazon has resulted in strong interest from potential distributors. Receiving a #1 New Best Seller rating for energy shots over the weekend will give me leverage in distribution negotiations. We are well stocked to handle upcoming production."
All of the great news that the company has been announcing has also been reflecting in its stock. On October 27th, FBEC saw a low of $0.0262 and traded with a volume of 404k.  Since this time the stock has begun to increase to highs of as much as $0.07. As FBEC Worldwide continues to expand, and as hemp becomes more widespread, it is possible to see the stock grow in the upcoming months.
ConforMIS Inc (NASDAQ: CFMS): Premium Members Made A Quick 65% Profit In Just 1 week
Well, as we know there are two types of person in the stock market one is trader and another is investor. Investors tend to put money for longer time, while traders make short term bets. We know, its not at all easy to make money in the short term especially in the equity markets. However, premium members at Traders Insights are making awesome money on our calls on our swing trading calls. WE ARE OFFERING A SPECIAL 7-Day Trial Period at Just $5 (so that everybody can make money with us and join us if satisfied). Register Here http://tradersinsights.com/pricing/
JOIN US NOW: For Details Contact us at info@tradersinsights.com
Or You can send me a friend request on facebook here https://www.facebook.com/sebastian.gomestradersinsights
Now let me show you how we made quick 43% in just 1-week which was posted to our premium members:-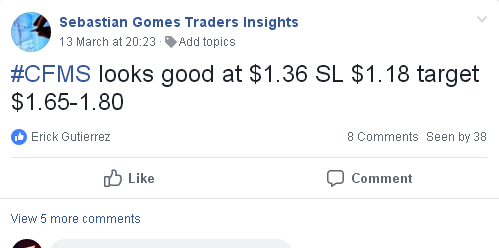 We told our members in facebook private group to buy ConforMIS Inc (NASDAQ: CFMS) yesterday (march 13th) at $1.36. Now look at the price of the stock – its up 65% at $2.25 from our buy price. This is how easy money they made. If you had invested $5,000 in CFMS, it could had been moved up to $8,250. It's not yet late, join us at info@tradersinsights.com
Rockwell Medical Inc (NASDAQ: RMTI): Premium Members Made A Quick 20% Profit In 24 Hours
Well, as we know there are two types of person in the stock market one is trader and another is investor. Investors tend to put money for longer time, while traders make short term bets. We know, its not at all easy to make money in the short term especially in the equity markets. However, premium members at Traders Insights are making awesome money on our calls on our swing trading calls. WE ARE OFFERING A SPECIAL 7-Day Trial Period at Just $5 (so that everybody can make money with us and join us if satisfied). Register Here http://tradersinsights.com/pricing/
JOIN US NOW: For Details Contact us at info@tradersinsights.com
Or You can send me a friend request on facebook here https://www.facebook.com/sebastian.gomestradersinsights
Now let me show you how we made quick 43% in just 1-week which was posted to our premium members:-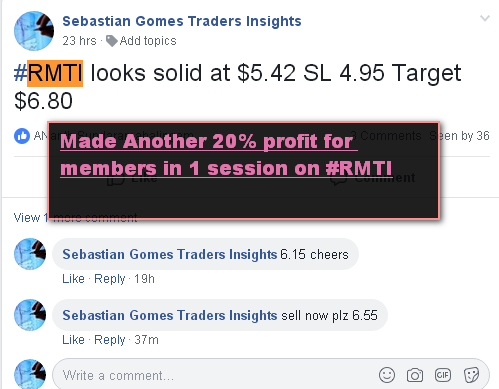 We told our members in facebook private group to buy Rockwell Medical Inc (NASDAQ: RMTI) yesterday (march 18th) at $5.42. Now look at the price of the stock – its up 20% at $6.55 from our buy price. This is how easy money they made. If you had invested $5,000 in RMTI, it could had been moved up to $6,000. It's not yet late, join us at info@tradersinsights.com
Sorrento Therapeutics Inc (NASDAQ: SRNE): Members Made A Hefty 15% Profit In 24 Hours
Well, as we know there are two types of person in the stock market one is trader and another is investor. Investors tend to put money for longer time, while traders make short term bets. We know, its not at all easy to make money in the short term especially in the equity markets. However, premium members at Traders Insights are making awesome money on our calls on our swing trading calls. WE ARE OFFERING A SPECIAL 7-Day Trial Period at Just $5 (so that everybody can make money with us and join us if satisfied). Register Here http://tradersinsights.com/pricing/
 JOIN US NOW: For Details Contact us at info@tradersinsights.com
 Or You can send me a friend request on facebook here https://www.facebook.com/sebastian.gomestradersinsights
Now let me show you how we made quick 43% in just 1-week which was posted to our premium members:-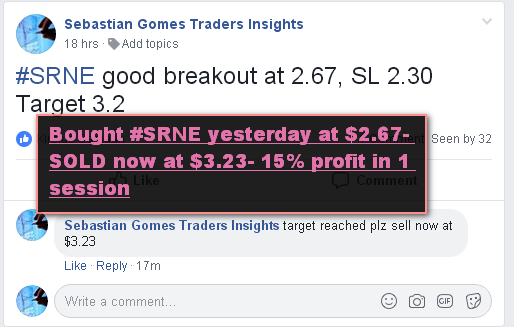 We told our members in facebook private group to buy Sorrento Therapeutics Inc (NASDAQ: SRNE) yesterday (march 18th) at $2.67. Now look at the price of the stock – its up 15% at $3.23 from our buy price. This is how easy money they made. If you had invested $5,000 in SRNE, it could had been moved up to $5,750.  It's not yet late, join us at info@tradersinsights.com