U.S Stocks Higher On Monday Create a Spark With These Small Cap Stocks; AEterna Zentaris Inc. (USA) (NASDAQ:AEZS), FBEC Worldwide Inc (OTCMKTS:FBEC), WPCS International Incorporated (NASDAQ:WPCS)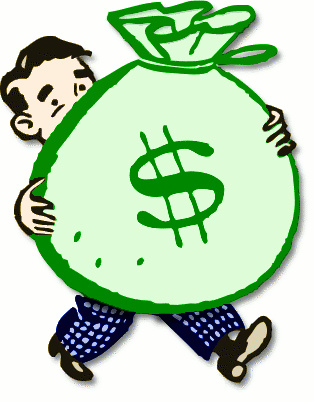 U.S stocks opened higher on Monday as PMI data in different countries signaled to slowing but stabilizing manufacturing activity worldwide, and as healthcare stocks saw their highest levels in weeks. The S&P 500 saw a gain of 15 points, or 0.72% at 2,094.36, the Nasdaq increased 45.33 points, or 0.9%, at 5,099.08. These increases in the bigger markets have ignited a spark as of late for smaller sized companies such as AEterna Zentaris Inc. (USA) (NASDAQ:AEZS), FBEC Worldwide Inc (OTCMKTS:FBEC), and WPCS International Incorporated (NASDAQ:WPCS).
AEterna Zentaris Inc. (USA) (NASDAQ:AEZS) a specialty biopharmaceutical company announced on Monday that the of largely all of its remaining outstanding Series B Common Share Purchase Warrants have decided to exercise all of the estimated 4.1 million Series B Warrants held by them as quickly as practicable at a maximum exercise ratio of approximately 33.23 Common Shares per Series B Warrant in accordance with the alternate cashless exercise feature in such Series B Warrants.
The CEO of the company stated, "With the uncertainty about future additional dilution from the Series B Warrants now substantially resolved, it is time to focus on the fundamentals of this Company, which I believe are very strong. I am excited about the opportunity to create shareholder value with our internally developed products and our growing externally sourced portfolio. We are making significant progress on both fronts. I am looking forward to providing updates regarding our progress during our quarterly conference call on Friday, November 6, 2015." AEZS over the last month has seen gains of 118.82% from lows of $0.0425 to highs of $0.093.
FBEC Worldwide Inc (OTCMKTS:FBEC) a beverage company that has made several corporate changes over the last 90 days announced on Oct. 20th that the company has entered into a Letter of Intent with CBD Globe Distributors. This LOI will help FBEC worldwide distribute the company's Hemp Energy Shot, The WolfShot. FBEC worldwide CEO Jason Spatafora quoted, "Partnering with CBD Globe Distributors is a synergistic and strategic move that greatly benefits both parties, shareholders and the collective brands themselves. I have been actively searching for ways to break into the CBD market in the most efficient & cost effective way possible. I am confident we have done just that by means of a partnership with the team at CBD Globe LTD and the turnkey operation built around the Ma Brand CBD product. This CBD Vaping product has highly refined CBD oil made from hemp grown in the United States. The Ma Brand is already produced, packaged, and ready for distribution. Having this partnership with inventory ready for sale and a team with the capital means to scale up both new & existing products should be very exciting to shareholders." In the last four weeks FBEC has seen a price hike of 55.79% from lows of $0.0278 to highs of $0.4331 in October.
WPCS International Incorporated (NASDAQ:WPCS) a company that specializes in contracting services for communications infrastructure released news on Monday announcing the company has secured $4.7 million in new contracts in the second quarter ended October 31, 2015. Acting CEO Sebastian Giordano stated, "Following this positive news is the fact that we now start Q3 with a deeper operations, sales, business development and acquisitions team focused exclusively on identifying and creating opportunities that we fully expect will profitably drive the top line." WPCS surged off this news this morning and has seen a 52.63% pps increase over the last 10 days from lows of $1.33 to highs on Monday of $2.03.
ConforMIS Inc (NASDAQ: CFMS): Premium Members Made A Quick 65% Profit In Just 1 week
Well, as we know there are two types of person in the stock market one is trader and another is investor. Investors tend to put money for longer time, while traders make short term bets. We know, its not at all easy to make money in the short term especially in the equity markets. However, premium members at Traders Insights are making awesome money on our calls on our swing trading calls. WE ARE OFFERING A SPECIAL 7-Day Trial Period at Just $5 (so that everybody can make money with us and join us if satisfied). Register Here http://tradersinsights.com/pricing/
JOIN US NOW: For Details Contact us at info@tradersinsights.com
Or You can send me a friend request on facebook here https://www.facebook.com/sebastian.gomestradersinsights
Now let me show you how we made quick 43% in just 1-week which was posted to our premium members:-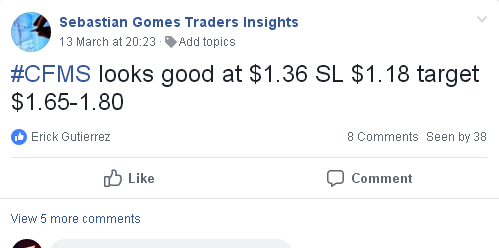 We told our members in facebook private group to buy ConforMIS Inc (NASDAQ: CFMS) yesterday (march 13th) at $1.36. Now look at the price of the stock – its up 65% at $2.25 from our buy price. This is how easy money they made. If you had invested $5,000 in CFMS, it could had been moved up to $8,250. It's not yet late, join us at info@tradersinsights.com
Rockwell Medical Inc (NASDAQ: RMTI): Premium Members Made A Quick 20% Profit In 24 Hours
Well, as we know there are two types of person in the stock market one is trader and another is investor. Investors tend to put money for longer time, while traders make short term bets. We know, its not at all easy to make money in the short term especially in the equity markets. However, premium members at Traders Insights are making awesome money on our calls on our swing trading calls. WE ARE OFFERING A SPECIAL 7-Day Trial Period at Just $5 (so that everybody can make money with us and join us if satisfied). Register Here http://tradersinsights.com/pricing/
JOIN US NOW: For Details Contact us at info@tradersinsights.com
Or You can send me a friend request on facebook here https://www.facebook.com/sebastian.gomestradersinsights
Now let me show you how we made quick 43% in just 1-week which was posted to our premium members:-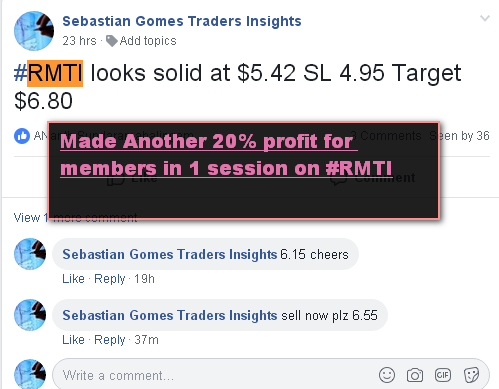 We told our members in facebook private group to buy Rockwell Medical Inc (NASDAQ: RMTI) yesterday (march 18th) at $5.42. Now look at the price of the stock – its up 20% at $6.55 from our buy price. This is how easy money they made. If you had invested $5,000 in RMTI, it could had been moved up to $6,000. It's not yet late, join us at info@tradersinsights.com
Sorrento Therapeutics Inc (NASDAQ: SRNE): Members Made A Hefty 15% Profit In 24 Hours
Well, as we know there are two types of person in the stock market one is trader and another is investor. Investors tend to put money for longer time, while traders make short term bets. We know, its not at all easy to make money in the short term especially in the equity markets. However, premium members at Traders Insights are making awesome money on our calls on our swing trading calls. WE ARE OFFERING A SPECIAL 7-Day Trial Period at Just $5 (so that everybody can make money with us and join us if satisfied). Register Here http://tradersinsights.com/pricing/
 JOIN US NOW: For Details Contact us at info@tradersinsights.com
 Or You can send me a friend request on facebook here https://www.facebook.com/sebastian.gomestradersinsights
Now let me show you how we made quick 43% in just 1-week which was posted to our premium members:-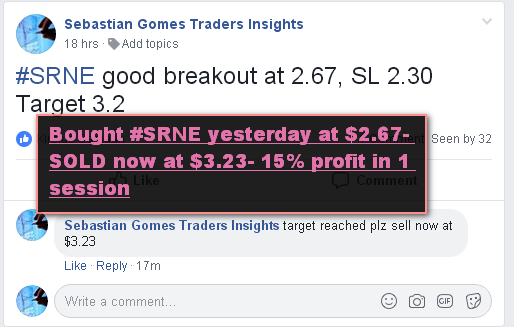 We told our members in facebook private group to buy Sorrento Therapeutics Inc (NASDAQ: SRNE) yesterday (march 18th) at $2.67. Now look at the price of the stock – its up 15% at $3.23 from our buy price. This is how easy money they made. If you had invested $5,000 in SRNE, it could had been moved up to $5,750.  It's not yet late, join us at info@tradersinsights.com