$FBEC Announces Strategic Marketing Campaign & Event Party during Art Basel Festival in Miami Beach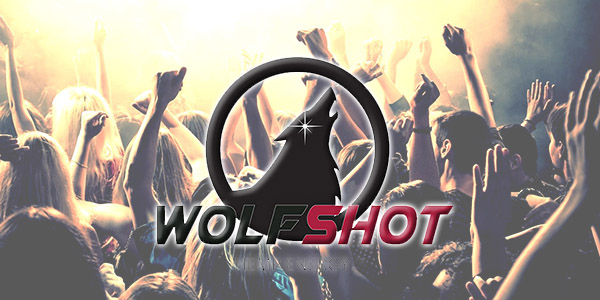 CHEYENNE, WY / ACCESSWIRE / November 19, 2015 / FBEC Worldwide, Inc. (FBEC), a beverage company with intellectual property formulas and marketing capability for the production and distribution of proprietary beverages, announces that the Company will implement a strategic marketing campaign and host an event party during Art Basel in Miami Beach, Florida. Art Basel is the largest art festival in the world as 267 leading art galleries from North America, Latin America, Europe, Asia, and Africa display premier paintings, drawings, sculptures, installations, prints, photography, film, video, and digital art by over 4,000 artists. The festival takes place from December 3-5, 2015.
FBEC has contracted celebrity muralist Jasmine Dearden better known as "Jasnine" to create a mural to artistically represent FBEC's WolfShot(TM) to the roughly 150,000 tourists from the states and abroad that visit Miami specifically for Art Basel. The mural, which has currently started production as of yesterday Wednesday 11/18, is located on the corner of NW 27th street and 5th avenue. This is the most highly trafficked commercial area during Art Basel.
Jasnine is a very well-known and sought-after artist having created murals for celebrities such as Kim Kardashian, Alicia Keys, and Trina. You can visit her websites to see some of her work at http://jas9.ca/ and http://www.ninedesigns.co/. You can also follow her on Instagram at @jas.nine.
FBEC will also have boots on the ground passing out free WolfShots(TM) to the public on December 4 & 5, 2015 in front of the mural. The mural will remain up for exactly one year until the next Art Basel festival in 2016.
In addition, the Company will be hosting a sponsored event party the night of December 5, 2015. Guests will receive free WolfShot(TM) samples and enjoy a night of libations, music, and food. Details on the event party will be announced soon. The Company encourages all shareholders living in the Miami area to come out and experience the Art Basel festival, see the mural, and join them for a night of fun and free WolfShot(TM) at the event after party.
CEO Jason Spatafora said, "Art Basel is one of the most exciting weeks in Miami as it is the unofficial beginning of the South Beach holiday season. It's a showcase of ground breaking artists mixed with celebrities & other cultural influencers. This mural will essentially be an artistic billboard showcasing FBEC's flagship product WolfShot(TM). It will be photographed, tagged, tweeted by both locals and tourists and provide an edgy gorilla marketing platform drawing attention to FBEC's core creation."
About FBEC Worldwide, Inc.
FBEC Worldwide is an innovative beverage company dedicated to offering proprietary products focused towards significant target markets, both domestic and abroad. We are committed to increasing our market size and scope through the optics of creative marketing and most importantly customer satisfaction. Our growth strategies will focus on a number of major initiatives including, unique branding opportunities that will be targeted at key demographic groups, and to develop strong community and distributor relationships.
As we look ahead, FBEC Worldwide will develop and build name brands focused on strong rates of growth within key fundamental consumer groups. Our company is dedicated to becoming a leading developer of name brand beverage alternatives geared specifically towards large, significantly important demographics within major markets.
About Art Basel
At the nexus of North America and Latin America, our Miami Beach show presents artworks from across the globe. Over 250 of the world's leading galleries participate, drawing over 70,000 visitors each year.
With miles of sandy beaches dotted with classic Art Deco architecture, world-class art museums, and a glittering nightlife, Miami Beach ranks among America's most iconic cities. During Art Basel, it embraces the artworld with special exhibitions at museums and galleries across the city, transforming the week into a dense and dynamic cultural event.
Leading galleries from North America, Latin America, Europe, Asia and Africa show work from the masters of Modern and contemporary art, as well as pieces by a new generation of emerging stars. Paintings, sculptures, installations, photographs, films, and editioned works of the highest quality are on display in the main exhibition hall. Ambitious large-scale artworks, film and performance become part of the landscape at nearby beaches, Collins Park and SoundScape Park.
About Jasnine
From the sidewalk to your local boutiques, this muralist by day and fashionista is making her mark throughout the "Magic City" Florida. Jasmine Dearden, better known as Jasnine is a well-known muralist, graffiti artist, fashion and interior designer.
She is the epitome of where hip hop meets fashion with her edgy flair. Jasnine has stayed true to her feminine essence by using her damask pattern as a signature finishing touch. This girly-girl tags with the boys as a respected graffiti artist. Through collaborations, murals, graphic, interior, and fashion designing she has created an extensive repertoire amongst Miami's elite.
Tourists and art lovers alike recognize Jasnine's hip hop and fashion influential portraits throughout Wynwood. Her murals of rapper Trina, socialite Yes Julez, and Marilyn Monroe, to name a few, have buzzed around social media. With well over 10,000 social media followers and fans she seizes the attention of the millennials and the true definition of a quadruple threat.
Her urban clothing brand, Nine Designs, has hit the Miami fashion scene this summer with custom prints. Inspired by hip hop, Jasnine's designs appeal to the urban community and reflects her desire to collaborate with companies that share similar visions for the fashion and art industry like Diamond Co., Nike and Chanel.
Safe Harbor for Forward-Looking Statements: This news release includes forward-looking statements. While these statements are made to convey to the public the company's progress, business opportunities and growth prospects, readers are cautioned that such forward-looking statements represent management's opinion. Whereas management believes such representations to be true and accurate based on information and data available to the company at this time, actual results may differ materially from those described. The Company's operations and business prospects are always subject to risk and uncertainties. Important factors that may cause actual results to differ are and will be set forth in the company's periodic filings with the U.S. Securities and Exchange Commission.
Investors Contact
Joe Sirianni
MIDAM Ventures LLC
(305) 707-7018
jsirianni@MidamIr.com
www.MIDAMIr.com
SOURCE: FBEC Worldwide, Inc.
CytoDyn Inc (OTCMKTS:CYDY) Regains Momentum After The Big Announcement
Now that the market seems to be coming back into his elements, it could be time for investors to start looking into penny stocks more closely. These stocks may often be risky, but if one makes the right choice, then the rewards could be enormous. One penny stock that could be put into the watch list at this point in time is that of CytoDyn Inc (OTCMKTS:CYDY).
The late-stage biotechnology company, which is developing the coronavirus medicine leronlimab, announced last week that it had filed a comprehensive application for uplisting on NASDAQ. The company announced that it believes that its application satisfies the myriad listing requirements of the NASDAQ Capital Market.
The Chief Executive Officer and President of the company Nader Pourhassan stated that while it is true that the entire process is expected to take many weeks, CytoDyn is hopeful of success in this matter.
He went on to state that a listing on NASDAQ will not only provide shareholders with more liquidity but also give CytoDyn much bigger access to fresh capital. It is a significant development for the company, and the market participants realized it as well. After the announcement was made, the stock rallied by as much as 50%. Investors could do well to keep an eye on the stock this week.
While the rally following this announcement was a welcome relief for the company, it is important to point out that earlier on in the week, the stock has fallen considerably following a setback. Last Monday, the company announced that the United States Food and Drug Administration handed CytoDyn a refusal to file a letter with regards to the usage of leronlimab to treat HIV.
However, at the same time, investors should be noted that the company did announce that it is confident of furnishing the agency with all the further details that have been demanded. It is one of the penny stocks that have performed remarkably well this year so far, and investors could keep an eye on it.
These 3 Pot Stocks Are Up Big Since May: What's the Buzz?
Over the course of the past year or so, pot stocks had generally struggled, but during the past month, those stocks have recovered nicely. The stock market suffered a historic fall due to the economic turmoil caused by the coronavirus pandemic. It is believed that investors who are looking for value have descended on the beaten-down pot stocks. On the flip side, these stocks could also have been identified as defensive plays in an uncertain market environment.
That being said, it should be noted that despite the gains recorded by many stocks, most of those stocks are still considerably lower than the all-time highs. In such a situation, it could be worthwhile for investors to take a closer look at some of the strongest and more stable cannabis companies in the industry. Here is a look at three pot stocks that made significant moves in May and could be tracked by investors at this point.
1. HEXO Stock Jumps Ahead of Earnings
HEXO Corp (TSX:HEXO) (NYSE:HEXO) is one of those cannabis companies which have had a particularly tough time over the past year or so. However, the stock has emerged as one of the bigger gainers among pot stocks in recent trading sessions. The Hexo stock has gained as much as 120% over the course of the past month. The company is all set to release its financial results for the fiscal third quarter on Thursday, and hence, it could be a big week for the stock.
The recent surge in the Hexo stock may have come as a major boost to investors, but it should be noted that over the past year, it recorded considerable losses. The beaten-down nature of the stock may have contributed to the stock becoming more attractive for investors. However, the trajectory of the Hexo stock in the near term is going to depend a lot on its third-quarter earnings.
The company had made a loss of $298 million in the previous quarter, and while it is almost certain that it is going to make a loss again, the size of the loss is going to be keenly watched. Additionally, any writedowns are also going to be harmful to the stock. Investors should also keep an eye on sales growth.
2 Organigram gains Momentum on Value Buying
Organigram Holdings (TSX:OGI) (NASDAQ:OGI) is another pot stock that has made significant gains in the past month. Since May 13, the stock has gained as much as 80%. In April, the company announced its fiscal second-quarter results, but it had been a disappointment.
Revenues dropped by 13.7% year on year to hit CA$23.2 million, and losses widened to CA$6.8 million from CA$6.4 million in the prior-year period. However, one significant cause for optimism for Organigram investors is the fact that in the second quarter, cannabis 2.0 products made up as much as 13% of its revenue. That has opened up a whole new opportunity for the company.
Wholesale cannabis revenue made up 24% of the net, and that is again a new source of revenue. The company blamed the lower volumes of flower as well as cannabis oil for the drop in sales. Organigram reported cash and cash equivalents of CA$41.1 million as of February 29. Considering the fact that it has burned CA$25 million in the past six months, investors should not use that the cash balance does not paint a pretty picture.
3 Aphria Recovers Following Solid Earnings
Aphria (TSX:APHA) (NYSE:APHA), on the other hand, managed to perform relatively well in its fiscal third quarter. The net sales rose by as much as 19.7% sequentially to hit CA$144.4 million, and more importantly, the company also managed to record a profit for the third time in four quarters. On top of that, it should be noted that although the Canadian cannabis company spends CA$124.4 million on its operations in the nine months trailing that quarter, it still reported a cash balance of CA$515 million.
The performance seems to have buoyed market participants as well, and the stock has rallied by as much as 75% since the middle of May. One of the most important things that investors are going to be looking into is whether Aphria is going to be able to maintain its profitability.
However, due to the turmoil caused by the coronavirus pandemic, it might prove difficult. That being said, it should be noted that the pandemic is going to have an equally damaging effect across the sector.
ConforMIS Inc (NASDAQ: CFMS): Premium Members Made A Quick 65% Profit In Just 1 week
Well, as we know there are two types of person in the stock market one is trader and another is investor. Investors tend to put money for longer time, while traders make short term bets. We know, its not at all easy to make money in the short term especially in the equity markets. However, premium members at Traders Insights are making awesome money on our calls on our swing trading calls. WE ARE OFFERING A SPECIAL 7-Day Trial Period at Just $5 (so that everybody can make money with us and join us if satisfied). Register Here http://tradersinsights.com/pricing/
JOIN US NOW: For Details Contact us at info@tradersinsights.com
Or You can send me a friend request on facebook here https://www.facebook.com/sebastian.gomestradersinsights
Now let me show you how we made quick 43% in just 1-week which was posted to our premium members:-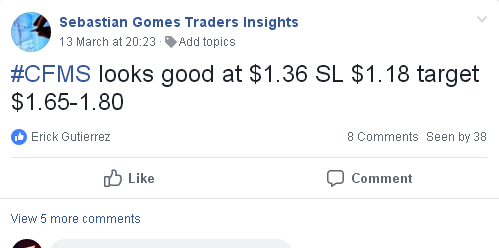 We told our members in facebook private group to buy ConforMIS Inc (NASDAQ: CFMS) yesterday (march 13th) at $1.36. Now look at the price of the stock – its up 65% at $2.25 from our buy price. This is how easy money they made. If you had invested $5,000 in CFMS, it could had been moved up to $8,250. It's not yet late, join us at info@tradersinsights.com