North Carolina Announced Hemp Legalization. Big News for FBEC Worldwide Inc (OTCMKTS:FBEC), Hemp Inc (OTCMKTS:HEMP), Medical Marijuana Inc (OTCMKTS:MJNA)
In the United States, hemp is often confused with marijuana since they are both derived from cannabis. The main difference, though, is that hemp does not contain high amounts of THC, the psychoactive ingredient in marijuana that can get one high. The dietary supplement industry can gain a lot from hemp, though, because of a substance called cannabidiol (CBD). CBD has shown nutritional value for decades, but the association it has with marijuana makes it frowned upon in the United States. That is changing now, as hemp begins to gain a better reputation which could lead to a growth in the market. The challenge is not selling hemp to consumers, but creating an industry that supports the cultivation and selling of hemp.
Luckily, some companies are trying to pave the way to a hemp-friendly industry. One of those companies, for instance, is FBEC Worldwide Inc (OTCMKTS:FBEC), which is an innovative beverage company whose main product, the WolfShot™ Hemp Energy™ shot, is infused with CBD. Not only has FBEC Worldwide Inc (OTCMKTS:FBEC) made a proprietary beverage using hemp, but they've also began to market it internationally. Just in October, it announced that it signed a Letter of Intent (LOI) with CBD Globe Distributors Ltd. Together, the two agreed to distribute the WolfShot™ Hemp Energy™ shot throughout Europe. Here's what CEO Jason Spatafora had to say about the LOI:
"Partnering with CBD Globe Distributors is a synergistic and strategic move that greatly benefits both parties, shareholders and the collective brands themselves. I have been actively searching for ways to break into the CBD market in the most efficient & cost effective way possible. I am confident we have done just that by means of a partnership with the team at CBD Globe LTD and the turnkey operation built around the Ma Brand CBD product. This CBD Vaping product has a highly refined CBD oil made from hemp grown in the United States. The Ma Brand is already produced, packaged, and ready for distribution. Having this partnership with inventory ready for sale and a team with the capital means to scale up both new & existing products should be very exciting to shareholders."
Before signing the LOI, though, the company spoke with mCig, Inc., another company that was involved in signing a Distribution Agreement with CBD Globe Distributors. mCig, Inc. made it clear that CBD Globe's European distribution channel was both effective and beneficial. "After speaking with Mr. Rosenberg of mCig, Inc., I knew partnering with CBD Globe was advantageous for us, as we get a turnkey product that's designed, packaged and ready for sale. Adversely MCIG gets to focus on the success they are having with their current brands and focus their attention to continued success," Spatafora added. Over the last three months, FBEC has seen a high of $0.12 and a low of $0.011. That's a difference of 990%. With such a major expansion, FBEC is a great company to watch.
ConforMIS Inc (NASDAQ: CFMS): Premium Members Made A Quick 65% Profit In Just 1 week
Well, as we know there are two types of person in the stock market one is trader and another is investor. Investors tend to put money for longer time, while traders make short term bets. We know, its not at all easy to make money in the short term especially in the equity markets. However, premium members at Traders Insights are making awesome money on our calls on our swing trading calls. WE ARE OFFERING A SPECIAL 7-Day Trial Period at Just $5 (so that everybody can make money with us and join us if satisfied). Register Here http://tradersinsights.com/pricing/
JOIN US NOW: For Details Contact us at info@tradersinsights.com
Or You can send me a friend request on facebook here https://www.facebook.com/sebastian.gomestradersinsights
Now let me show you how we made quick 43% in just 1-week which was posted to our premium members:-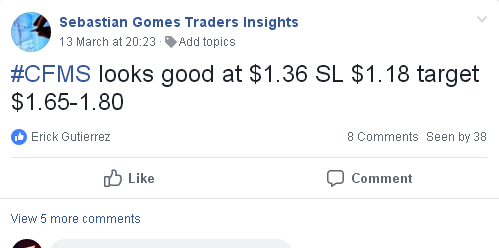 We told our members in facebook private group to buy ConforMIS Inc (NASDAQ: CFMS) yesterday (march 13th) at $1.36. Now look at the price of the stock – its up 65% at $2.25 from our buy price. This is how easy money they made. If you had invested $5,000 in CFMS, it could had been moved up to $8,250. It's not yet late, join us at info@tradersinsights.com
Rockwell Medical Inc (NASDAQ: RMTI): Premium Members Made A Quick 20% Profit In 24 Hours
Well, as we know there are two types of person in the stock market one is trader and another is investor. Investors tend to put money for longer time, while traders make short term bets. We know, its not at all easy to make money in the short term especially in the equity markets. However, premium members at Traders Insights are making awesome money on our calls on our swing trading calls. WE ARE OFFERING A SPECIAL 7-Day Trial Period at Just $5 (so that everybody can make money with us and join us if satisfied). Register Here http://tradersinsights.com/pricing/
JOIN US NOW: For Details Contact us at info@tradersinsights.com
Or You can send me a friend request on facebook here https://www.facebook.com/sebastian.gomestradersinsights
Now let me show you how we made quick 43% in just 1-week which was posted to our premium members:-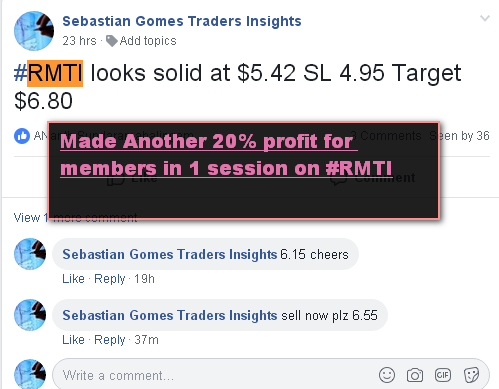 We told our members in facebook private group to buy Rockwell Medical Inc (NASDAQ: RMTI) yesterday (march 18th) at $5.42. Now look at the price of the stock – its up 20% at $6.55 from our buy price. This is how easy money they made. If you had invested $5,000 in RMTI, it could had been moved up to $6,000. It's not yet late, join us at info@tradersinsights.com
Sorrento Therapeutics Inc (NASDAQ: SRNE): Members Made A Hefty 15% Profit In 24 Hours
Well, as we know there are two types of person in the stock market one is trader and another is investor. Investors tend to put money for longer time, while traders make short term bets. We know, its not at all easy to make money in the short term especially in the equity markets. However, premium members at Traders Insights are making awesome money on our calls on our swing trading calls. WE ARE OFFERING A SPECIAL 7-Day Trial Period at Just $5 (so that everybody can make money with us and join us if satisfied). Register Here http://tradersinsights.com/pricing/
 JOIN US NOW: For Details Contact us at info@tradersinsights.com
 Or You can send me a friend request on facebook here https://www.facebook.com/sebastian.gomestradersinsights
Now let me show you how we made quick 43% in just 1-week which was posted to our premium members:-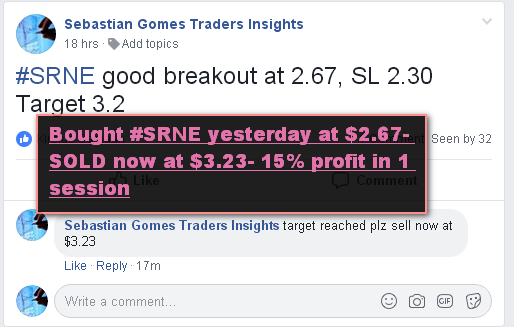 We told our members in facebook private group to buy Sorrento Therapeutics Inc (NASDAQ: SRNE) yesterday (march 18th) at $2.67. Now look at the price of the stock – its up 15% at $3.23 from our buy price. This is how easy money they made. If you had invested $5,000 in SRNE, it could had been moved up to $5,750.  It's not yet late, join us at info@tradersinsights.com