Marijuana Stocks 2.0; How Are You Investing? Urban Hydroponics Inc (OTCMKTS:URHY), Hemp Inc(OTCMKTS:HEMP), mCig Inc (OTCMKTS:MCIG)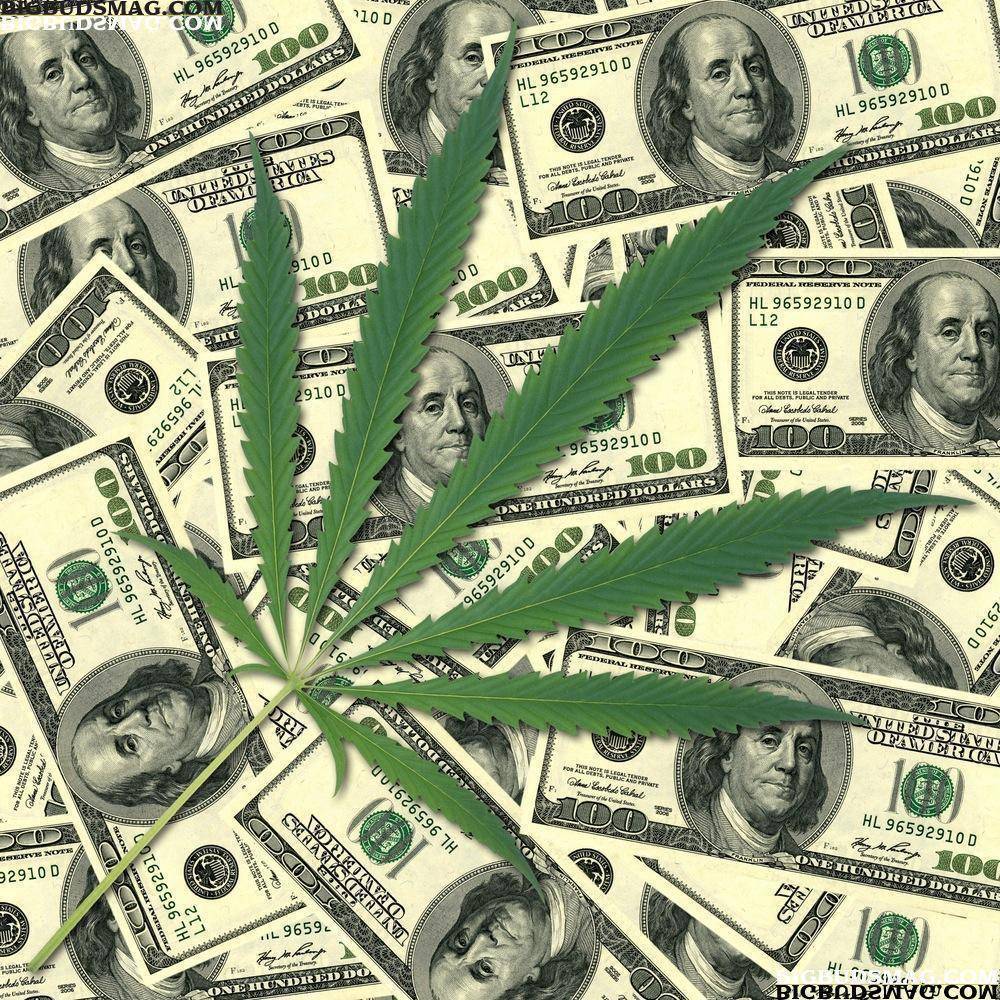 According to the head of the Australian Stock Exchange, the world should be on the lookout for another mining boom by around 2020 by providing grants to mining companies. The Herald Sun reports that Chief Executive Elmer Funke Kupper states that the Federal Government should be lighter with the burden placed upon new mining companies by giving them a grant worth at least $150 million a year; a similar one has been set in Canada and has been very successful. According to Kupper, this would allow for new companies to share losses with investors rather than waiting seven years for actual operations to begin. He also added that $220 billion in mining equity capital was raised from 2007 to 2011 and may easily grow as technology improves.
A company also seeking such grants from the Federal Government is Urban Hydroponics Inc (OTCMKTS:URHY), which was formerly known as Placer Del Mar, Ltd. The difference is, though, that rather than being in Australia, this company is set in the United States. The company started out in Nevada on May 13, 2005, in order to mine and explore for minerals. On November 5, 2014, the Company signed a Binding Letter of Intent to merge three companies based in Canada into the urban cultivation sector. The companies are Urban Cultivator Inc., BC Northern Lights Enterprises Ltd., and W3 Metal Inc. Here's a look at that CEO, Frank Terzo, stated: 
"This proposed merger transaction will bring public two of the leading name brands in hydroponics. Urban Cultivator and BC Northern Lights appliances have received accolades from trade publications and high-profile users alike. The increasing awareness around eating locally grown, higher nutrition foods that reduce our carbon footprint is a driving force behind the expanding growth of this market. We look forward to completing this merger transaction by the end of the calendar year." Over the last few weeks, URHY has seen a lot of momentum. On October 16th, URHY hit a three-month low of $0.65 and traded with a volume of 7,500. Two weeks later, on October 30th, Urban Hydroponics Inc(OTCMKTS:URHY) grew 67.6% percent to a three-month high of $1.09. On that day, URHY and traded at twice the volume it did just two weeks before at 18,297. 
ConforMIS Inc (NASDAQ: CFMS): Premium Members Made A Quick 65% Profit In Just 1 week
Well, as we know there are two types of person in the stock market one is trader and another is investor. Investors tend to put money for longer time, while traders make short term bets. We know, its not at all easy to make money in the short term especially in the equity markets. However, premium members at Traders Insights are making awesome money on our calls on our swing trading calls. WE ARE OFFERING A SPECIAL 7-Day Trial Period at Just $5 (so that everybody can make money with us and join us if satisfied). Register Here http://tradersinsights.com/pricing/
JOIN US NOW: For Details Contact us at info@tradersinsights.com
Or You can send me a friend request on facebook here https://www.facebook.com/sebastian.gomestradersinsights
Now let me show you how we made quick 43% in just 1-week which was posted to our premium members:-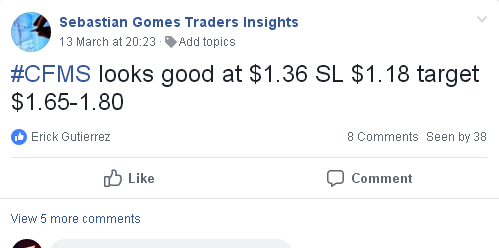 We told our members in facebook private group to buy ConforMIS Inc (NASDAQ: CFMS) yesterday (march 13th) at $1.36. Now look at the price of the stock – its up 65% at $2.25 from our buy price. This is how easy money they made. If you had invested $5,000 in CFMS, it could had been moved up to $8,250. It's not yet late, join us at info@tradersinsights.com
Rockwell Medical Inc (NASDAQ: RMTI): Premium Members Made A Quick 20% Profit In 24 Hours
Well, as we know there are two types of person in the stock market one is trader and another is investor. Investors tend to put money for longer time, while traders make short term bets. We know, its not at all easy to make money in the short term especially in the equity markets. However, premium members at Traders Insights are making awesome money on our calls on our swing trading calls. WE ARE OFFERING A SPECIAL 7-Day Trial Period at Just $5 (so that everybody can make money with us and join us if satisfied). Register Here http://tradersinsights.com/pricing/
JOIN US NOW: For Details Contact us at info@tradersinsights.com
Or You can send me a friend request on facebook here https://www.facebook.com/sebastian.gomestradersinsights
Now let me show you how we made quick 43% in just 1-week which was posted to our premium members:-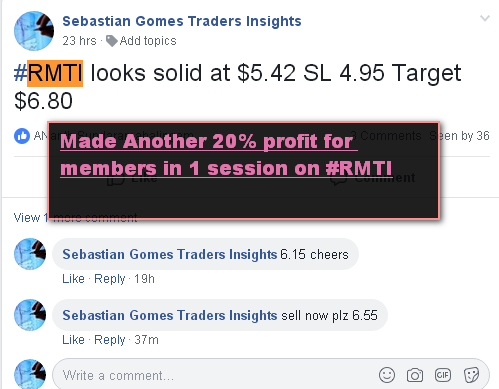 We told our members in facebook private group to buy Rockwell Medical Inc (NASDAQ: RMTI) yesterday (march 18th) at $5.42. Now look at the price of the stock – its up 20% at $6.55 from our buy price. This is how easy money they made. If you had invested $5,000 in RMTI, it could had been moved up to $6,000. It's not yet late, join us at info@tradersinsights.com
Sorrento Therapeutics Inc (NASDAQ: SRNE): Members Made A Hefty 15% Profit In 24 Hours
Well, as we know there are two types of person in the stock market one is trader and another is investor. Investors tend to put money for longer time, while traders make short term bets. We know, its not at all easy to make money in the short term especially in the equity markets. However, premium members at Traders Insights are making awesome money on our calls on our swing trading calls. WE ARE OFFERING A SPECIAL 7-Day Trial Period at Just $5 (so that everybody can make money with us and join us if satisfied). Register Here http://tradersinsights.com/pricing/
 JOIN US NOW: For Details Contact us at info@tradersinsights.com
 Or You can send me a friend request on facebook here https://www.facebook.com/sebastian.gomestradersinsights
Now let me show you how we made quick 43% in just 1-week which was posted to our premium members:-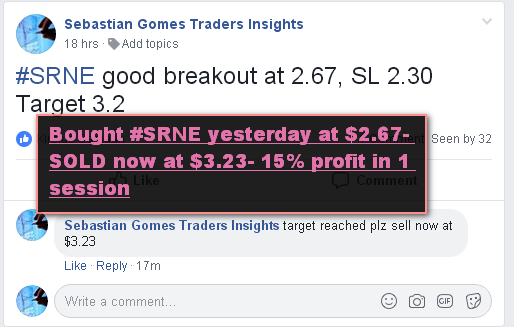 We told our members in facebook private group to buy Sorrento Therapeutics Inc (NASDAQ: SRNE) yesterday (march 18th) at $2.67. Now look at the price of the stock – its up 15% at $3.23 from our buy price. This is how easy money they made. If you had invested $5,000 in SRNE, it could had been moved up to $5,750.  It's not yet late, join us at info@tradersinsights.com