Small Cap Stocks Rally as Wall Street Trades Higher on Thursday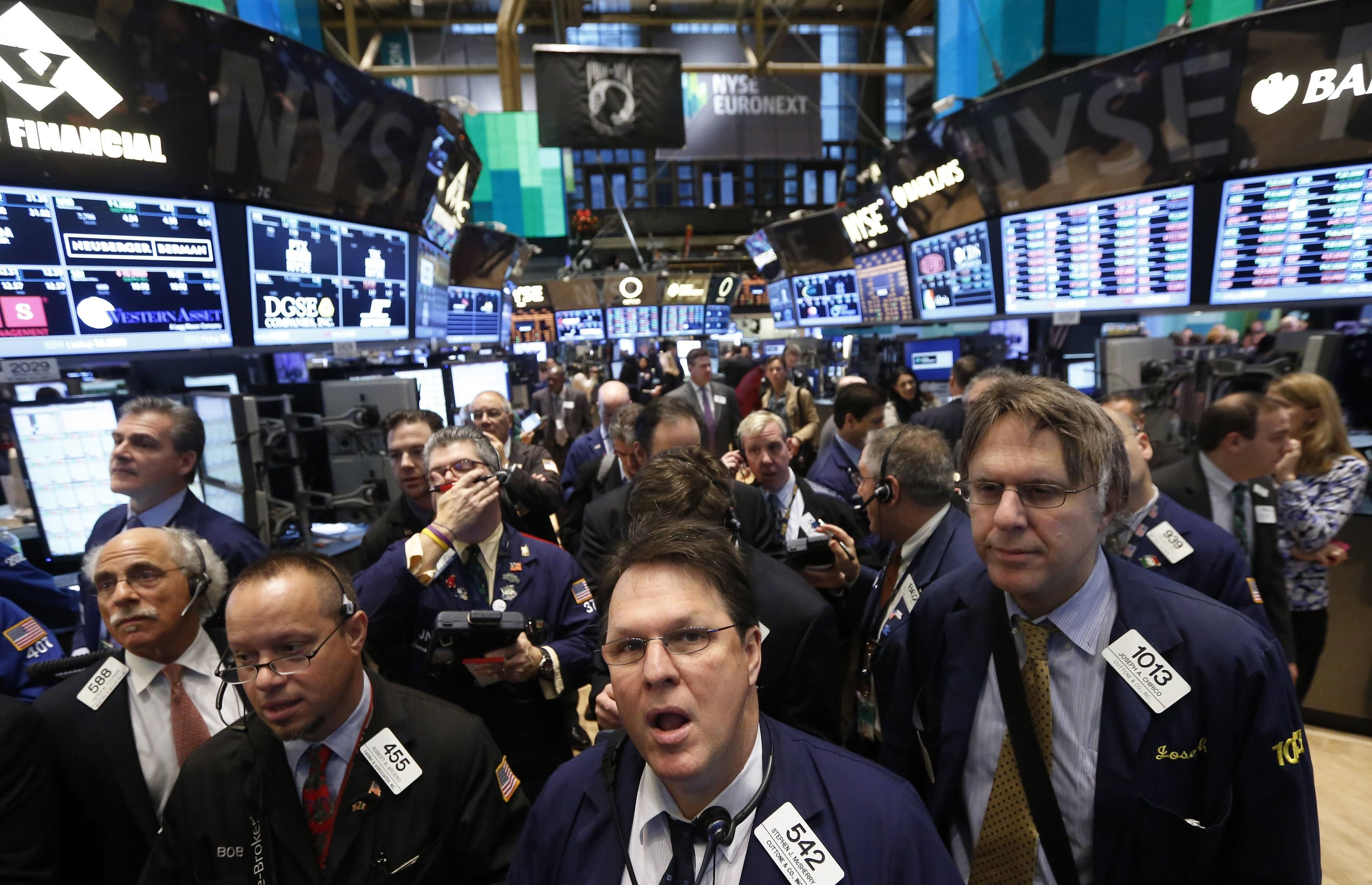 On Thursday, Wall Street was higher in during the afternoon in trading; Apple, as well as biotech shares, spiked the market past the Federal Reserve meeting that will be taking place next week. Since China lowered the value of its currency in August, U.S. Stocks have been very sporadic Managing director at Beam Capital Management in New York, Mohannad Aama, said "Volatility is here to stay for the rest of the fourth quarter because even if the Fed doesn't raise rates next week, it is signaling that there is weakness in the economy." This volatility has also been very evident in penny stocks such as Progressive Care Inc. (OTCMKTS:RXMD), and others.
Progressive Care Inc (OTCMKTS:RXMD) provides prescription pharmaceuticals in South Florida and focus on health practice and risk management. The company saw an increase in trading volume after news was released on Thursday morning recording another record breaking month; the pharmacy recorded over 16,500 prescriptions in August. This accumulated to around $1.17 million in revenues. This is a 32% increase from just a year ago. Furthermore, this is the third month in a row of record-breaking prescription sales. The COO of the company, Shital Parikh Mars, said, "These last few months are a true testament to the hard work our staff puts in to market the Company and live up to the high standards of care that we set. We are leading the way in the level and range of services we provide and the South Florida community has embraced it."  RXMD over the last month has seen gains of 80.95% from lows of $0.0065 to highs of $0.0114.
High Performance Beverage Co. (OTCMKTS:TBEV) has also seen a rise in volume over the last couple of weeks. On Wednesday, the company announced a launch date of September 18, 2015 for their High Performance Sports Beverage. The company has made their own segment bit called "Throwdown Performance Beverages." This segment produces a line of sport performance beverages made to sharpen mental focus and increase blood flow. By doing these two things, the body receives the fuel needed to get through an entire day, or just an event. The president of High Performance Beverage, Mike Holley, said "after speaking with Southeast Bottling we are confident that we will have the product out for shipping to our warehouse this Friday. We look forward to having our product in the hands of consumers within the next several days." Over the last month, TBEV has been volatile with gains of 500% from lows of $0.0005 to highs of $0.003.
Axion Power International, Inc. (NASDAQ:AXPW) is another sporadic stock that specializes in technology. They design, manufacture, produce, and distribute advanced energy storage devices, components, and systems based on their very own PbC Technology. AXPW had a slow open at $1.59, but bounced 71.7% to a high of $2.73 in the afternoon at 1:10 PM. AXPW closed 45.05% higher than the open at $2.35. This is not the first time this week that AXPW has been volatile; in late August, the stock rose 273.78% from a low of $1.03 to a high of $3.85. Axion Power International Inc.'s monthly performance is up 5.890%.
mCig Inc (OTCMKTS:MCIG) is a top distributor of products, technologies, and services for both medicinal and recreational marijuana. On Thursday morning, mCig announced they signed an agreement with EmotekLabs, LLC. EmotekLabs is a Colorado-based company that develops award-winning commercial extractors. The partnership hopes to allow mCig to market the Emotek Cannapod and their line of extractors. Paul Rosenberg, CEO of mCig, Inc., stated, "We are excited about the opportunity to work with Emotek and distribute their product to all legal zones around the world. The Emotek product line is a welcome addition to the portfolio of products mCig can offer." This month, MCIG has seen a rise of 99.6% from $0.025 to $0.049.
ConforMIS Inc (NASDAQ: CFMS): Premium Members Made A Quick 65% Profit In Just 1 week
Well, as we know there are two types of person in the stock market one is trader and another is investor. Investors tend to put money for longer time, while traders make short term bets. We know, its not at all easy to make money in the short term especially in the equity markets. However, premium members at Traders Insights are making awesome money on our calls on our swing trading calls. WE ARE OFFERING A SPECIAL 7-Day Trial Period at Just $5 (so that everybody can make money with us and join us if satisfied). Register Here http://tradersinsights.com/pricing/
JOIN US NOW: For Details Contact us at info@tradersinsights.com
Or You can send me a friend request on facebook here https://www.facebook.com/sebastian.gomestradersinsights
Now let me show you how we made quick 43% in just 1-week which was posted to our premium members:-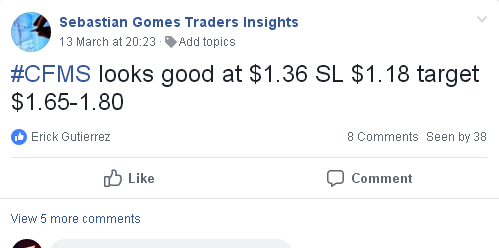 We told our members in facebook private group to buy ConforMIS Inc (NASDAQ: CFMS) yesterday (march 13th) at $1.36. Now look at the price of the stock – its up 65% at $2.25 from our buy price. This is how easy money they made. If you had invested $5,000 in CFMS, it could had been moved up to $8,250. It's not yet late, join us at info@tradersinsights.com
Rockwell Medical Inc (NASDAQ: RMTI): Premium Members Made A Quick 20% Profit In 24 Hours
Well, as we know there are two types of person in the stock market one is trader and another is investor. Investors tend to put money for longer time, while traders make short term bets. We know, its not at all easy to make money in the short term especially in the equity markets. However, premium members at Traders Insights are making awesome money on our calls on our swing trading calls. WE ARE OFFERING A SPECIAL 7-Day Trial Period at Just $5 (so that everybody can make money with us and join us if satisfied). Register Here http://tradersinsights.com/pricing/
JOIN US NOW: For Details Contact us at info@tradersinsights.com
Or You can send me a friend request on facebook here https://www.facebook.com/sebastian.gomestradersinsights
Now let me show you how we made quick 43% in just 1-week which was posted to our premium members:-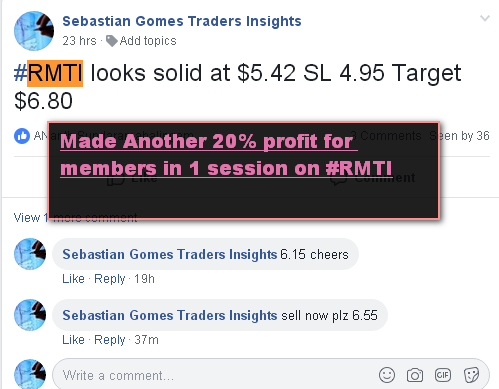 We told our members in facebook private group to buy Rockwell Medical Inc (NASDAQ: RMTI) yesterday (march 18th) at $5.42. Now look at the price of the stock – its up 20% at $6.55 from our buy price. This is how easy money they made. If you had invested $5,000 in RMTI, it could had been moved up to $6,000. It's not yet late, join us at info@tradersinsights.com
Sorrento Therapeutics Inc (NASDAQ: SRNE): Members Made A Hefty 15% Profit In 24 Hours
Well, as we know there are two types of person in the stock market one is trader and another is investor. Investors tend to put money for longer time, while traders make short term bets. We know, its not at all easy to make money in the short term especially in the equity markets. However, premium members at Traders Insights are making awesome money on our calls on our swing trading calls. WE ARE OFFERING A SPECIAL 7-Day Trial Period at Just $5 (so that everybody can make money with us and join us if satisfied). Register Here http://tradersinsights.com/pricing/
 JOIN US NOW: For Details Contact us at info@tradersinsights.com
 Or You can send me a friend request on facebook here https://www.facebook.com/sebastian.gomestradersinsights
Now let me show you how we made quick 43% in just 1-week which was posted to our premium members:-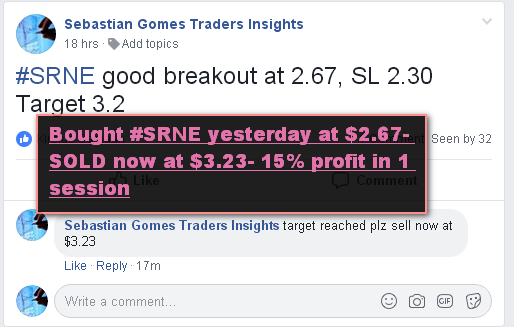 We told our members in facebook private group to buy Sorrento Therapeutics Inc (NASDAQ: SRNE) yesterday (march 18th) at $2.67. Now look at the price of the stock – its up 15% at $3.23 from our buy price. This is how easy money they made. If you had invested $5,000 in SRNE, it could had been moved up to $5,750.  It's not yet late, join us at info@tradersinsights.com