U.S. Jobs Report Has Not Affected These Stocks: Holiday Island Holdings Inc (OTCMKTS:HIHI), Sierra Resource Group Inc (OTCMKTS:SIRG), Global Equity International Inc (OTCBB:GEQU), Cell MedX Corp (OTCBB:CMXC)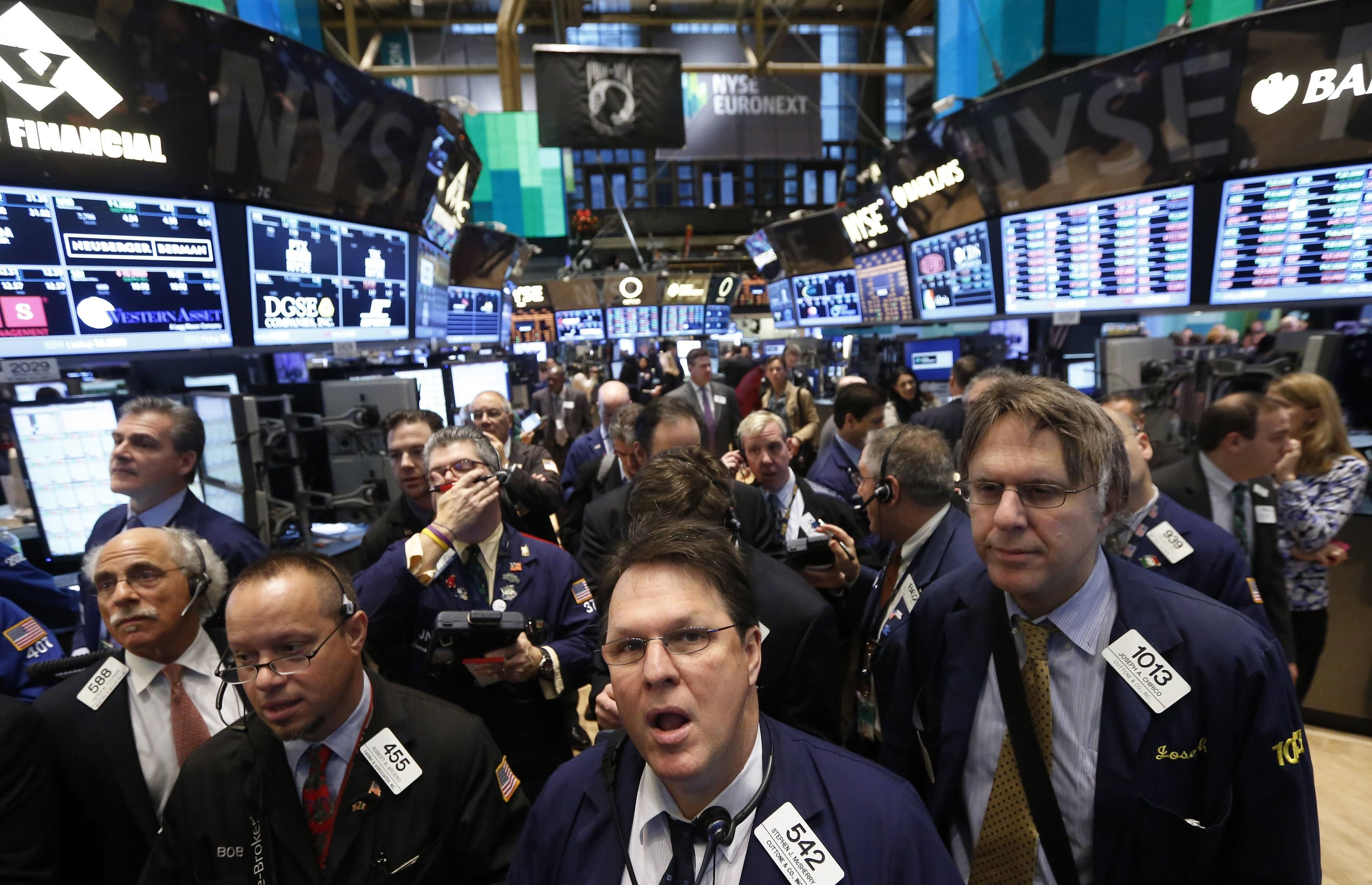 If you haven't heard, the US August Jobs numbers came in and if ever there was a shortfall, it was recognizable today. Expectations on the street were in the ball-park of 220,000 non farm jobs but when the raw data came in, the report showed a deficit of more than 40,000 jobs. The August numbers came in around 173,000 new jobs created during the month. Unfortunately for large cap stocks, this did not bode well. Johnson & Johnson (NYSE:JNJ), Microsoft Corporation (NASDAQ:MSFT), and even Netflix, Inc. (NASDAQ:NFLX) fell by more than 2% by the time the lunch hour rolled in on Friday. As of 11:30AM EST the Nasdaq, S&P 500, and DJIA all showed negative price movement.
Despite these losses and the drop in U.S. jobs numbers, traders have found opportunity in higher volatile markets like that of forex, futures as well as penny stocks. Holiday Island Holdings Inc (OTCMKTS:HIHI), Sierra Resource Group Inc (OTCMKTS:SIRG), Global Equity International Inc (OTCBB:GEQU), and Cell MedX Corp (OTCBB:CMXC)
Holiday Island Holdings, Inc. an emerging small cap company, is currently making progress to acquire particular income producing commercial and residential properties located in Arkansas. The company's most recent press release announcing that the company is in the works talking with a large Kansas- based developer on the shopping center funding valued at $10,000,000. Over the last month HIHI has seen a price increase of 400% from lows of $0.0001 to highs of $0.0005. On Friday HIHI jumped 100% from an opening price of $0.0002 to a days high of $0.0004.
Sierra Resource Group Inc. a company that engages in the exploration, discovery, and development of mineral resource properties has seen continued momentum over the last couple of weeks. Increased trading volume has seen to be the driving force for the stock's 1550% over the last month. SIRG has seen lows of $0.0006 back in early August to highs of $0.0099. The stock is currently trading between $0.0016-$0.0019 as of Friday.
Global Equity International, Inc. and its fully owned subsidiary Global Equity Partners Plc., a specialist consultancy firm announced on Friday the company will reapply for OTCQB listing status, once the Company's closing bid builds at $0.01 or higher. Prior to the most recent press release the company also announced they have signed a consulting agreement with Advanced Imaging Projects. The CEO stated, "AIP has a unique and specialist business that we find very interesting. They have thought through their business model in fine detail and represent a company built on solid plans and aspirations. We will, over time, seek to help AIP establish their products in the Middle Eastern market from Dubai, which offers a huge potential customer base, coupled with ruling family decree to build on their current healthcare facilities. We believe AIP will become one of the market leaders in its sector in a very short space of time and look forward to the long and prosperous journey ahead we are all embarking on." GEQU over the last 60 days has seen price per share spike of 850% from lows back in July of $0.0014 to highs on Friday of $0.0133.
Cell MedX Corp. a development stage company focused on the discovery, development and commercialization of therapeutic devices for patients with diabetes has seen an increase in trading activity this past week. The company is looking to take a different approach to diabetes treatment that could essentially innovate a new category in the space. Last year, the company bought the rights to a proprietary micro current technology called eBalance that will improve diabetic metabolic markers and lessen the need for insulin, while helping the long-term prognosis for the rising number afflicted with the condition. CMXC over the last 30 days has seen a hike of 126% from lows of $0.15 to highs of $0.34. The stock is currently seeing trading levels between $0.18-$0.21.
ConforMIS Inc (NASDAQ: CFMS): Premium Members Made A Quick 65% Profit In Just 1 week
Well, as we know there are two types of person in the stock market one is trader and another is investor. Investors tend to put money for longer time, while traders make short term bets. We know, its not at all easy to make money in the short term especially in the equity markets. However, premium members at Traders Insights are making awesome money on our calls on our swing trading calls. WE ARE OFFERING A SPECIAL 7-Day Trial Period at Just $5 (so that everybody can make money with us and join us if satisfied). Register Here http://tradersinsights.com/pricing/
JOIN US NOW: For Details Contact us at info@tradersinsights.com
Or You can send me a friend request on facebook here https://www.facebook.com/sebastian.gomestradersinsights
Now let me show you how we made quick 43% in just 1-week which was posted to our premium members:-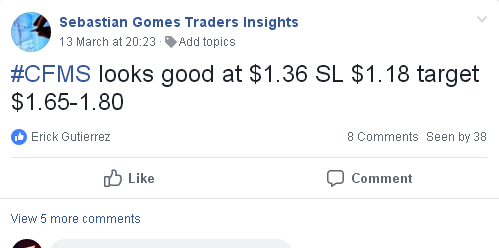 We told our members in facebook private group to buy ConforMIS Inc (NASDAQ: CFMS) yesterday (march 13th) at $1.36. Now look at the price of the stock – its up 65% at $2.25 from our buy price. This is how easy money they made. If you had invested $5,000 in CFMS, it could had been moved up to $8,250. It's not yet late, join us at info@tradersinsights.com
Rockwell Medical Inc (NASDAQ: RMTI): Premium Members Made A Quick 20% Profit In 24 Hours
Well, as we know there are two types of person in the stock market one is trader and another is investor. Investors tend to put money for longer time, while traders make short term bets. We know, its not at all easy to make money in the short term especially in the equity markets. However, premium members at Traders Insights are making awesome money on our calls on our swing trading calls. WE ARE OFFERING A SPECIAL 7-Day Trial Period at Just $5 (so that everybody can make money with us and join us if satisfied). Register Here http://tradersinsights.com/pricing/
JOIN US NOW: For Details Contact us at info@tradersinsights.com
Or You can send me a friend request on facebook here https://www.facebook.com/sebastian.gomestradersinsights
Now let me show you how we made quick 43% in just 1-week which was posted to our premium members:-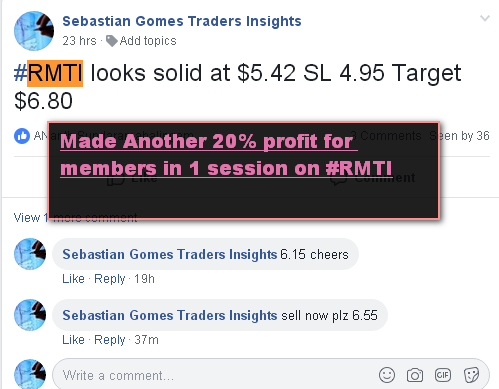 We told our members in facebook private group to buy Rockwell Medical Inc (NASDAQ: RMTI) yesterday (march 18th) at $5.42. Now look at the price of the stock – its up 20% at $6.55 from our buy price. This is how easy money they made. If you had invested $5,000 in RMTI, it could had been moved up to $6,000. It's not yet late, join us at info@tradersinsights.com
Sorrento Therapeutics Inc (NASDAQ: SRNE): Members Made A Hefty 15% Profit In 24 Hours
Well, as we know there are two types of person in the stock market one is trader and another is investor. Investors tend to put money for longer time, while traders make short term bets. We know, its not at all easy to make money in the short term especially in the equity markets. However, premium members at Traders Insights are making awesome money on our calls on our swing trading calls. WE ARE OFFERING A SPECIAL 7-Day Trial Period at Just $5 (so that everybody can make money with us and join us if satisfied). Register Here http://tradersinsights.com/pricing/
 JOIN US NOW: For Details Contact us at info@tradersinsights.com
 Or You can send me a friend request on facebook here https://www.facebook.com/sebastian.gomestradersinsights
Now let me show you how we made quick 43% in just 1-week which was posted to our premium members:-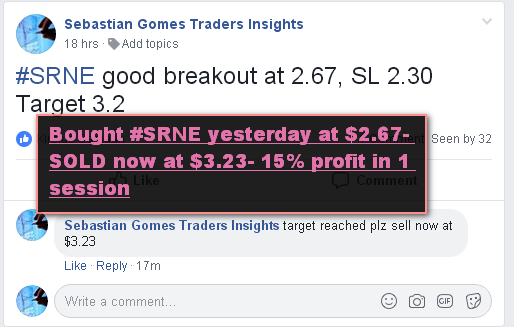 We told our members in facebook private group to buy Sorrento Therapeutics Inc (NASDAQ: SRNE) yesterday (march 18th) at $2.67. Now look at the price of the stock – its up 15% at $3.23 from our buy price. This is how easy money they made. If you had invested $5,000 in SRNE, it could had been moved up to $5,750.  It's not yet late, join us at info@tradersinsights.com