As the Market Continues to Grow Investors Direct Attention Towards Penny Stocks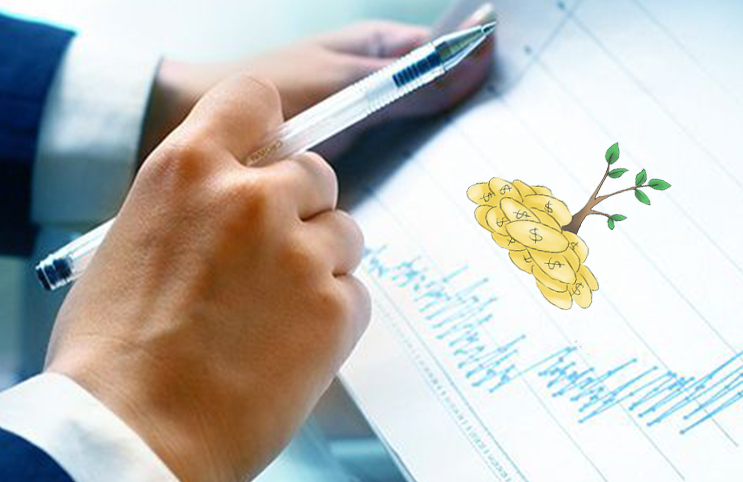 The U.S dollar continues to strengthen as investors anticipate an interest rate hike from the Federal Reserve. Gold has declined to a five-year low, pressured by a strong US and as China buys less than expected over the past six years. Greek banks are set to reopen today after being closed for three weeks. With the market in a turnaround and confidence starting to build, investors have been diving into more risk in the market specifically with the volatile penny stocks. FBEC Worldwide Inc (OTCMKTS:FBEC), Golden Star Enterprises Ltd (OTCMKTS:GSPT) and Progressive Care Inc (OTCMKTS:RXMD) have begun to catch traction from investors in July.
FBEC Worldwide Inc. a company focused on HEMP infused energy beverages. The company is expected to release its first H.E.M.P energy shot The WolfShot on August 1st 2015. FBEC Worldwide Inc. also recently announced the company has started the process to up-list to the OTCQB with the NYSE as its end goal. CEO stated, "We anticipate sales and marketing of our new product line, and with new beverages on our drawing board, and a target of $50M in sales over the next 24 months, we will focus on meeting the requirements for the New York Stock Exchange." Over the last 2 months FBEC has seen a price spike by as much as 3,400% from lows of $0.004 to highs of $0.14.
Don't miss another marijuana stock to breakout big. Find What's Next
Golden Star Enterprises Ltd. announced on Monday the company is launching its marketing campaign focused towards the action sports drone industry. The company's plan is to promote its product lineup in major ski resorts throughout North America. Director Matt Kelly stated, "We are not only making it more affordable for those athletes but also making it affordable for the recreational hikers, bikers, skiers, snowboarders and mountain enthusiasts." GSPT over the last month has seen a price hike of 113.33% from lows of $0.03 in June to highs of $0.064 in the month of July.
It's Easy Trade Penny Stocks When You Have A Great Network! Learn More
Progressive Care Inc. has had a busy month in July. The company has made key announcements such as setting new record pharmacy sales during the second quarter of this year. Progressive Care Inc. also announced on Monday morning that the company is entering into a 340B contract with Empower "U". The national 340B market in the US is projected to grow to $13.4 billion by 2016. While this only accounts for 2% of all national drug purchases, 340B purchases could potentially amount to more than 25% of the drug purchases made by hospitals and eligible organizations. The company's COO quoted, "PharmCo has always had the mission of reaching at-risk communities to provide them with much needed pharmaceutical services. We are proud to support Empower "U" and work with local communities to grow the pharmacy." Since the beginning of June RXMD has seen staggering price increase of over 700% from lows of $0.005 to highs of over $0.04.
ConforMIS Inc (NASDAQ: CFMS): Premium Members Made A Quick 65% Profit In Just 1 week
Well, as we know there are two types of person in the stock market one is trader and another is investor. Investors tend to put money for longer time, while traders make short term bets. We know, its not at all easy to make money in the short term especially in the equity markets. However, premium members at Traders Insights are making awesome money on our calls on our swing trading calls. WE ARE OFFERING A SPECIAL 7-Day Trial Period at Just $5 (so that everybody can make money with us and join us if satisfied). Register Here http://tradersinsights.com/pricing/
JOIN US NOW: For Details Contact us at info@tradersinsights.com
Or You can send me a friend request on facebook here https://www.facebook.com/sebastian.gomestradersinsights
Now let me show you how we made quick 43% in just 1-week which was posted to our premium members:-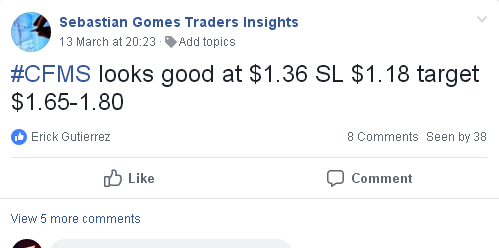 We told our members in facebook private group to buy ConforMIS Inc (NASDAQ: CFMS) yesterday (march 13th) at $1.36. Now look at the price of the stock – its up 65% at $2.25 from our buy price. This is how easy money they made. If you had invested $5,000 in CFMS, it could had been moved up to $8,250. It's not yet late, join us at info@tradersinsights.com
Rockwell Medical Inc (NASDAQ: RMTI): Premium Members Made A Quick 20% Profit In 24 Hours
Well, as we know there are two types of person in the stock market one is trader and another is investor. Investors tend to put money for longer time, while traders make short term bets. We know, its not at all easy to make money in the short term especially in the equity markets. However, premium members at Traders Insights are making awesome money on our calls on our swing trading calls. WE ARE OFFERING A SPECIAL 7-Day Trial Period at Just $5 (so that everybody can make money with us and join us if satisfied). Register Here http://tradersinsights.com/pricing/
JOIN US NOW: For Details Contact us at info@tradersinsights.com
Or You can send me a friend request on facebook here https://www.facebook.com/sebastian.gomestradersinsights
Now let me show you how we made quick 43% in just 1-week which was posted to our premium members:-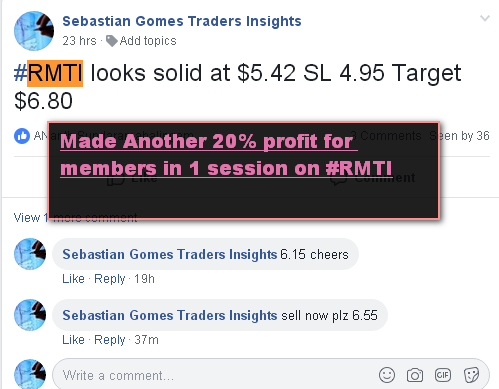 We told our members in facebook private group to buy Rockwell Medical Inc (NASDAQ: RMTI) yesterday (march 18th) at $5.42. Now look at the price of the stock – its up 20% at $6.55 from our buy price. This is how easy money they made. If you had invested $5,000 in RMTI, it could had been moved up to $6,000. It's not yet late, join us at info@tradersinsights.com
Sorrento Therapeutics Inc (NASDAQ: SRNE): Members Made A Hefty 15% Profit In 24 Hours
Well, as we know there are two types of person in the stock market one is trader and another is investor. Investors tend to put money for longer time, while traders make short term bets. We know, its not at all easy to make money in the short term especially in the equity markets. However, premium members at Traders Insights are making awesome money on our calls on our swing trading calls. WE ARE OFFERING A SPECIAL 7-Day Trial Period at Just $5 (so that everybody can make money with us and join us if satisfied). Register Here http://tradersinsights.com/pricing/
 JOIN US NOW: For Details Contact us at info@tradersinsights.com
 Or You can send me a friend request on facebook here https://www.facebook.com/sebastian.gomestradersinsights
Now let me show you how we made quick 43% in just 1-week which was posted to our premium members:-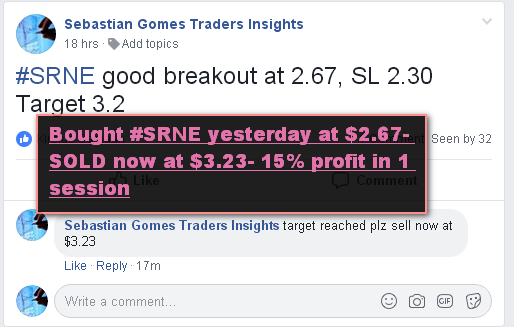 We told our members in facebook private group to buy Sorrento Therapeutics Inc (NASDAQ: SRNE) yesterday (march 18th) at $2.67. Now look at the price of the stock – its up 15% at $3.23 from our buy price. This is how easy money they made. If you had invested $5,000 in SRNE, it could had been moved up to $5,750.  It's not yet late, join us at info@tradersinsights.com