Iconic Brands, Inc. (OTCMKTS: ICNB) is Establishing Itself in a Growing Industry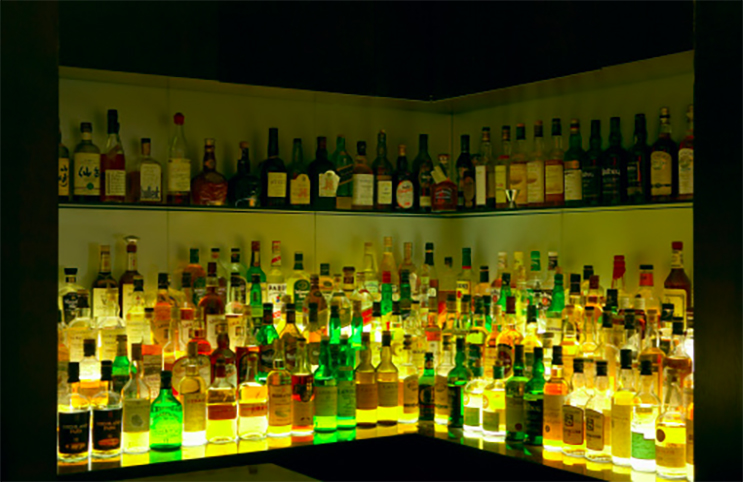 Americans in 2015 opted for more liquor as the spirits sector snatched more market share from the beer sector. Retail sales of distilled spirits are close to $70 billion, following the upward trend of mixed-drink culture, according to Distilled Spirits Council data. Last year saw the spirits sector market share reach 35.4%, in comparison to 35.2% in 2014 and 28.2% in 1999.
LVMH (BIT: LVMH), the multinational luxury goods conglomerate that owns both Hennessy and Moët, has posted numbers indicative of the growing liquor sector. LVMH posted annual profits from recurring operations during 2015 of roughly $7.2 billion, which is up about 16% from 2014.
One micro-cap stock to watch during the current boom in the liquor industry is Iconic Brands, Inc. (OTCMKTS: ICNB). Headquartered in New York, Iconic Brands, Inc. is in the business of meeting their client's alcoholic beverage needs with products that are marketed through internationally identifiable celebrities, are both unique and superior to their competition, and are of the utmost quality.  Their unique ability to incorporate well-known celebrities into the marketing of first-class alcoholic beverages serves as their brand's selling point.
Recent press releases from Iconic Brands are indicative of the company's upcoming performance. On February 10th, the company announced that their product, Bivi Vodka, had been awarded a "Gold" medal from the Artisan Spirits Awards of San Francisco. The distinguished honor is only given to products that incorporate accustomed distilling techniques and excellent ingredients that display the expertise of the artisan distiller.
Rich DeCicco, the CEO of Iconic Brands, recently spoke about BiVi's award, "We are thrilled that BiVi is continuing to build momentum and brand awareness. We are striving to become the vodka of choice when people dine out and when they entertain at home. For any new brand to be successful, we must deliver a quality product that the consumer will enjoy and have readily available. The consumer today is presented with many choices in the vodka category. They know with BiVi and the handcrafted manner in which it is produced, they are purchasing a brand with real authenticity, a fabulous back story and very important to note — it's 'Original'".
In addition, Iconic Brands posted a press release regarding their plans to launch a new line of organic Prosecco wines. The press release reveals that Iconic Brands is set to announce a line of organic Prosecco Italian sparkling wines in three versions, Brüt, Rosé, and a sugar free option that are all 100% organic. Keeping in line with their marketing plan, Iconic Brands will also announce an internationally identifiable celebrity that will act as the face of the line of organic Prosecco wine's. Details regarding the celebrity's identity and of the product itself are set to be revealed in an exclusive report within a forthcoming issue of a nationally syndicated magazine. The CEO of Iconic Brands, Richard DeCicco, also spoke on his company's plans, "We are very excited about the national exposure we will achieve when the magazine article become available and we introduce to the world our celebrity partner for this important product addition to our portfolio… Many consider Prosecco a better alternative to Champagne. The quality of our wine allows it to stand on its own merits and we expect a dramatic increase in consumption. With our established distribution channels and their extensive off-premise and on-premise accounts, we feel our Prosecco, providing an organic choice to consumers, will become the sparkling wine of choice".
ConforMIS Inc (NASDAQ: CFMS): Premium Members Made A Quick 65% Profit In Just 1 week
Well, as we know there are two types of person in the stock market one is trader and another is investor. Investors tend to put money for longer time, while traders make short term bets. We know, its not at all easy to make money in the short term especially in the equity markets. However, premium members at Traders Insights are making awesome money on our calls on our swing trading calls. WE ARE OFFERING A SPECIAL 7-Day Trial Period at Just $5 (so that everybody can make money with us and join us if satisfied). Register Here http://tradersinsights.com/pricing/
JOIN US NOW: For Details Contact us at info@tradersinsights.com
Or You can send me a friend request on facebook here https://www.facebook.com/sebastian.gomestradersinsights
Now let me show you how we made quick 43% in just 1-week which was posted to our premium members:-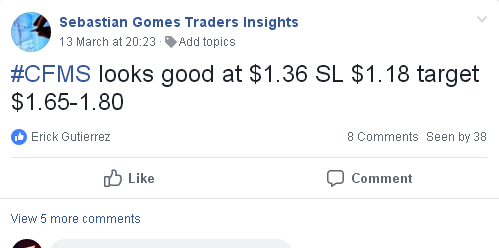 We told our members in facebook private group to buy ConforMIS Inc (NASDAQ: CFMS) yesterday (march 13th) at $1.36. Now look at the price of the stock – its up 65% at $2.25 from our buy price. This is how easy money they made. If you had invested $5,000 in CFMS, it could had been moved up to $8,250. It's not yet late, join us at info@tradersinsights.com
Rockwell Medical Inc (NASDAQ: RMTI): Premium Members Made A Quick 20% Profit In 24 Hours
Well, as we know there are two types of person in the stock market one is trader and another is investor. Investors tend to put money for longer time, while traders make short term bets. We know, its not at all easy to make money in the short term especially in the equity markets. However, premium members at Traders Insights are making awesome money on our calls on our swing trading calls. WE ARE OFFERING A SPECIAL 7-Day Trial Period at Just $5 (so that everybody can make money with us and join us if satisfied). Register Here http://tradersinsights.com/pricing/
JOIN US NOW: For Details Contact us at info@tradersinsights.com
Or You can send me a friend request on facebook here https://www.facebook.com/sebastian.gomestradersinsights
Now let me show you how we made quick 43% in just 1-week which was posted to our premium members:-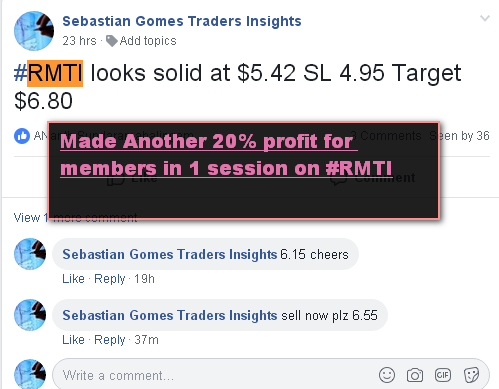 We told our members in facebook private group to buy Rockwell Medical Inc (NASDAQ: RMTI) yesterday (march 18th) at $5.42. Now look at the price of the stock – its up 20% at $6.55 from our buy price. This is how easy money they made. If you had invested $5,000 in RMTI, it could had been moved up to $6,000. It's not yet late, join us at info@tradersinsights.com
Sorrento Therapeutics Inc (NASDAQ: SRNE): Members Made A Hefty 15% Profit In 24 Hours
Well, as we know there are two types of person in the stock market one is trader and another is investor. Investors tend to put money for longer time, while traders make short term bets. We know, its not at all easy to make money in the short term especially in the equity markets. However, premium members at Traders Insights are making awesome money on our calls on our swing trading calls. WE ARE OFFERING A SPECIAL 7-Day Trial Period at Just $5 (so that everybody can make money with us and join us if satisfied). Register Here http://tradersinsights.com/pricing/
 JOIN US NOW: For Details Contact us at info@tradersinsights.com
 Or You can send me a friend request on facebook here https://www.facebook.com/sebastian.gomestradersinsights
Now let me show you how we made quick 43% in just 1-week which was posted to our premium members:-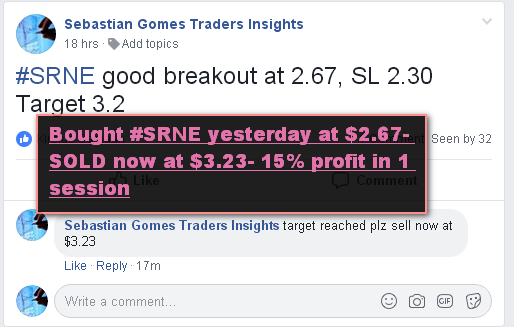 We told our members in facebook private group to buy Sorrento Therapeutics Inc (NASDAQ: SRNE) yesterday (march 18th) at $2.67. Now look at the price of the stock – its up 15% at $3.23 from our buy price. This is how easy money they made. If you had invested $5,000 in SRNE, it could had been moved up to $5,750.  It's not yet late, join us at info@tradersinsights.com