Iconic Brands, Inc. (OTCMKTS: ICNB) is Establishing Itself in a Growing Industry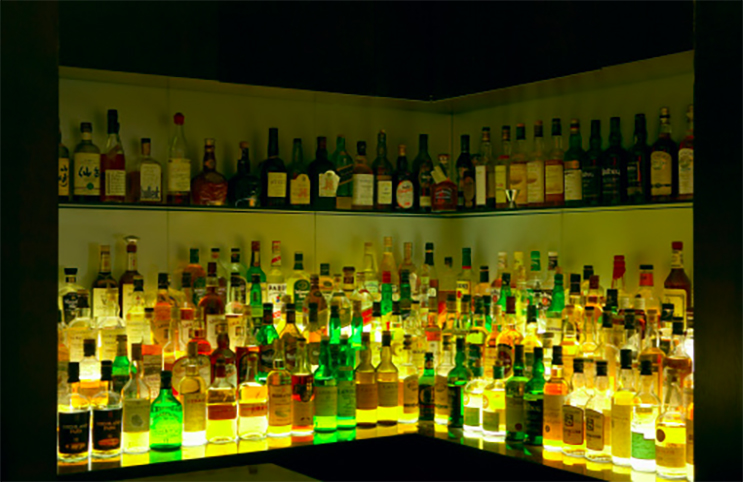 Americans in 2015 opted for more liquor as the spirits sector snatched more market share from the beer sector. Retail sales of distilled spirits are close to $70 billion, following the upward trend of mixed-drink culture, according to Distilled Spirits Council data. Last year saw the spirits sector market share reach 35.4%, in comparison to 35.2% in 2014 and 28.2% in 1999.
LVMH (BIT: LVMH), the multinational luxury goods conglomerate that owns both Hennessy and Moët, has posted numbers indicative of the growing liquor sector. LVMH posted annual profits from recurring operations during 2015 of roughly $7.2 billion, which is up about 16% from 2014.
One micro-cap stock to watch during the current boom in the liquor industry is Iconic Brands, Inc. (OTCMKTS: ICNB). Headquartered in New York, Iconic Brands, Inc. is in the business of meeting their client's alcoholic beverage needs with products that are marketed through internationally identifiable celebrities, are both unique and superior to their competition, and are of the utmost quality.  Their unique ability to incorporate well-known celebrities into the marketing of first-class alcoholic beverages serves as their brand's selling point.
Recent press releases from Iconic Brands are indicative of the company's upcoming performance. On February 10th, the company announced that their product, Bivi Vodka, had been awarded a "Gold" medal from the Artisan Spirits Awards of San Francisco. The distinguished honor is only given to products that incorporate accustomed distilling techniques and excellent ingredients that display the expertise of the artisan distiller.
Rich DeCicco, the CEO of Iconic Brands, recently spoke about BiVi's award, "We are thrilled that BiVi is continuing to build momentum and brand awareness. We are striving to become the vodka of choice when people dine out and when they entertain at home. For any new brand to be successful, we must deliver a quality product that the consumer will enjoy and have readily available. The consumer today is presented with many choices in the vodka category. They know with BiVi and the handcrafted manner in which it is produced, they are purchasing a brand with real authenticity, a fabulous back story and very important to note — it's 'Original'".
In addition, Iconic Brands posted a press release regarding their plans to launch a new line of organic Prosecco wines. The press release reveals that Iconic Brands is set to announce a line of organic Prosecco Italian sparkling wines in three versions, Brüt, Rosé, and a sugar free option that are all 100% organic. Keeping in line with their marketing plan, Iconic Brands will also announce an internationally identifiable celebrity that will act as the face of the line of organic Prosecco wine's. Details regarding the celebrity's identity and of the product itself are set to be revealed in an exclusive report within a forthcoming issue of a nationally syndicated magazine. The CEO of Iconic Brands, Richard DeCicco, also spoke on his company's plans, "We are very excited about the national exposure we will achieve when the magazine article become available and we introduce to the world our celebrity partner for this important product addition to our portfolio… Many consider Prosecco a better alternative to Champagne. The quality of our wine allows it to stand on its own merits and we expect a dramatic increase in consumption. With our established distribution channels and their extensive off-premise and on-premise accounts, we feel our Prosecco, providing an organic choice to consumers, will become the sparkling wine of choice".
Eanings Review: Rambus Inc. (NASDAQ:RMBS), Revlon Inc (NYSE:REV)
Revlon Inc(NYSE:REV) +2.5% after-hours after announcing that President and CEO Fabian Garcia is stepping down "to pursue other opportunities," and Executive Vice Chair Paul Meister will oversee operations on an interim basis.
REV also says it expects Q4 revenues of $785M, below $801M from the year-earlier quarter but ahead of analyst consensus estimate of $743M, and a $60M-$80M net loss for the quarter due to a charge related to the recent tax law changes.
REV expects Q4 adjusted EBITDA of $110M-$115M vs. $115M analyst consensus.
CFO Chris Peterson also denies rumors that the company is considering a material asset transfer that would shield assets from lenders.
Rambus Inc.(NASDAQ:RMBS) shares are down 5.5% aftermarket following Q4 results that beat revenue estimates and met on EPS. In-line Q1 guidance (under ASC 605 accounting change) has revenue from $94M to $100M (consensus: $100.38M) and EPS from $0.17 to $0.23 (consensus: $0.18).
Revenue breakdown: Royalties, $77.9M (+10% Y/Y); Product, $8.5M (-27%); Contract and other revenue, $15.5M (+2%); Licensing billings, $76.6M (+18%).Key metrics: Non-GAAP operating margin, 31%; total operating expenses, $67.5M; cash and equivalents, $172.2M; cash flow from operations, $33.3M.
ADTRAN, Inc. (NASDAQ:ADTN) Hits New Lows After Issuing disappointing Earnings Forecast
ADTRAN, Inc.(NASDAQ:ADTN) slumped to a 52-week low after forecasting below consensus guidance for Q4, revising its revenue estimate downward  to $125M from $155M-$165M earlier and seeing EPS of ~$0.01; analysts had expected EPS of ~$0.14 and revenue of $161.2M.
ADTN also projects Q1 to come in at roughly the same as Q4, misses analyst consensus of $167.5M.
CEO Tom Stanton says Q4 results have been hurt by a merger-related review, which ADTN expects to be completed in 60-90 days, and slowdown in the spending at a domestic Tier 1 customer.
MKM Partners analyst Michael Genovese believes the customer is CenturyLink (CTL -2%), which accounted for 24% of ADTN's total sales in 2016.
The analyst thinks the weakness should prove temporary, adding that ADTN's performance likely will accelerate into 2019 as the company stands to benefit from 5G spending; MKM trims its ADTN target price to $25 from $27 but keeps its Buy rating.
Big IPO Coming: Celator Pharmaceuticals Inc(NASDAQ:CPXX), Moleculin Biotech's (MBRX)

Today at 10am Eastern, Moleculin Biotech ticker symbol MBRX will debut on the Nasdaq stock exchange and is being considered as one of the most highly anticipated IPO's of 2016 by the street. The excitement and anticipation is arising from many experts saying that Moleculin Biotech's (MBRX) drug annamycin is far superior to Celator Pharmaceuticals Inc(NASDAQ:CPXX) drug daunorubicin.
CPXX which has been bought out by Jazz Pharmaceuticals plc – Ordinary Shares(NASDAQ:JAZZ) for $1.5 Billion Dollars last week, share price ran from $1.6 to $31 in 2 months. Moleculin Biotech's share structure is a 1.5m public float Priced at $6.