Greek Market Fuels Penny Stocks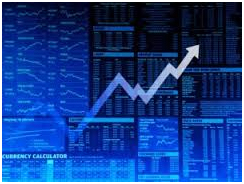 The Greek stock market is looking to reopen with restrictions. Investors will only be able
to buy with existing holdings of cash, which means that they cannot withdraw from their bank accounts. Banks opened up again as of July 20, and are limited to about $455 in withdrawals a week. This news has had relatively positive effects on penny stocks, including Net Element Inc (NASDAQ:NETE), Progressive Care Inc (OTCMKTS:RXMD), and Hybrid Coating Technologies Inc (OTCMKTS:HCTI)
Net Element Inc (NASDAQ:NETE) of the Technology sector is up 71.99% as of Friday, July 31. The high of the day by noon was $0.488, and then proceeded to $0.3621 by 2:00 the same day. At noon on Friday, NETE was trading with a volume of 9,977,301 shares. NETE's weekly performance of 174.9% from Monday's opening and a 52 week low of $0.12. NETE's monthly performance stands at 31.89% and considered a stock to watch at the moment.
Progressive Care Inc (OTCMKTS:RXMD) has returned from its boom back in June. On Friday, June 21, the high of the day was at $0.0087 by noon. The 30­day average volume was at 6.14 million shares as of Friday afternoon. Now that the stock has returned to normal rates, many are on watch for this stock. In June, the stock rose around 800%, so many are looking for the same rise. No news has been out for some time now, but they should be releasing their second quarter earnings report soon.
Alerted by Penny Stock Observer June 23 2015
Hybrid Coating Technologies Inc (OTCMKTS:HCTI) is up 45.71% at $0.0051 (redo) (from the open friday) and trading at a volume of 27,889,976. With the announcement of winning the Presidential Green Chemistry Challenge Award, the stock is on an upward trend. The award won is very prestigious, supported by the White House Office of Science and Technology Policy and the American Chemical Society. The award also recognizes "landmark green chemistry
technologies developed by industrial pioneers and leading scientists in the field of green chemistry." Although HCTI is down 94.01% for the year, buyers are looking for it to bounce back up.
ConforMIS Inc (NASDAQ: CFMS): Premium Members Made A Quick 65% Profit In Just 1 week
Well, as we know there are two types of person in the stock market one is trader and another is investor. Investors tend to put money for longer time, while traders make short term bets. We know, its not at all easy to make money in the short term especially in the equity markets. However, premium members at Traders Insights are making awesome money on our calls on our swing trading calls. WE ARE OFFERING A SPECIAL 7-Day Trial Period at Just $5 (so that everybody can make money with us and join us if satisfied). Register Here http://tradersinsights.com/pricing/
JOIN US NOW: For Details Contact us at info@tradersinsights.com
Or You can send me a friend request on facebook here https://www.facebook.com/sebastian.gomestradersinsights
Now let me show you how we made quick 43% in just 1-week which was posted to our premium members:-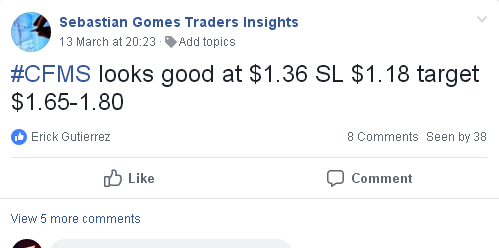 We told our members in facebook private group to buy ConforMIS Inc (NASDAQ: CFMS) yesterday (march 13th) at $1.36. Now look at the price of the stock – its up 65% at $2.25 from our buy price. This is how easy money they made. If you had invested $5,000 in CFMS, it could had been moved up to $8,250. It's not yet late, join us at info@tradersinsights.com
Rockwell Medical Inc (NASDAQ: RMTI): Premium Members Made A Quick 20% Profit In 24 Hours
Well, as we know there are two types of person in the stock market one is trader and another is investor. Investors tend to put money for longer time, while traders make short term bets. We know, its not at all easy to make money in the short term especially in the equity markets. However, premium members at Traders Insights are making awesome money on our calls on our swing trading calls. WE ARE OFFERING A SPECIAL 7-Day Trial Period at Just $5 (so that everybody can make money with us and join us if satisfied). Register Here http://tradersinsights.com/pricing/
JOIN US NOW: For Details Contact us at info@tradersinsights.com
Or You can send me a friend request on facebook here https://www.facebook.com/sebastian.gomestradersinsights
Now let me show you how we made quick 43% in just 1-week which was posted to our premium members:-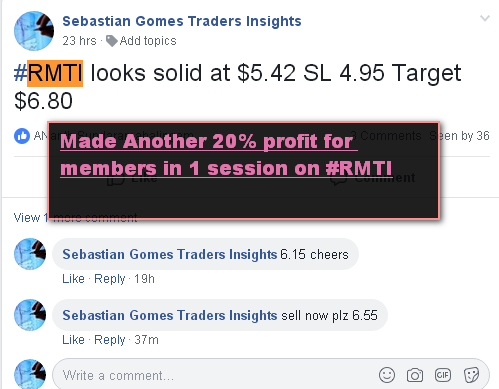 We told our members in facebook private group to buy Rockwell Medical Inc (NASDAQ: RMTI) yesterday (march 18th) at $5.42. Now look at the price of the stock – its up 20% at $6.55 from our buy price. This is how easy money they made. If you had invested $5,000 in RMTI, it could had been moved up to $6,000. It's not yet late, join us at info@tradersinsights.com
Sorrento Therapeutics Inc (NASDAQ: SRNE): Members Made A Hefty 15% Profit In 24 Hours
Well, as we know there are two types of person in the stock market one is trader and another is investor. Investors tend to put money for longer time, while traders make short term bets. We know, its not at all easy to make money in the short term especially in the equity markets. However, premium members at Traders Insights are making awesome money on our calls on our swing trading calls. WE ARE OFFERING A SPECIAL 7-Day Trial Period at Just $5 (so that everybody can make money with us and join us if satisfied). Register Here http://tradersinsights.com/pricing/
 JOIN US NOW: For Details Contact us at info@tradersinsights.com
 Or You can send me a friend request on facebook here https://www.facebook.com/sebastian.gomestradersinsights
Now let me show you how we made quick 43% in just 1-week which was posted to our premium members:-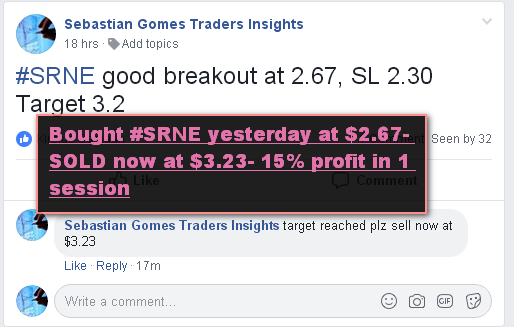 We told our members in facebook private group to buy Sorrento Therapeutics Inc (NASDAQ: SRNE) yesterday (march 18th) at $2.67. Now look at the price of the stock – its up 15% at $3.23 from our buy price. This is how easy money they made. If you had invested $5,000 in SRNE, it could had been moved up to $5,750.  It's not yet late, join us at info@tradersinsights.com