Investors Find Huge Wins With These Penny Stocks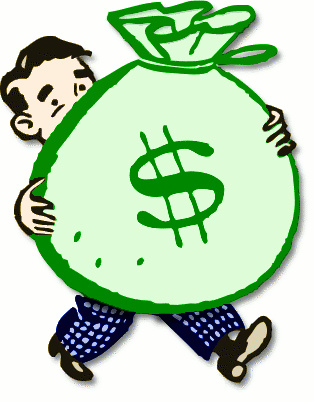 On Wednesday, August 12th, stocks fell over 1%. Additionally this was the second failing day in the yuan against the dollar. Investors and economists are concerned about our global growth. Dow Jones's industrial average fell by over 250 points. This has now extended the 212-point loss from the day before – Tuesday. Nasdaq Composite has fallen 1.5% while Apple and various biotechs have continued to steeply fall. Now, what has this done to penny stocks?
Progressive Care Inc (OTCMKTS:RXMD) saw a high of $0.0125 from the opening of $0.0085. On Augusts 6th, OTCMKTS:RXMD hit a high of $0.0144. Investors are happy to see green numbers again since from August 6th to August 12th, the stock has dropped around 40%. As of 4:00 am, RXMD closed at $0.01 and is traded with a volume of 21,750,000. A recent 3 cent price target was placed on the stock by an independent analyst. This can be viewed here: http://bit.ly/RXMD_Analyst_Report
Oxis International Inc (OTCMKTS:OXIS) was at $0.0179 as of 11:35 AM on August 12th. At that same time, it was down 0.56% and the volume was at 666,242. The HOD, also at the same time, was $0.02. Just a few days before, on Monday, August 10th, OTCMKTS:OXIS saw a high $0.027. Since then, it fell 33.7% to Wednesday's price. On August 12th, at 11:01 AM, an analyst coverage was released on the stock, keeping investors informed. An analyst report put out by Taurus Investment Research put a $0.04 price target on the stock and gave it an overall "Buy" rating. That report can be found here: http://bit.ly/OXIS_Analyst_Report
Ceres Inc (NASDAQ:CERE) had an amazing opening on Wednesday, August 12th. As of 11:45 AM, NASDAQ:CERE was up 187.58% at $2.7395. As of 11:50 AM, the stock hit a high of $4.80 which is 403% up from the previous close of $0.9526. That same morning, CERE had a press release stating that they received a patent a multi-gene trait development system for crops. This is a key milestone for the company and its future of, as they hope, more developments.
Eleven Biotherapeutics Inc (NASDAQ:EBIO) also had a great opening on Wednesday, August 12th. As of 11:54 AM, NASDAQ:EBIO was up 81.62% at $4.25. At that same time, EBIO hit a high of $8.00 which is 241% up from the previous close of $2.34. The stock was trading at 11:55 AM with a volume of 6,087,092. EBIO also had a press release that morning. They officially had their first patients dosed with EBI-005 in a Phase 3 study. EBIO looks to be making moves, and will continue to do so in the future.
ConforMIS Inc (NASDAQ: CFMS): Premium Members Made A Quick 65% Profit In Just 1 week
Well, as we know there are two types of person in the stock market one is trader and another is investor. Investors tend to put money for longer time, while traders make short term bets. We know, its not at all easy to make money in the short term especially in the equity markets. However, premium members at Traders Insights are making awesome money on our calls on our swing trading calls. WE ARE OFFERING A SPECIAL 7-Day Trial Period at Just $5 (so that everybody can make money with us and join us if satisfied). Register Here http://tradersinsights.com/pricing/
JOIN US NOW: For Details Contact us at info@tradersinsights.com
Or You can send me a friend request on facebook here https://www.facebook.com/sebastian.gomestradersinsights
Now let me show you how we made quick 43% in just 1-week which was posted to our premium members:-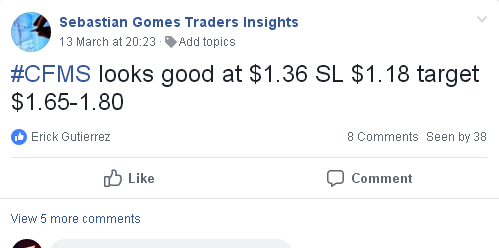 We told our members in facebook private group to buy ConforMIS Inc (NASDAQ: CFMS) yesterday (march 13th) at $1.36. Now look at the price of the stock – its up 65% at $2.25 from our buy price. This is how easy money they made. If you had invested $5,000 in CFMS, it could had been moved up to $8,250. It's not yet late, join us at info@tradersinsights.com
Rockwell Medical Inc (NASDAQ: RMTI): Premium Members Made A Quick 20% Profit In 24 Hours
Well, as we know there are two types of person in the stock market one is trader and another is investor. Investors tend to put money for longer time, while traders make short term bets. We know, its not at all easy to make money in the short term especially in the equity markets. However, premium members at Traders Insights are making awesome money on our calls on our swing trading calls. WE ARE OFFERING A SPECIAL 7-Day Trial Period at Just $5 (so that everybody can make money with us and join us if satisfied). Register Here http://tradersinsights.com/pricing/
JOIN US NOW: For Details Contact us at info@tradersinsights.com
Or You can send me a friend request on facebook here https://www.facebook.com/sebastian.gomestradersinsights
Now let me show you how we made quick 43% in just 1-week which was posted to our premium members:-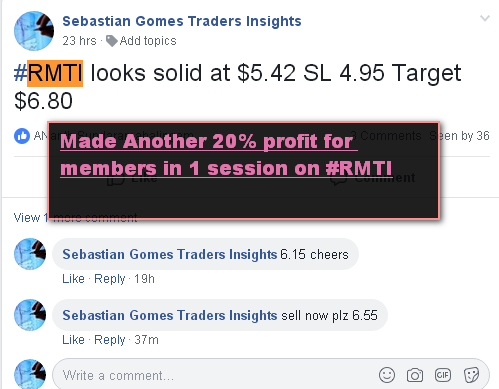 We told our members in facebook private group to buy Rockwell Medical Inc (NASDAQ: RMTI) yesterday (march 18th) at $5.42. Now look at the price of the stock – its up 20% at $6.55 from our buy price. This is how easy money they made. If you had invested $5,000 in RMTI, it could had been moved up to $6,000. It's not yet late, join us at info@tradersinsights.com
Sorrento Therapeutics Inc (NASDAQ: SRNE): Members Made A Hefty 15% Profit In 24 Hours
Well, as we know there are two types of person in the stock market one is trader and another is investor. Investors tend to put money for longer time, while traders make short term bets. We know, its not at all easy to make money in the short term especially in the equity markets. However, premium members at Traders Insights are making awesome money on our calls on our swing trading calls. WE ARE OFFERING A SPECIAL 7-Day Trial Period at Just $5 (so that everybody can make money with us and join us if satisfied). Register Here http://tradersinsights.com/pricing/
 JOIN US NOW: For Details Contact us at info@tradersinsights.com
 Or You can send me a friend request on facebook here https://www.facebook.com/sebastian.gomestradersinsights
Now let me show you how we made quick 43% in just 1-week which was posted to our premium members:-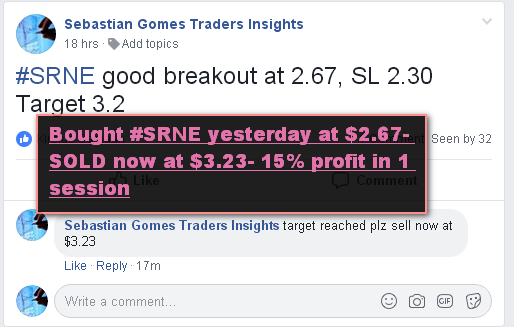 We told our members in facebook private group to buy Sorrento Therapeutics Inc (NASDAQ: SRNE) yesterday (march 18th) at $2.67. Now look at the price of the stock – its up 15% at $3.23 from our buy price. This is how easy money they made. If you had invested $5,000 in SRNE, it could had been moved up to $5,750.  It's not yet late, join us at info@tradersinsights.com