Greece's Recent Debt Agreement Drives Penny Stocks Higher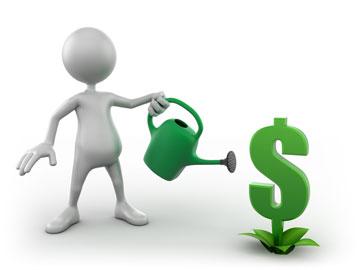 A new agreement between Greece and its creditors helped drive U.S. penny stocks higher on Monday morning. The deal for a new loan package is geared to keep the country in the Eurozone. European leaders reached a tentative agreement on new loans for Greece, removing an immediate threat that the country would possibly default on its debts and exit the euro. Nine hours after the deadline passed, European officials announced the breakthrough early Monday. In exchange for a three-year loan program, the deal requires Greece's parliament to approve tax increases and other crucial demands from its lenders into law by this week Wednesday. With finally a breathe of fresh air for Greece, U.S stocks primarily in the small cap sector have also moved higher. Companies such as Enviro-Serv Inc (OTCMKTS:EVSV), Tauriga Sciences Inc (OTCMKTS:TAUG) and Progressive Care Inc (OTCMKTS:RXMD) have taken the spotlights as penny stocks to watch for the rest of 2015.
Enviro-Serv Inc, a company that targets highly profitable small service companies in the commercial and residential property maintenance industry has attracted a lot of eyes to it as this small cap stock continues to provide investors with profitable short term and long term returns. The company recently announced they have appointed Mrs. Georgia Butler McCallister as the new Vice President of their Pest Control Expansion. Mrs. McCallister comes from over 30 years of experience in the pest control industry and has worked as Pestmaster Services certified operator for the last 6 years. Mrs. McCallister states, "I'm excited to be joining Pestmaster Tampa in my capacity as VP of Pest Control Expansion and look forward to being the Certified Operator for the new Tampa franchise. Mr. Trina and his existing team of professionals have given me a great opportunity to spearhead the growth of this company by employing my experience in current and future projects. " Over the last 10 days EVSV has seen a price spike of 66.6% from lows of $0.0006 to highs of $0.001 as recent as July 10th.
Tauriga Sciences Inc a diversified life sciences company in the popular cannabis space announced on Monday morning the company has made Mr. Seth M. Shaw as the new CEO and chairman of the board of directors. As well as appointing Ms. Ghalia Lahlou as the interim CFO. Mr. Shaw had this to say, "I strongly believe that the Company has the potential to improve its fundamentals through hard work and execution. It is my hope that shareholder value can be both restored and created moving forward. " Over the last month, TAUG has surged 63.3% from lows of $0.0027 last week to highs on Monday of $0.0049.
Progressive Care Inc, a pharmacy related company through its subsidiary Pharmco, LLC announced last week new sales record during the second quarter of 2015. June was the strongest pharmacy sales month in the company's history. In the last month RXMD has seen an impressive price run of 861.34% from highs of $0.049 to lows of $0.00509. It is currently trading between $0.01-0.02. The COO of the company had this to say about its recent record-breaking pharmacy sales, "June was a spectacular month for the company. We have consistently been able to increase prescriptions filled while limiting the growth in cost of production. This has been a strong quarter and we believe that the second half of the year will be even better."
ConforMIS Inc (NASDAQ: CFMS): Premium Members Made A Quick 65% Profit In Just 1 week
Well, as we know there are two types of person in the stock market one is trader and another is investor. Investors tend to put money for longer time, while traders make short term bets. We know, its not at all easy to make money in the short term especially in the equity markets. However, premium members at Traders Insights are making awesome money on our calls on our swing trading calls. WE ARE OFFERING A SPECIAL 7-Day Trial Period at Just $5 (so that everybody can make money with us and join us if satisfied). Register Here http://tradersinsights.com/pricing/
JOIN US NOW: For Details Contact us at info@tradersinsights.com
Or You can send me a friend request on facebook here https://www.facebook.com/sebastian.gomestradersinsights
Now let me show you how we made quick 43% in just 1-week which was posted to our premium members:-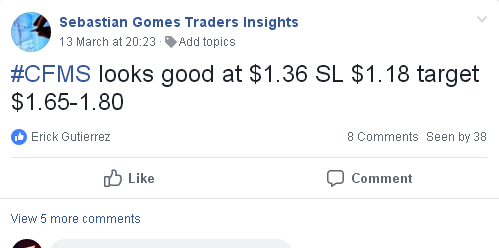 We told our members in facebook private group to buy ConforMIS Inc (NASDAQ: CFMS) yesterday (march 13th) at $1.36. Now look at the price of the stock – its up 65% at $2.25 from our buy price. This is how easy money they made. If you had invested $5,000 in CFMS, it could had been moved up to $8,250. It's not yet late, join us at info@tradersinsights.com
Rockwell Medical Inc (NASDAQ: RMTI): Premium Members Made A Quick 20% Profit In 24 Hours
Well, as we know there are two types of person in the stock market one is trader and another is investor. Investors tend to put money for longer time, while traders make short term bets. We know, its not at all easy to make money in the short term especially in the equity markets. However, premium members at Traders Insights are making awesome money on our calls on our swing trading calls. WE ARE OFFERING A SPECIAL 7-Day Trial Period at Just $5 (so that everybody can make money with us and join us if satisfied). Register Here http://tradersinsights.com/pricing/
JOIN US NOW: For Details Contact us at info@tradersinsights.com
Or You can send me a friend request on facebook here https://www.facebook.com/sebastian.gomestradersinsights
Now let me show you how we made quick 43% in just 1-week which was posted to our premium members:-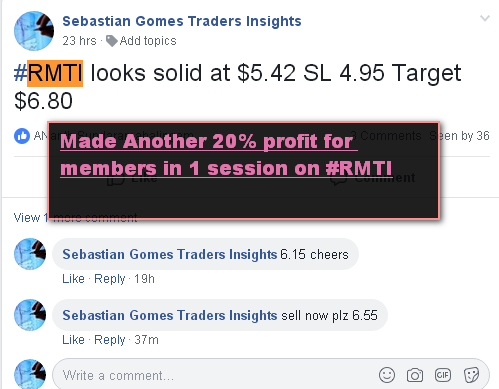 We told our members in facebook private group to buy Rockwell Medical Inc (NASDAQ: RMTI) yesterday (march 18th) at $5.42. Now look at the price of the stock – its up 20% at $6.55 from our buy price. This is how easy money they made. If you had invested $5,000 in RMTI, it could had been moved up to $6,000. It's not yet late, join us at info@tradersinsights.com
Sorrento Therapeutics Inc (NASDAQ: SRNE): Members Made A Hefty 15% Profit In 24 Hours
Well, as we know there are two types of person in the stock market one is trader and another is investor. Investors tend to put money for longer time, while traders make short term bets. We know, its not at all easy to make money in the short term especially in the equity markets. However, premium members at Traders Insights are making awesome money on our calls on our swing trading calls. WE ARE OFFERING A SPECIAL 7-Day Trial Period at Just $5 (so that everybody can make money with us and join us if satisfied). Register Here http://tradersinsights.com/pricing/
 JOIN US NOW: For Details Contact us at info@tradersinsights.com
 Or You can send me a friend request on facebook here https://www.facebook.com/sebastian.gomestradersinsights
Now let me show you how we made quick 43% in just 1-week which was posted to our premium members:-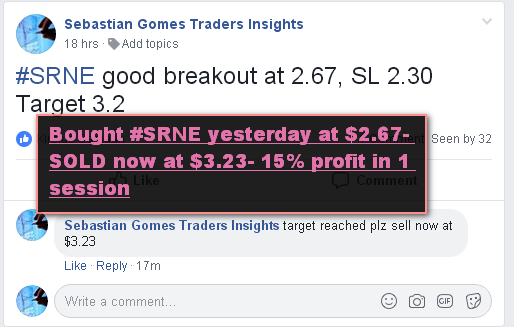 We told our members in facebook private group to buy Sorrento Therapeutics Inc (NASDAQ: SRNE) yesterday (march 18th) at $2.67. Now look at the price of the stock – its up 15% at $3.23 from our buy price. This is how easy money they made. If you had invested $5,000 in SRNE, it could had been moved up to $5,750.  It's not yet late, join us at info@tradersinsights.com