Marijuana Stocks Reap Benefits as Wall Street Edges Higher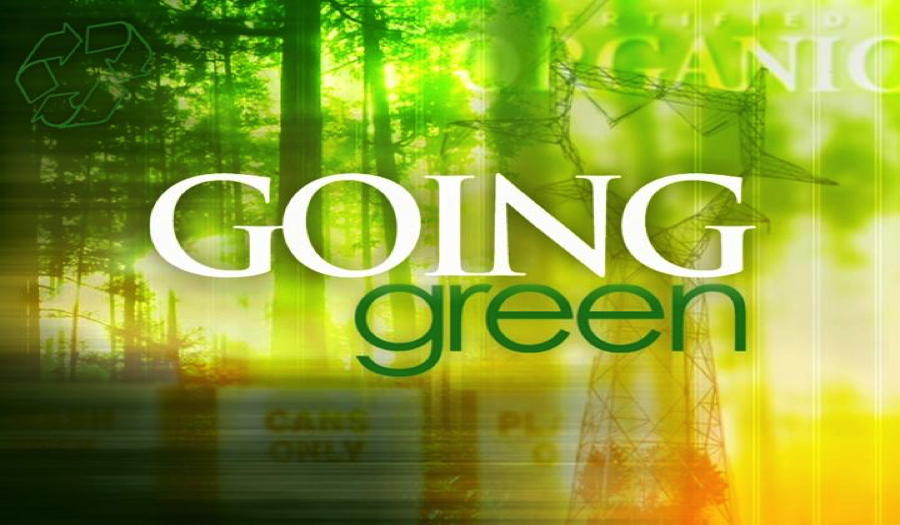 Wall Street edged higher on Wednesday as investors evaluated earnings ahead of a statement from the United States Federal Reserve that could give hints in regards to the timing of the interest rate hike. Investors are directing their attention on the outcome of the Fed's two-day policy meeting with markets torn on whether it will take a hawkish or dovish stance. It's projected that there will be no action taken on rates this week. U.S interest rates have remained near zero for nearly 10 years and the Fed has stated it will increase rates once it sees a continued recovery in the economy. There have been rumors that the Fed will raise interest rates sometime around September of this year. Now with that being said, one particular space in the market has seen positive affects from Wall Street moving higher it's the popular Cannabis space. Cannabis stocks have gained considerable momentum in the last couple of months, as cannabis in the world remains a big talking point for politicians and lawmakers. FBEC Worldwide Inc (OTCMKTS:FBEC), Terra Tech Corp (OTCMKTS:TRTC) and CannaVEST Corp (OTCMKTS:CANV) have been in the spotlight for investors as of late.
FBEC Worldwide Inc (OTCMKTS:FBEC) is an innovative beverage company that specializes in HEMP infused energy shots and additional neutraceuticals. The company will launch its first signature HEMP infused energy shot called the WolfShot on August 1st of this year. On Wednesday the CEO issued a shareholders update discussing the launch of the new product as well as the company's efforts to update their filings and stay under SEC Reporting guidelines. The company recently up-listed to the OTCQB last week. Next the company is currently in the closing process of a distribution contract with Colorado-based JSB Distribution Company to assist in places its product in more than 1000 targeted stores that range from independent C-stores to smoke shops and gas stations within the next 30 days. FBEC is currently trading between $0.08-$0.10 over the last couple of weeks.
Terra Tech Corp (OTCMKTS:TRTC) announced on Wednesday through its subsidiary Edible Garden, an urban agriculture company, they will expand their line of naturally grown living produce to approximately 182 Stop & Shop grocery stores throughout the Northeast. COO Ken Vande Vrede, stated, ""This is a huge success, we have been working for close to a year to get our products into Stop & Shop," he then continued with, "So many retailers are now in support of local farmers, helping create local jobs, and investing in their local communities, which has led to rapid Edible Garden brand expansion. The division is now cash flow positive and we are excited that our fundamentals are beginning to shape up." TRTC over the last 10 days has seen a price increase of 132.70% from lows of $0.0795 to highs on Wednesday of $0.185.
CannaVEST Corp (OTCMKTS:CANV) a leading manufacturer and distributor of hemp-derived Cannabidiol (CBD) oil products announced on Wednesday morning that the company has finally settled its ongoing litigation with Medical Marijuana Inc (OTCMKTS:MJNA). The company's Chairman and CEO, Michael Mona, Jr., said, "We are very pleased to achieve a full and final settlement of the litigation between CannaVest and Medical Marijuana, Inc. We believe the terms of the settlement are positive for our stockholders, and having this matter resolved allows us to avoid the cost of litigation going forward and focus on executing our growth strategy." Over the last week CANV has seen a 100% increase from lows of $0.725 to highs on Wednesday of $1.45.
ConforMIS Inc (NASDAQ: CFMS): Premium Members Made A Quick 65% Profit In Just 1 week
Well, as we know there are two types of person in the stock market one is trader and another is investor. Investors tend to put money for longer time, while traders make short term bets. We know, its not at all easy to make money in the short term especially in the equity markets. However, premium members at Traders Insights are making awesome money on our calls on our swing trading calls. WE ARE OFFERING A SPECIAL 7-Day Trial Period at Just $5 (so that everybody can make money with us and join us if satisfied). Register Here http://tradersinsights.com/pricing/
JOIN US NOW: For Details Contact us at info@tradersinsights.com
Or You can send me a friend request on facebook here https://www.facebook.com/sebastian.gomestradersinsights
Now let me show you how we made quick 43% in just 1-week which was posted to our premium members:-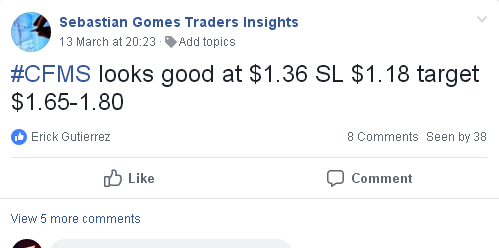 We told our members in facebook private group to buy ConforMIS Inc (NASDAQ: CFMS) yesterday (march 13th) at $1.36. Now look at the price of the stock – its up 65% at $2.25 from our buy price. This is how easy money they made. If you had invested $5,000 in CFMS, it could had been moved up to $8,250. It's not yet late, join us at info@tradersinsights.com
Rockwell Medical Inc (NASDAQ: RMTI): Premium Members Made A Quick 20% Profit In 24 Hours
Well, as we know there are two types of person in the stock market one is trader and another is investor. Investors tend to put money for longer time, while traders make short term bets. We know, its not at all easy to make money in the short term especially in the equity markets. However, premium members at Traders Insights are making awesome money on our calls on our swing trading calls. WE ARE OFFERING A SPECIAL 7-Day Trial Period at Just $5 (so that everybody can make money with us and join us if satisfied). Register Here http://tradersinsights.com/pricing/
JOIN US NOW: For Details Contact us at info@tradersinsights.com
Or You can send me a friend request on facebook here https://www.facebook.com/sebastian.gomestradersinsights
Now let me show you how we made quick 43% in just 1-week which was posted to our premium members:-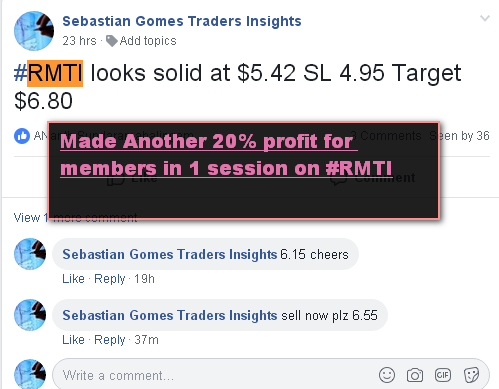 We told our members in facebook private group to buy Rockwell Medical Inc (NASDAQ: RMTI) yesterday (march 18th) at $5.42. Now look at the price of the stock – its up 20% at $6.55 from our buy price. This is how easy money they made. If you had invested $5,000 in RMTI, it could had been moved up to $6,000. It's not yet late, join us at info@tradersinsights.com
Sorrento Therapeutics Inc (NASDAQ: SRNE): Members Made A Hefty 15% Profit In 24 Hours
Well, as we know there are two types of person in the stock market one is trader and another is investor. Investors tend to put money for longer time, while traders make short term bets. We know, its not at all easy to make money in the short term especially in the equity markets. However, premium members at Traders Insights are making awesome money on our calls on our swing trading calls. WE ARE OFFERING A SPECIAL 7-Day Trial Period at Just $5 (so that everybody can make money with us and join us if satisfied). Register Here http://tradersinsights.com/pricing/
 JOIN US NOW: For Details Contact us at info@tradersinsights.com
 Or You can send me a friend request on facebook here https://www.facebook.com/sebastian.gomestradersinsights
Now let me show you how we made quick 43% in just 1-week which was posted to our premium members:-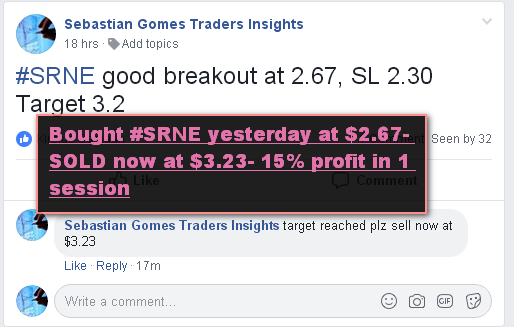 We told our members in facebook private group to buy Sorrento Therapeutics Inc (NASDAQ: SRNE) yesterday (march 18th) at $2.67. Now look at the price of the stock – its up 15% at $3.23 from our buy price. This is how easy money they made. If you had invested $5,000 in SRNE, it could had been moved up to $5,750.  It's not yet late, join us at info@tradersinsights.com