Canna Brands, Inc. (OTCMKTS: CBMJ) Finding It's Niche in 2015 with it's Cannabis Infused Soda Line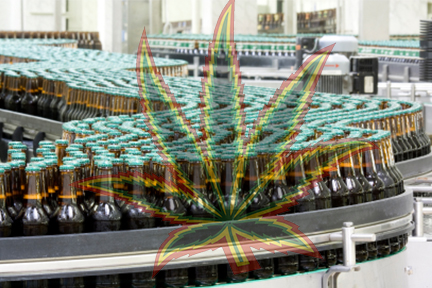 About the Company:
The business of Canna Brands, Inc. (OTCMKTS: CBMJ) is developing and licensing uniquely branded specialty goods targeted to cannabis consumers residing in the states where the production and consumption of cannabis infused products, such as bottled sodas, coffee beverages, baked goods and other cannabis related products are legal for persons 21 years or over.
Key Announcements:
On Feb. 17th CBMJ announced that Top Shelf Collective would be selling all six cannabis infused soda products in all four of its dispensaries. The president of Top Shelf had this to say about CBMJ's products, " This is the best soda related product we have ever seen or tasted. Our patients will truly appreciate the quality and professional feel of the products. Although they are all excellent my favorite is "Cheeba Cola." This is the best line of cannabis infused sodas in the market by far."
On Mon Feb. 23rd CBMJ announced that is has started supporting their six cannabis infused soda products; Cheeba Cola, Silly Citrus, Cheer Root Beer, Orange Frost, Giggle Fruit Punch and Diet Cheeba Cola. The company's goal is to create an ad campaign to attract more attention to the products and drive traffic to local retailers.
 Find Out How This Impacted Canna Brands
Industry and Market Growth
Cannabis stocks are in a turnaround after new states recently legalized marijuana for recreational use and many other states for medicinal use. The bottom line is Cannabis is showing progress, and this leads to more money to be made as an investor. According to USAtoday.com in 2014 the estimated sales of legalized marijuana market was $3billion and in 2015 it is estimated to increase to $.3.3 billion dollars. Now currently 23 states and the District of Columbia have legalized personal use of marijuana for medical reasons.
Risk Vs. Reward When Trading Small Cap Stocks
Small cap stocks are the leading catalyst for the novice investor. Commonly known to investors as "Penny Stocks"; Penny stocks are traded on over-the-counter markets (OTC) through the use of electronic quotation systems called "pink sheets." Penny stocks are higher risk inexpensive stocks that trade for less than $5. Some investors feel that penny stocks have the biggest opportunity for gains.
Now what attracts investors/perspective investors is the cost of the stock, the ability to "buy low, sell high". Timing is very crucial when choosing the right small cap stock, ideally to capitalize on the most profitable gains, an investor would want to buy at the lowest price possible. Penny stocks are high risk/High reward when compared to "blue chip" stocks, which are more stable, but if one trades the right way the potential to make some fat profit is there.
Progressive Green Solutions (OTCMKTS: PGSC) is known as a penny stock that is in the discussion of many small cap investors. This small cap stock has seen prices runs from lows of $0.36 to highs of $1.44.  Currently the price and stock support levels, today's prices may offer an opportunity for small cap investors to take capitalize a situation where a stock may be considered "under the radar". For more information on PGSC the link below provides an in-depth small cap stock analysis on the company: http://bit.ly/PGSC_Report
ConforMIS Inc (NASDAQ: CFMS): Premium Members Made A Quick 65% Profit In Just 1 week
Well, as we know there are two types of person in the stock market one is trader and another is investor. Investors tend to put money for longer time, while traders make short term bets. We know, its not at all easy to make money in the short term especially in the equity markets. However, premium members at Traders Insights are making awesome money on our calls on our swing trading calls. WE ARE OFFERING A SPECIAL 7-Day Trial Period at Just $5 (so that everybody can make money with us and join us if satisfied). Register Here http://tradersinsights.com/pricing/
JOIN US NOW: For Details Contact us at info@tradersinsights.com
Or You can send me a friend request on facebook here https://www.facebook.com/sebastian.gomestradersinsights
Now let me show you how we made quick 43% in just 1-week which was posted to our premium members:-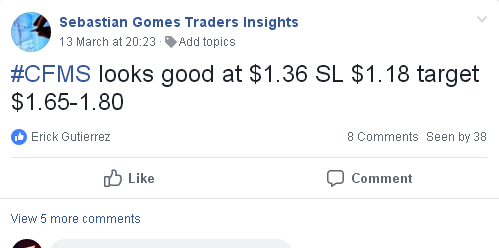 We told our members in facebook private group to buy ConforMIS Inc (NASDAQ: CFMS) yesterday (march 13th) at $1.36. Now look at the price of the stock – its up 65% at $2.25 from our buy price. This is how easy money they made. If you had invested $5,000 in CFMS, it could had been moved up to $8,250. It's not yet late, join us at info@tradersinsights.com
Rockwell Medical Inc (NASDAQ: RMTI): Premium Members Made A Quick 20% Profit In 24 Hours
Well, as we know there are two types of person in the stock market one is trader and another is investor. Investors tend to put money for longer time, while traders make short term bets. We know, its not at all easy to make money in the short term especially in the equity markets. However, premium members at Traders Insights are making awesome money on our calls on our swing trading calls. WE ARE OFFERING A SPECIAL 7-Day Trial Period at Just $5 (so that everybody can make money with us and join us if satisfied). Register Here http://tradersinsights.com/pricing/
JOIN US NOW: For Details Contact us at info@tradersinsights.com
Or You can send me a friend request on facebook here https://www.facebook.com/sebastian.gomestradersinsights
Now let me show you how we made quick 43% in just 1-week which was posted to our premium members:-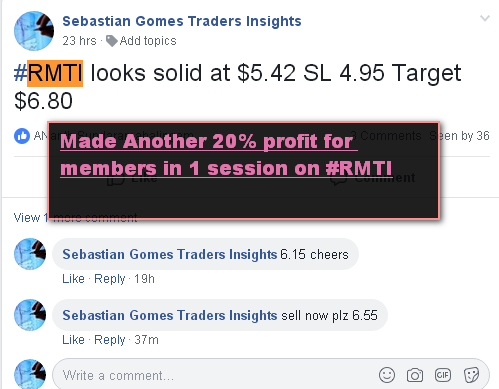 We told our members in facebook private group to buy Rockwell Medical Inc (NASDAQ: RMTI) yesterday (march 18th) at $5.42. Now look at the price of the stock – its up 20% at $6.55 from our buy price. This is how easy money they made. If you had invested $5,000 in RMTI, it could had been moved up to $6,000. It's not yet late, join us at info@tradersinsights.com
Sorrento Therapeutics Inc (NASDAQ: SRNE): Members Made A Hefty 15% Profit In 24 Hours
Well, as we know there are two types of person in the stock market one is trader and another is investor. Investors tend to put money for longer time, while traders make short term bets. We know, its not at all easy to make money in the short term especially in the equity markets. However, premium members at Traders Insights are making awesome money on our calls on our swing trading calls. WE ARE OFFERING A SPECIAL 7-Day Trial Period at Just $5 (so that everybody can make money with us and join us if satisfied). Register Here http://tradersinsights.com/pricing/
 JOIN US NOW: For Details Contact us at info@tradersinsights.com
 Or You can send me a friend request on facebook here https://www.facebook.com/sebastian.gomestradersinsights
Now let me show you how we made quick 43% in just 1-week which was posted to our premium members:-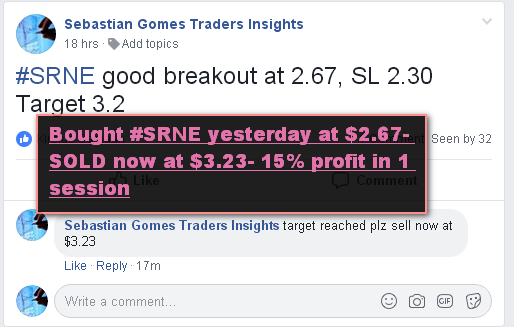 We told our members in facebook private group to buy Sorrento Therapeutics Inc (NASDAQ: SRNE) yesterday (march 18th) at $2.67. Now look at the price of the stock – its up 15% at $3.23 from our buy price. This is how easy money they made. If you had invested $5,000 in SRNE, it could had been moved up to $5,750.  It's not yet late, join us at info@tradersinsights.com