Canna Brands, Inc. (OTCMKTS: CBMJ) Finding It's Niche in 2015 with it's Cannabis Infused Soda Line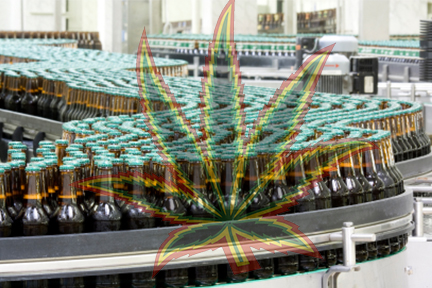 About the Company:
The business of Canna Brands, Inc. (OTCMKTS: CBMJ) is developing and licensing uniquely branded specialty goods targeted to cannabis consumers residing in the states where the production and consumption of cannabis infused products, such as bottled sodas, coffee beverages, baked goods and other cannabis related products are legal for persons 21 years or over.
Key Announcements:
On Feb. 17th CBMJ announced that Top Shelf Collective would be selling all six cannabis infused soda products in all four of its dispensaries. The president of Top Shelf had this to say about CBMJ's products, " This is the best soda related product we have ever seen or tasted. Our patients will truly appreciate the quality and professional feel of the products. Although they are all excellent my favorite is "Cheeba Cola." This is the best line of cannabis infused sodas in the market by far."
On Mon Feb. 23rd CBMJ announced that is has started supporting their six cannabis infused soda products; Cheeba Cola, Silly Citrus, Cheer Root Beer, Orange Frost, Giggle Fruit Punch and Diet Cheeba Cola. The company's goal is to create an ad campaign to attract more attention to the products and drive traffic to local retailers.
 Find Out How This Impacted Canna Brands
Industry and Market Growth
Cannabis stocks are in a turnaround after new states recently legalized marijuana for recreational use and many other states for medicinal use. The bottom line is Cannabis is showing progress, and this leads to more money to be made as an investor. According to USAtoday.com in 2014 the estimated sales of legalized marijuana market was $3billion and in 2015 it is estimated to increase to $.3.3 billion dollars. Now currently 23 states and the District of Columbia have legalized personal use of marijuana for medical reasons.
Risk Vs. Reward When Trading Small Cap Stocks
Small cap stocks are the leading catalyst for the novice investor. Commonly known to investors as "Penny Stocks"; Penny stocks are traded on over-the-counter markets (OTC) through the use of electronic quotation systems called "pink sheets." Penny stocks are higher risk inexpensive stocks that trade for less than $5. Some investors feel that penny stocks have the biggest opportunity for gains.
Now what attracts investors/perspective investors is the cost of the stock, the ability to "buy low, sell high". Timing is very crucial when choosing the right small cap stock, ideally to capitalize on the most profitable gains, an investor would want to buy at the lowest price possible. Penny stocks are high risk/High reward when compared to "blue chip" stocks, which are more stable, but if one trades the right way the potential to make some fat profit is there.
Progressive Green Solutions (OTCMKTS: PGSC) is known as a penny stock that is in the discussion of many small cap investors. This small cap stock has seen prices runs from lows of $0.36 to highs of $1.44.  Currently the price and stock support levels, today's prices may offer an opportunity for small cap investors to take capitalize a situation where a stock may be considered "under the radar". For more information on PGSC the link below provides an in-depth small cap stock analysis on the company: http://bit.ly/PGSC_Report
Eanings Review: Rambus Inc. (NASDAQ:RMBS), Revlon Inc (NYSE:REV)
Revlon Inc(NYSE:REV) +2.5% after-hours after announcing that President and CEO Fabian Garcia is stepping down "to pursue other opportunities," and Executive Vice Chair Paul Meister will oversee operations on an interim basis.
REV also says it expects Q4 revenues of $785M, below $801M from the year-earlier quarter but ahead of analyst consensus estimate of $743M, and a $60M-$80M net loss for the quarter due to a charge related to the recent tax law changes.
REV expects Q4 adjusted EBITDA of $110M-$115M vs. $115M analyst consensus.
CFO Chris Peterson also denies rumors that the company is considering a material asset transfer that would shield assets from lenders.
Rambus Inc.(NASDAQ:RMBS) shares are down 5.5% aftermarket following Q4 results that beat revenue estimates and met on EPS. In-line Q1 guidance (under ASC 605 accounting change) has revenue from $94M to $100M (consensus: $100.38M) and EPS from $0.17 to $0.23 (consensus: $0.18).
Revenue breakdown: Royalties, $77.9M (+10% Y/Y); Product, $8.5M (-27%); Contract and other revenue, $15.5M (+2%); Licensing billings, $76.6M (+18%).Key metrics: Non-GAAP operating margin, 31%; total operating expenses, $67.5M; cash and equivalents, $172.2M; cash flow from operations, $33.3M.
ADTRAN, Inc. (NASDAQ:ADTN) Hits New Lows After Issuing disappointing Earnings Forecast
ADTRAN, Inc.(NASDAQ:ADTN) slumped to a 52-week low after forecasting below consensus guidance for Q4, revising its revenue estimate downward  to $125M from $155M-$165M earlier and seeing EPS of ~$0.01; analysts had expected EPS of ~$0.14 and revenue of $161.2M.
ADTN also projects Q1 to come in at roughly the same as Q4, misses analyst consensus of $167.5M.
CEO Tom Stanton says Q4 results have been hurt by a merger-related review, which ADTN expects to be completed in 60-90 days, and slowdown in the spending at a domestic Tier 1 customer.
MKM Partners analyst Michael Genovese believes the customer is CenturyLink (CTL -2%), which accounted for 24% of ADTN's total sales in 2016.
The analyst thinks the weakness should prove temporary, adding that ADTN's performance likely will accelerate into 2019 as the company stands to benefit from 5G spending; MKM trims its ADTN target price to $25 from $27 but keeps its Buy rating.
Big IPO Coming: Celator Pharmaceuticals Inc(NASDAQ:CPXX), Moleculin Biotech's (MBRX)

Today at 10am Eastern, Moleculin Biotech ticker symbol MBRX will debut on the Nasdaq stock exchange and is being considered as one of the most highly anticipated IPO's of 2016 by the street. The excitement and anticipation is arising from many experts saying that Moleculin Biotech's (MBRX) drug annamycin is far superior to Celator Pharmaceuticals Inc(NASDAQ:CPXX) drug daunorubicin.
CPXX which has been bought out by Jazz Pharmaceuticals plc – Ordinary Shares(NASDAQ:JAZZ) for $1.5 Billion Dollars last week, share price ran from $1.6 to $31 in 2 months. Moleculin Biotech's share structure is a 1.5m public float Priced at $6.