Increasing Vacation Rental Market Demand, Benefitting Investors; Marriott International Inc (NASDAQ:MAR), Hyatt Hotels Corporation (NYSE:H), Strategic Global Investments, Inc. (OTCMKTS:STBV)
According to research analysts, the Global Vacation Rental Market will hit $169.7 billion by 2019. The main areas where global vacation rental adoption is highest are North America and Europe. This is because of the concept of a timeshares. Also, technological innovation is leading to an increase in supply while a higher interest in vacation rentals is increasing demand is leading to market growth. Travelers are now becoming more attracted to business intelligence software in order to find the best decisions for their vacations. Tools such as this help smaller companies find their way into the market instead of allowing the industry to become monopolistic.
At the moment, Strategic Global Investments, Inc. (OTCMKTS:STBV) has a ten-acre property in Los Cabos, Baja that is currently a substantial asset base and will be a great source of future income. Strategic Global Investments, Inc. has finally acquired all of the necessary building permits, environmental and government approvals that are needed to construct the units that they have planned. The company owns a real estate development subsidiary, which focused on making Eco-friendly, luxury real estate in vacation areas with high demand. This subsidiary is trying to acquire and develop land to build small luxury resort homes, or Small Luxury Villas (SLV for short) on a timeshare system.
The plans to complete the first SLV was finalized in October. In a corporate update, Strategic Global Investments, Inc. specified that it would be putting great focus on finish the Time Share property owned in Los Cabos, Baja, Mexico. Reports indicate that the economic environment has become a major benefit for the company's plans to finish its ongoing business plan and finish their SLV. At the moment, the 5000 square foot showcase SLV is 65% complete. The other twenty-nine villas on the debt free property will be between 2300 to 2500 square feet and will be constructed according to market demands.
CEO of Strategic Global Investments, Inc. (OTCMKTS:STBV), Andrew Fellner, stated, "We initially invested in the project prior to the 2008 market crash. We've since seen a massive recovery in the time share market, which has prompted us to continue construction of our first Villa to meet current market demand. It's a very exciting time for the Company and to see our new business plan coming to fruition further validates our vision." As mentioned, the demand for this products is increasing and proving to be great for STBV. Over the last ninety days, STBV has seen lows of $0.0056 and a difference of 1507% with highs of $0.09.
Important Disclaimer Information
The writer of this opinion is affiliated with a company (Midam) which is publicly disseminating information about (STBV) including on the Website and other media including Facebook and Twitter. Midam  owns 1,666,667 shares of Strategic Global, Inc. which may be sold at any time in the open market which were earned for consulting services. We plan to sell the shares of (STBV) that we hold during the time the Website and/or Facebook and Twitter Information recommends that investors or visitors to the website purchase without further notice to you. We may buy or sell additional shares of (STBV) in the open market at any time, including before, during or after the Website and Information, provide public dissemination of favorable Information. For full disclaimer please view the full disclaimer here.
ConforMIS Inc (NASDAQ: CFMS): Premium Members Made A Quick 65% Profit In Just 1 week
Well, as we know there are two types of person in the stock market one is trader and another is investor. Investors tend to put money for longer time, while traders make short term bets. We know, its not at all easy to make money in the short term especially in the equity markets. However, premium members at Traders Insights are making awesome money on our calls on our swing trading calls. WE ARE OFFERING A SPECIAL 7-Day Trial Period at Just $5 (so that everybody can make money with us and join us if satisfied). Register Here http://tradersinsights.com/pricing/
JOIN US NOW: For Details Contact us at info@tradersinsights.com
Or You can send me a friend request on facebook here https://www.facebook.com/sebastian.gomestradersinsights
Now let me show you how we made quick 43% in just 1-week which was posted to our premium members:-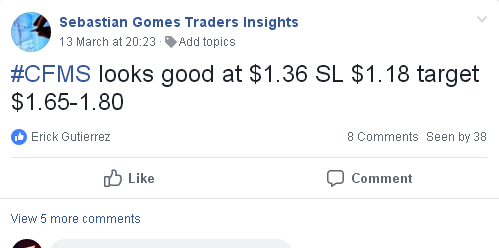 We told our members in facebook private group to buy ConforMIS Inc (NASDAQ: CFMS) yesterday (march 13th) at $1.36. Now look at the price of the stock – its up 65% at $2.25 from our buy price. This is how easy money they made. If you had invested $5,000 in CFMS, it could had been moved up to $8,250. It's not yet late, join us at info@tradersinsights.com
Rockwell Medical Inc (NASDAQ: RMTI): Premium Members Made A Quick 20% Profit In 24 Hours
Well, as we know there are two types of person in the stock market one is trader and another is investor. Investors tend to put money for longer time, while traders make short term bets. We know, its not at all easy to make money in the short term especially in the equity markets. However, premium members at Traders Insights are making awesome money on our calls on our swing trading calls. WE ARE OFFERING A SPECIAL 7-Day Trial Period at Just $5 (so that everybody can make money with us and join us if satisfied). Register Here http://tradersinsights.com/pricing/
JOIN US NOW: For Details Contact us at info@tradersinsights.com
Or You can send me a friend request on facebook here https://www.facebook.com/sebastian.gomestradersinsights
Now let me show you how we made quick 43% in just 1-week which was posted to our premium members:-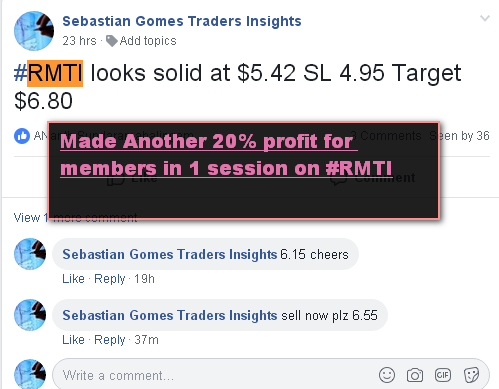 We told our members in facebook private group to buy Rockwell Medical Inc (NASDAQ: RMTI) yesterday (march 18th) at $5.42. Now look at the price of the stock – its up 20% at $6.55 from our buy price. This is how easy money they made. If you had invested $5,000 in RMTI, it could had been moved up to $6,000. It's not yet late, join us at info@tradersinsights.com
Sorrento Therapeutics Inc (NASDAQ: SRNE): Members Made A Hefty 15% Profit In 24 Hours
Well, as we know there are two types of person in the stock market one is trader and another is investor. Investors tend to put money for longer time, while traders make short term bets. We know, its not at all easy to make money in the short term especially in the equity markets. However, premium members at Traders Insights are making awesome money on our calls on our swing trading calls. WE ARE OFFERING A SPECIAL 7-Day Trial Period at Just $5 (so that everybody can make money with us and join us if satisfied). Register Here http://tradersinsights.com/pricing/
 JOIN US NOW: For Details Contact us at info@tradersinsights.com
 Or You can send me a friend request on facebook here https://www.facebook.com/sebastian.gomestradersinsights
Now let me show you how we made quick 43% in just 1-week which was posted to our premium members:-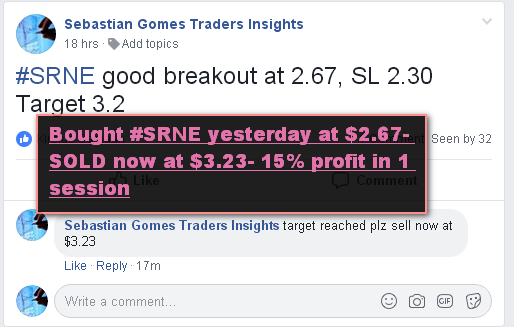 We told our members in facebook private group to buy Sorrento Therapeutics Inc (NASDAQ: SRNE) yesterday (march 18th) at $2.67. Now look at the price of the stock – its up 15% at $3.23 from our buy price. This is how easy money they made. If you had invested $5,000 in SRNE, it could had been moved up to $5,750.  It's not yet late, join us at info@tradersinsights.com