Hospitality Stocks Take Aim At Sports Bar Industry; Gray Fox Petroleum Corp (OTCMKTS:GFOX), Red Robin Gourmet Burgers, Inc. (NASDAQ:RRGB)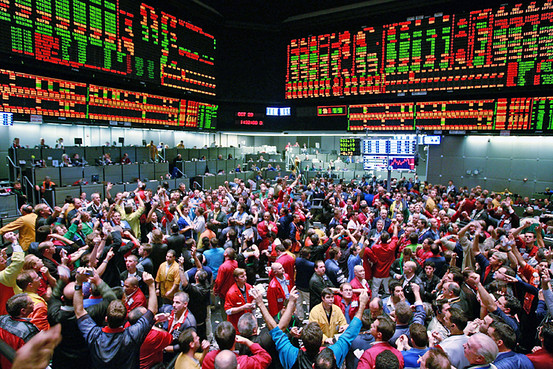 According to the National Restaurant Association's 2015 Restaurant Industry Forecast, the restaurant industry will reach record-breaking numbers in 2015. More specifically, the industry is expected to generate over $709 billion in sales with one million locations and 14 million employees. The positive outlook is that growth is likely going to speed up and will be the sixth year in a row that there has been sales growth in the restaurant industry. Also, restaurants are likely going to be the country's primary job creator.
[quote]"Population growth and Americans' continued desire for convenience and dining out continues to fuel industry growth," Hudson Riehle, senior vice president of research for the National Restaurant Association, stated. "Certain components of the business climate remain a challenge, however, as regional variability in employment levels and disposable income gains still put a damper on the overall environment."[/quote]
For that very reason, companies are looking to contribute to the consecutive growth of the restaurant industry. One such company is the Gray Fox Petroleum Corp (OTCMKTS:GFOX) announced a new direction as well as new management geared towards the restaurant industry in late September. The management change came after acquiring DB Capital Corporation, a privately held company. Daniel Sobolewski, the Chairman and CEO of DB Capital Corporation became the new Chairman and CEO of Gray Fox Petroleum Corporation.
Through a new acquisition, Gray Fox Petroleum Corporation now has ownership in two Graffiti Junktion Restaurant locations in Florida. Graffiti Junktion is a restaurant with an American Burger, Sports Bar theme. Also, the restaurant has won multiple awards in its time. For instance, it was voted Best Burger this year. The thirteen locations are family-friendly with food served fresh and never frozen. Best of all, Graffiti Junktion is planning on consistently growing throughout the year. This is especially great news for Gray Fox Petroleum Corporation who is trying to satisfy shareholders; "I feel that the new direction of the Company will bring value back to Gray Fox Petroleum Corp (OTCMKTS:GFOX), and its shareholders," Sobolewski said. Over the last three months, GFOX has seen lows of $0.0161 and highs of $0.05 marking a potential swing of 210%.
ConforMIS Inc (NASDAQ: CFMS): Premium Members Made A Quick 65% Profit In Just 1 week
Well, as we know there are two types of person in the stock market one is trader and another is investor. Investors tend to put money for longer time, while traders make short term bets. We know, its not at all easy to make money in the short term especially in the equity markets. However, premium members at Traders Insights are making awesome money on our calls on our swing trading calls. WE ARE OFFERING A SPECIAL 7-Day Trial Period at Just $5 (so that everybody can make money with us and join us if satisfied). Register Here http://tradersinsights.com/pricing/
JOIN US NOW: For Details Contact us at info@tradersinsights.com
Or You can send me a friend request on facebook here https://www.facebook.com/sebastian.gomestradersinsights
Now let me show you how we made quick 43% in just 1-week which was posted to our premium members:-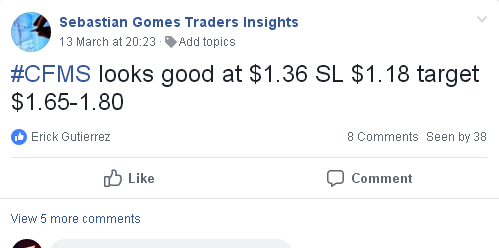 We told our members in facebook private group to buy ConforMIS Inc (NASDAQ: CFMS) yesterday (march 13th) at $1.36. Now look at the price of the stock – its up 65% at $2.25 from our buy price. This is how easy money they made. If you had invested $5,000 in CFMS, it could had been moved up to $8,250. It's not yet late, join us at info@tradersinsights.com
Rockwell Medical Inc (NASDAQ: RMTI): Premium Members Made A Quick 20% Profit In 24 Hours
Well, as we know there are two types of person in the stock market one is trader and another is investor. Investors tend to put money for longer time, while traders make short term bets. We know, its not at all easy to make money in the short term especially in the equity markets. However, premium members at Traders Insights are making awesome money on our calls on our swing trading calls. WE ARE OFFERING A SPECIAL 7-Day Trial Period at Just $5 (so that everybody can make money with us and join us if satisfied). Register Here http://tradersinsights.com/pricing/
JOIN US NOW: For Details Contact us at info@tradersinsights.com
Or You can send me a friend request on facebook here https://www.facebook.com/sebastian.gomestradersinsights
Now let me show you how we made quick 43% in just 1-week which was posted to our premium members:-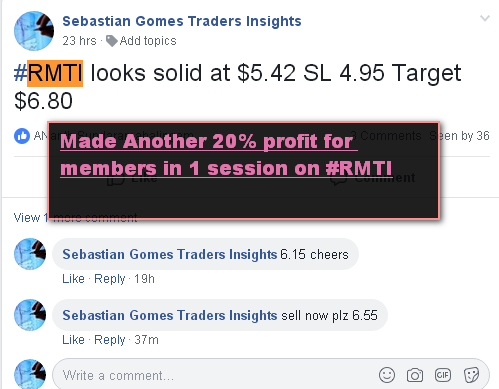 We told our members in facebook private group to buy Rockwell Medical Inc (NASDAQ: RMTI) yesterday (march 18th) at $5.42. Now look at the price of the stock – its up 20% at $6.55 from our buy price. This is how easy money they made. If you had invested $5,000 in RMTI, it could had been moved up to $6,000. It's not yet late, join us at info@tradersinsights.com
Sorrento Therapeutics Inc (NASDAQ: SRNE): Members Made A Hefty 15% Profit In 24 Hours
Well, as we know there are two types of person in the stock market one is trader and another is investor. Investors tend to put money for longer time, while traders make short term bets. We know, its not at all easy to make money in the short term especially in the equity markets. However, premium members at Traders Insights are making awesome money on our calls on our swing trading calls. WE ARE OFFERING A SPECIAL 7-Day Trial Period at Just $5 (so that everybody can make money with us and join us if satisfied). Register Here http://tradersinsights.com/pricing/
 JOIN US NOW: For Details Contact us at info@tradersinsights.com
 Or You can send me a friend request on facebook here https://www.facebook.com/sebastian.gomestradersinsights
Now let me show you how we made quick 43% in just 1-week which was posted to our premium members:-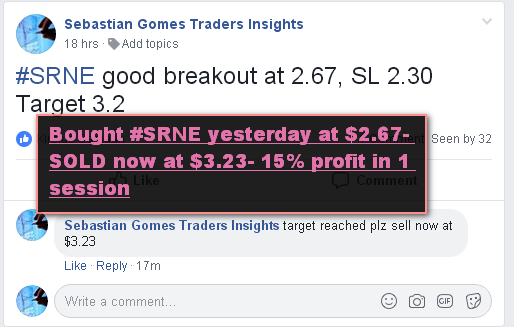 We told our members in facebook private group to buy Sorrento Therapeutics Inc (NASDAQ: SRNE) yesterday (march 18th) at $2.67. Now look at the price of the stock – its up 15% at $3.23 from our buy price. This is how easy money they made. If you had invested $5,000 in SRNE, it could had been moved up to $5,750.  It's not yet late, join us at info@tradersinsights.com