Biotechnology Stocks That Should Be On Your List In 2016; Vycor Medical (OTCMKTS:VYCO), Northwest Biotherapeutics, Inc (NASDAQ:NWBO), HealthSouth Corp (NYSE:HLS),Pfizer (NYSE: PFE)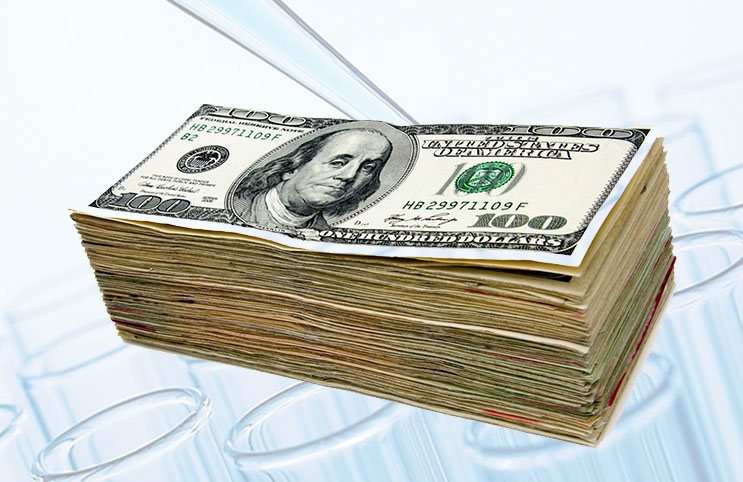 Biotechnology stocks have commanded some of the most attention during the better part of 2015 and with 2016 right in front of us, the sentiment in the market remains the same. Venture capital continues to pour into the space with companies like Merck Research Lab Ventures, OrbiMed, Polaris Partners, GV, and Mission Bay Capital all putting money into new biotech endeavors. Most recently Alector LLC raised $29.5 million in a Series D financing led by the Dementia Discovery Fund. Alector LLC is a private biotech company pioneering the discovery and development of first-in-class, immuno-modulatory therapies for Alzheimer's disease and other neurodegenerative disorders.
The focus on what they do is not necessarily the main point here; it's the fact that millions are pouring into biotechnology right now and 2016 could be poised to see another increase in venture capital spending. This industry is already coming off of a banner 2015, where the health-care industry defied belief with $605 billion spent in M&A and other venture funding. For example, Pfizer (NYSE: PFE) last year agreed to buy Allergan Plc, a gargantuan merger partner, for $160 billion.
And it hasn't been just for medical drug manufacturers either. In a recent announcement, health care investment firm OrbiMed Advisors LLC said that it has raised $950 million for a new venture capital fund that will focus on biopharmaceuticals, medical devices, diagnostics and health care technology companies. Their fund, OrbiMed Private Investments VI LP, was subscribed to by medical research institutions, endowments, foundations and sovereign wealth funds. It will be used to make investments in about 30 portfolio companies, with contributions ranging from $10 million to $75 million, according to a statement announcing the fundraising effort.
Let's not forget, too, the blistering IPO arena in biotechnology. Last year started off at a robust pace, as 53 companies in biotechnology, pharmaceuticals and health-care products and services priced a total $4.27 billion worth of public offerings in the first half of the year.
This isn't an unfamiliar territory to long-time biotech investors but may be of much more interest to new stock market participants just beginning to realize the massive opportunity that biotechnology offers as far as investment potential. But that's thinking in today's dollars. Just a few years ago these types of raises were limited to capitalizing very unique and game changing opportunities within the space. In fact companies like Johnson and Johnson as well as Oakwood Medical Investors, Tullis-Dickerson & Co., Inc., and several other large investment funds, participated in many funding series that totaled more than $50 million in order to capitalize a company called NovaVision for its NovaVision VRT(TM) Vision Restoration Therapy. This was and is the first and only FDA-cleared, patented, non-invasive medical device that may restore vision in stroke and traumatic brain injury patients with visual deficits.
Vycor Medical (OTCMKTS:VYCO), through an incredible purchase agreement completed at a price of $900,000, NovaVision was scooped up and its assets were merged into Vycor. Mind you, this therapy was funded with more than $50million and is the first and only therapy of its kind on the market, now owned by VYCO. As opposed to other biotech and biotherapeutic companies such as Pfizer, Northwest Biotherapeutics, Inc (NASDAQ:NWBO), or even Merck & Co., Inc. (NYSE:MRK), Vycor trades at a fraction of the price and has been able to commercialize the assets that it has in its portfolio, including NovaVision's VRT and NeuroEyeCoach Therapy.
The market alone for NovaVision's therapies is roughly $4bn in the US/Europe and $13bn globally. There are approximately 8m stroke survivors in the U.S. with 795,000 strokes a year, and approximately 1.5m suffering some sort of Traumatic Brain Injury (TBI) annually; around 2.8 million Americans suffer from this type of vision impairment, which is largely unaddressed by the rehabilitation system. VRT on its own is supported by 15 years of clinical research and over 20 studies including a 302 patient study in which notable improvements were seen in 70% of the patients. NeuroEyeCoach is also clinically supported being based on research that has been the subject of 14 clinical studies on a total of 591 patients and has FDA registration.
As of the most recent quarterly report, VYCO reported a gross margin of nearly 90% for the 3rd quarter 2015 with 22% of that coming from NovaVision. In addition, the agreement with HealthSouth Corp (NYSE:HLS), the company has put these therapies in the hands of one of the largest providers of post-acute healthcare services in the U.S. These two agreements therefore provide NovaVision with a source of installation and rental income but equally as important is a potentially large source of patients; most stroke patients will touch a rehabilitation center at some point and HealthSouth is the largest network of stroke rehabilitation hospitals in the U.S.
Eanings Review: Rambus Inc. (NASDAQ:RMBS), Revlon Inc (NYSE:REV)
Revlon Inc(NYSE:REV) +2.5% after-hours after announcing that President and CEO Fabian Garcia is stepping down "to pursue other opportunities," and Executive Vice Chair Paul Meister will oversee operations on an interim basis.
REV also says it expects Q4 revenues of $785M, below $801M from the year-earlier quarter but ahead of analyst consensus estimate of $743M, and a $60M-$80M net loss for the quarter due to a charge related to the recent tax law changes.
REV expects Q4 adjusted EBITDA of $110M-$115M vs. $115M analyst consensus.
CFO Chris Peterson also denies rumors that the company is considering a material asset transfer that would shield assets from lenders.
Rambus Inc.(NASDAQ:RMBS) shares are down 5.5% aftermarket following Q4 results that beat revenue estimates and met on EPS. In-line Q1 guidance (under ASC 605 accounting change) has revenue from $94M to $100M (consensus: $100.38M) and EPS from $0.17 to $0.23 (consensus: $0.18).
Revenue breakdown: Royalties, $77.9M (+10% Y/Y); Product, $8.5M (-27%); Contract and other revenue, $15.5M (+2%); Licensing billings, $76.6M (+18%).Key metrics: Non-GAAP operating margin, 31%; total operating expenses, $67.5M; cash and equivalents, $172.2M; cash flow from operations, $33.3M.
ADTRAN, Inc. (NASDAQ:ADTN) Hits New Lows After Issuing disappointing Earnings Forecast
ADTRAN, Inc.(NASDAQ:ADTN) slumped to a 52-week low after forecasting below consensus guidance for Q4, revising its revenue estimate downward  to $125M from $155M-$165M earlier and seeing EPS of ~$0.01; analysts had expected EPS of ~$0.14 and revenue of $161.2M.
ADTN also projects Q1 to come in at roughly the same as Q4, misses analyst consensus of $167.5M.
CEO Tom Stanton says Q4 results have been hurt by a merger-related review, which ADTN expects to be completed in 60-90 days, and slowdown in the spending at a domestic Tier 1 customer.
MKM Partners analyst Michael Genovese believes the customer is CenturyLink (CTL -2%), which accounted for 24% of ADTN's total sales in 2016.
The analyst thinks the weakness should prove temporary, adding that ADTN's performance likely will accelerate into 2019 as the company stands to benefit from 5G spending; MKM trims its ADTN target price to $25 from $27 but keeps its Buy rating.
Big IPO Coming: Celator Pharmaceuticals Inc(NASDAQ:CPXX), Moleculin Biotech's (MBRX)

Today at 10am Eastern, Moleculin Biotech ticker symbol MBRX will debut on the Nasdaq stock exchange and is being considered as one of the most highly anticipated IPO's of 2016 by the street. The excitement and anticipation is arising from many experts saying that Moleculin Biotech's (MBRX) drug annamycin is far superior to Celator Pharmaceuticals Inc(NASDAQ:CPXX) drug daunorubicin.
CPXX which has been bought out by Jazz Pharmaceuticals plc – Ordinary Shares(NASDAQ:JAZZ) for $1.5 Billion Dollars last week, share price ran from $1.6 to $31 in 2 months. Moleculin Biotech's share structure is a 1.5m public float Priced at $6.