A Golden Opportunity In Bullion; Pershing Gold Corp (NASDAQ:PGLC), Yamana Gold Inc. (USA) (NYSE:AUY)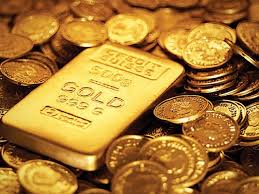 A bounce in gold prices has sparked interest in stocks related to gold. Gold prices are not far from sixty-day highs, already doing better than the commodity and financial markets this year despite worries about China's economy and the domino effect it had internationally on financial markets, notably United States stock markets. The gold price rose to approximately $1,100 per ounce after years of consecutive losses.
According to U.S. News, prices dropped about forty-three percent from their highs of $1,900 an ounce, a nominal record high, in 2011. Also, the Philadelphia Gold and Silver Index of thirty stocks dropped eighty-two percent from its high in 2010. However, with the current growth of gold, some gold-market watchers stated that this new year may be the end of the decline, making stocks with gold worth a look for the new year.
"What's impressed me the most is that gold has not fallen apart with the decline in oil," Frank Holmes, chief executive officer and chief investment officer of San Antonio-based U.S. Global Investors, said.
West Texas Intermediate crude-oil prices dropped under $30 a barrel to a near twelve-year low during 2016, pulling other commodities down with it due to concerns about global demand from China and the like. However, gold was not one of those commodities. These factors made gold's status as a safe investment concrete.
In addition to not dragging down, gold itself is staying above the low it saw in 2015 at around $1,045 which is the reason certain market watchers consider gold to be worth checking out this year. This possible bounce back is not only good for big companies, but also the small cap space.
Pershing Gold Corp (NASDAQ:PGLC), for instance, is an upcoming gold producer whose main asset is the Relief Canyon Mine in Pershing County, Nevada. Relief Canyon has three mines and an already constructed processing facility. At the moment, Pershing Gold is allowed to continue mining at Relief Canyon under the existing Plan of Operations.
Pershing Gold's landholdings consists of around 25,000 acres center with the Relief Canyon Mine asset and then go out in all directions. The land package allows for Pershing Gold to expand and make new discoveries nearby. Pershing Gold Corp (NASDAQ:PGLC) is listed on the NASDAQ Global Market as well as the Frankfurt Stock Exchange under the symbol 7PG1. On Thursday, the company announced that it would present at Vancouver resource investment conference from January 24th to January 25th. Pershing Gold invites all interested investors to visit the Company in booth #303 at the Conference.  Perkins will be presenting at 11:30am Pacific Time on Sunday, January 24th, 2016 in Workshop 3 at the Conference. This presentation will be worth considering; Over the last ninety days, PGLC has seen lows of $3.04 and a 44% with highs of $4.365.
Eanings Review: Rambus Inc. (NASDAQ:RMBS), Revlon Inc (NYSE:REV)
Revlon Inc(NYSE:REV) +2.5% after-hours after announcing that President and CEO Fabian Garcia is stepping down "to pursue other opportunities," and Executive Vice Chair Paul Meister will oversee operations on an interim basis.
REV also says it expects Q4 revenues of $785M, below $801M from the year-earlier quarter but ahead of analyst consensus estimate of $743M, and a $60M-$80M net loss for the quarter due to a charge related to the recent tax law changes.
REV expects Q4 adjusted EBITDA of $110M-$115M vs. $115M analyst consensus.
CFO Chris Peterson also denies rumors that the company is considering a material asset transfer that would shield assets from lenders.
Rambus Inc.(NASDAQ:RMBS) shares are down 5.5% aftermarket following Q4 results that beat revenue estimates and met on EPS. In-line Q1 guidance (under ASC 605 accounting change) has revenue from $94M to $100M (consensus: $100.38M) and EPS from $0.17 to $0.23 (consensus: $0.18).
Revenue breakdown: Royalties, $77.9M (+10% Y/Y); Product, $8.5M (-27%); Contract and other revenue, $15.5M (+2%); Licensing billings, $76.6M (+18%).Key metrics: Non-GAAP operating margin, 31%; total operating expenses, $67.5M; cash and equivalents, $172.2M; cash flow from operations, $33.3M.
ADTRAN, Inc. (NASDAQ:ADTN) Hits New Lows After Issuing disappointing Earnings Forecast
ADTRAN, Inc.(NASDAQ:ADTN) slumped to a 52-week low after forecasting below consensus guidance for Q4, revising its revenue estimate downward  to $125M from $155M-$165M earlier and seeing EPS of ~$0.01; analysts had expected EPS of ~$0.14 and revenue of $161.2M.
ADTN also projects Q1 to come in at roughly the same as Q4, misses analyst consensus of $167.5M.
CEO Tom Stanton says Q4 results have been hurt by a merger-related review, which ADTN expects to be completed in 60-90 days, and slowdown in the spending at a domestic Tier 1 customer.
MKM Partners analyst Michael Genovese believes the customer is CenturyLink (CTL -2%), which accounted for 24% of ADTN's total sales in 2016.
The analyst thinks the weakness should prove temporary, adding that ADTN's performance likely will accelerate into 2019 as the company stands to benefit from 5G spending; MKM trims its ADTN target price to $25 from $27 but keeps its Buy rating.
Big IPO Coming: Celator Pharmaceuticals Inc(NASDAQ:CPXX), Moleculin Biotech's (MBRX)

Today at 10am Eastern, Moleculin Biotech ticker symbol MBRX will debut on the Nasdaq stock exchange and is being considered as one of the most highly anticipated IPO's of 2016 by the street. The excitement and anticipation is arising from many experts saying that Moleculin Biotech's (MBRX) drug annamycin is far superior to Celator Pharmaceuticals Inc(NASDAQ:CPXX) drug daunorubicin.
CPXX which has been bought out by Jazz Pharmaceuticals plc – Ordinary Shares(NASDAQ:JAZZ) for $1.5 Billion Dollars last week, share price ran from $1.6 to $31 in 2 months. Moleculin Biotech's share structure is a 1.5m public float Priced at $6.