A Golden Opportunity In Bullion; Pershing Gold Corp (NASDAQ:PGLC), Yamana Gold Inc. (USA) (NYSE:AUY)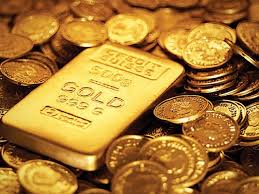 A bounce in gold prices has sparked interest in stocks related to gold. Gold prices are not far from sixty-day highs, already doing better than the commodity and financial markets this year despite worries about China's economy and the domino effect it had internationally on financial markets, notably United States stock markets. The gold price rose to approximately $1,100 per ounce after years of consecutive losses.
According to U.S. News, prices dropped about forty-three percent from their highs of $1,900 an ounce, a nominal record high, in 2011. Also, the Philadelphia Gold and Silver Index of thirty stocks dropped eighty-two percent from its high in 2010. However, with the current growth of gold, some gold-market watchers stated that this new year may be the end of the decline, making stocks with gold worth a look for the new year.
"What's impressed me the most is that gold has not fallen apart with the decline in oil," Frank Holmes, chief executive officer and chief investment officer of San Antonio-based U.S. Global Investors, said.
West Texas Intermediate crude-oil prices dropped under $30 a barrel to a near twelve-year low during 2016, pulling other commodities down with it due to concerns about global demand from China and the like. However, gold was not one of those commodities. These factors made gold's status as a safe investment concrete.
In addition to not dragging down, gold itself is staying above the low it saw in 2015 at around $1,045 which is the reason certain market watchers consider gold to be worth checking out this year. This possible bounce back is not only good for big companies, but also the small cap space.
Pershing Gold Corp (NASDAQ:PGLC), for instance, is an upcoming gold producer whose main asset is the Relief Canyon Mine in Pershing County, Nevada. Relief Canyon has three mines and an already constructed processing facility. At the moment, Pershing Gold is allowed to continue mining at Relief Canyon under the existing Plan of Operations.
Pershing Gold's landholdings consists of around 25,000 acres center with the Relief Canyon Mine asset and then go out in all directions. The land package allows for Pershing Gold to expand and make new discoveries nearby. Pershing Gold Corp (NASDAQ:PGLC) is listed on the NASDAQ Global Market as well as the Frankfurt Stock Exchange under the symbol 7PG1. On Thursday, the company announced that it would present at Vancouver resource investment conference from January 24th to January 25th. Pershing Gold invites all interested investors to visit the Company in booth #303 at the Conference.  Perkins will be presenting at 11:30am Pacific Time on Sunday, January 24th, 2016 in Workshop 3 at the Conference. This presentation will be worth considering; Over the last ninety days, PGLC has seen lows of $3.04 and a 44% with highs of $4.365.
ConforMIS Inc (NASDAQ: CFMS): Premium Members Made A Quick 65% Profit In Just 1 week
Well, as we know there are two types of person in the stock market one is trader and another is investor. Investors tend to put money for longer time, while traders make short term bets. We know, its not at all easy to make money in the short term especially in the equity markets. However, premium members at Traders Insights are making awesome money on our calls on our swing trading calls. WE ARE OFFERING A SPECIAL 7-Day Trial Period at Just $5 (so that everybody can make money with us and join us if satisfied). Register Here http://tradersinsights.com/pricing/
JOIN US NOW: For Details Contact us at info@tradersinsights.com
Or You can send me a friend request on facebook here https://www.facebook.com/sebastian.gomestradersinsights
Now let me show you how we made quick 43% in just 1-week which was posted to our premium members:-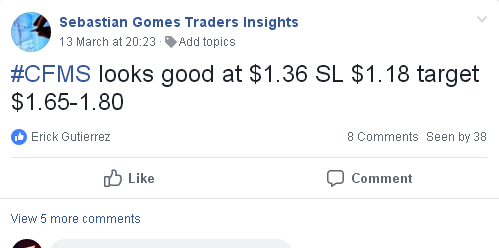 We told our members in facebook private group to buy ConforMIS Inc (NASDAQ: CFMS) yesterday (march 13th) at $1.36. Now look at the price of the stock – its up 65% at $2.25 from our buy price. This is how easy money they made. If you had invested $5,000 in CFMS, it could had been moved up to $8,250. It's not yet late, join us at info@tradersinsights.com
Rockwell Medical Inc (NASDAQ: RMTI): Premium Members Made A Quick 20% Profit In 24 Hours
Well, as we know there are two types of person in the stock market one is trader and another is investor. Investors tend to put money for longer time, while traders make short term bets. We know, its not at all easy to make money in the short term especially in the equity markets. However, premium members at Traders Insights are making awesome money on our calls on our swing trading calls. WE ARE OFFERING A SPECIAL 7-Day Trial Period at Just $5 (so that everybody can make money with us and join us if satisfied). Register Here http://tradersinsights.com/pricing/
JOIN US NOW: For Details Contact us at info@tradersinsights.com
Or You can send me a friend request on facebook here https://www.facebook.com/sebastian.gomestradersinsights
Now let me show you how we made quick 43% in just 1-week which was posted to our premium members:-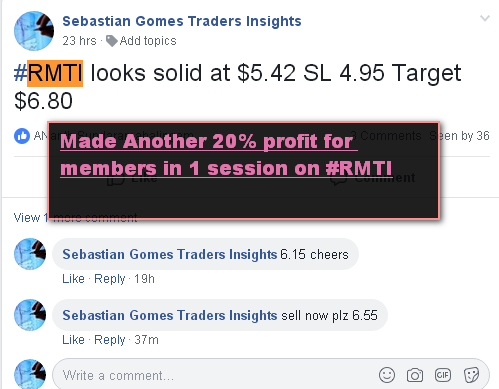 We told our members in facebook private group to buy Rockwell Medical Inc (NASDAQ: RMTI) yesterday (march 18th) at $5.42. Now look at the price of the stock – its up 20% at $6.55 from our buy price. This is how easy money they made. If you had invested $5,000 in RMTI, it could had been moved up to $6,000. It's not yet late, join us at info@tradersinsights.com
Sorrento Therapeutics Inc (NASDAQ: SRNE): Members Made A Hefty 15% Profit In 24 Hours
Well, as we know there are two types of person in the stock market one is trader and another is investor. Investors tend to put money for longer time, while traders make short term bets. We know, its not at all easy to make money in the short term especially in the equity markets. However, premium members at Traders Insights are making awesome money on our calls on our swing trading calls. WE ARE OFFERING A SPECIAL 7-Day Trial Period at Just $5 (so that everybody can make money with us and join us if satisfied). Register Here http://tradersinsights.com/pricing/
 JOIN US NOW: For Details Contact us at info@tradersinsights.com
 Or You can send me a friend request on facebook here https://www.facebook.com/sebastian.gomestradersinsights
Now let me show you how we made quick 43% in just 1-week which was posted to our premium members:-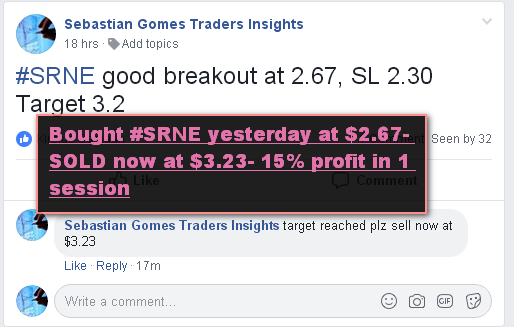 We told our members in facebook private group to buy Sorrento Therapeutics Inc (NASDAQ: SRNE) yesterday (march 18th) at $2.67. Now look at the price of the stock – its up 15% at $3.23 from our buy price. This is how easy money they made. If you had invested $5,000 in SRNE, it could had been moved up to $5,750.  It's not yet late, join us at info@tradersinsights.com