Investors Are Getting All Liquored Up This Year With Alcohol Stocks; Constellation Brands, Inc. (NYSE:STZ), Diageo plc (ADR) (NYSE:DEO), Iconic Brands Inc (OTCMKTS:ICNB)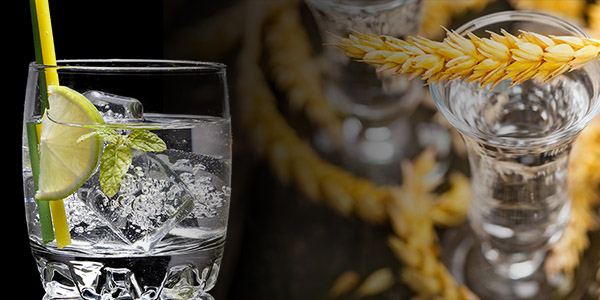 Over the last couple of decades, the vodka industry has worked very diligently to make itself a successful subset of a much more vast alcohol industry. But vodka sales have been a growing portion of the alcohol industry over more recent years. Although international preferences have been changing, vodka has been at the top of consumers' lists when it comes to staple "adult beverages". In the United States, the top ten vodka brands saw revenue growth of 2% in 2014. It is evident that vodka is growing and here are a few reasons perhaps to explain why.
Smaller Producers Are Realizing Larger Growth Potential Than 'The Big Boys'
For one, there are many new companies coming into the market. If there is an industry that sees consistent growth annually, then it is not a surprise to see many new companies entering the market to take advantage of the profitability. While it is true that competition actually works to lower the revenue and market share of bigger vodka companies such as the Smirnoff Vodka brand or Pernod Ricard's Absolut, these small companies have seen huge success and have attributed to the growth of the overall vodka market as a whole.
Investors Need To Know About 'The Craft'
Another reason is that there seems to be consumer preferences over craft cocktails as well as craft beers. As a result, many smaller brands have been able to find profits by marketing themselves as premium drinks. This large consumption of craft cocktails and spirits have led to a continuous growth in the vodka industry. For instance, flavored vodkas have been extremely successful over the last two years. This intake of flavored vodka has helped the industry grow in the last two years. These craft products have found themselves popular among millennials, who keep the vodka industry a fresh product in the mind of the market.  Outside of flavors, the overall craft segment is drawing much more attention.  Bloomberg Business reported that American millennials are fleeing to smaller, craft brands, and the world's largest vodka producers are actually struggling to retain market share.
And it's not just the brands themselves that are helping to buck the trend. Smaller producers are winning the battle when it comes to "thinking outside the box," or more specifically, the bottle design.  Affinnova, Inc., a global marketing technology company, found that with unique bottle designs, including bold elements and colors, younger brands are becoming more effective at grabbing and holding consumer attention on shelf, dramatically outperforming the industry average. By contrast Smirnoff and Stolichnaya – brands with decades of brand equity – are more likely to be overlooked by consumers on shelf. As an example, Absolut's bottle design is succeeding in positioning the brand as "fun, friendly and approachable" among consumers 35 and older. However, it's less effective with 21-34 millennial drinkers.
A brand that may have it all has just hit the us market, BiVi, praised for its one-of-a-kind hand crafted Sicilian vodka has been well received not only for its celebrity endorsement from A Bronx Tale's Chazz Palminteri but also for the unique bottle design represented by the traditional grappa bottle packaging. Publicly traded under Iconic Brands, Inc. (OTCMKTS:ICNB), BiVi is anticipated to be well received by millennials and vodka aficionados alike. In addition, the new brand entry into the US market could present a very strong opportunity for investors looking to get in on the trend of craft vodka growth. Furthermore it could even present a value proposition for those looking at a "buyout" play with companies like Diageo plc (ADR) (NYSE:DEO) and Constellation Brands, Inc. (NYSE:STZ) in the hunt for a strong hand in this segment.
Vodka Market Growth Has Savvy Investors Planning Their Attack
The intake of vodka and the growth of the industry has always been an international effort. Russia is the country best known for vodka and has always been a high consumer of vodkas. The increase of domestic premium vodkas in Russia helped increase Russian consumption. According to DISCUS, vodka has also made itself a name in the United States spirits industry, counting for 30% of all spirit sales. In the United States, there are over 150 flavors and lines that have been entering the market. As a result, each new product has been experiencing consistent growth. In addition, Canada has also been seeing growth in the vodka market. Vodka has also overtaken whiskey as the biggest spirits volume category in 2010. This has not changed since then. Countries all around the world have been seeing growth and contributing to the overall growth of the vodka industry.
Tagged:
Constellation Brands, Inc. (NYSE:STZ), Constellation Brands, Inc., NYSE:STZ, STZ, Diageo plc (ADR) (NYSE:DEO), Diageo plc (ADR), NYSE:DEO, DEO, Iconic Brands Inc (OTCMKTS:ICNB), Iconic Brands Inc, OTCMKTS:ICNB, ICNB
ConforMIS Inc (NASDAQ: CFMS): Premium Members Made A Quick 65% Profit In Just 1 week
Well, as we know there are two types of person in the stock market one is trader and another is investor. Investors tend to put money for longer time, while traders make short term bets. We know, its not at all easy to make money in the short term especially in the equity markets. However, premium members at Traders Insights are making awesome money on our calls on our swing trading calls. WE ARE OFFERING A SPECIAL 7-Day Trial Period at Just $5 (so that everybody can make money with us and join us if satisfied). Register Here http://tradersinsights.com/pricing/
JOIN US NOW: For Details Contact us at info@tradersinsights.com
Or You can send me a friend request on facebook here https://www.facebook.com/sebastian.gomestradersinsights
Now let me show you how we made quick 43% in just 1-week which was posted to our premium members:-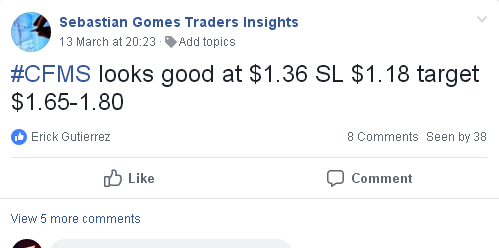 We told our members in facebook private group to buy ConforMIS Inc (NASDAQ: CFMS) yesterday (march 13th) at $1.36. Now look at the price of the stock – its up 65% at $2.25 from our buy price. This is how easy money they made. If you had invested $5,000 in CFMS, it could had been moved up to $8,250. It's not yet late, join us at info@tradersinsights.com
Rockwell Medical Inc (NASDAQ: RMTI): Premium Members Made A Quick 20% Profit In 24 Hours
Well, as we know there are two types of person in the stock market one is trader and another is investor. Investors tend to put money for longer time, while traders make short term bets. We know, its not at all easy to make money in the short term especially in the equity markets. However, premium members at Traders Insights are making awesome money on our calls on our swing trading calls. WE ARE OFFERING A SPECIAL 7-Day Trial Period at Just $5 (so that everybody can make money with us and join us if satisfied). Register Here http://tradersinsights.com/pricing/
JOIN US NOW: For Details Contact us at info@tradersinsights.com
Or You can send me a friend request on facebook here https://www.facebook.com/sebastian.gomestradersinsights
Now let me show you how we made quick 43% in just 1-week which was posted to our premium members:-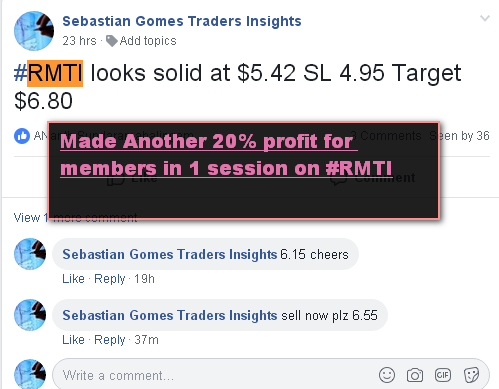 We told our members in facebook private group to buy Rockwell Medical Inc (NASDAQ: RMTI) yesterday (march 18th) at $5.42. Now look at the price of the stock – its up 20% at $6.55 from our buy price. This is how easy money they made. If you had invested $5,000 in RMTI, it could had been moved up to $6,000. It's not yet late, join us at info@tradersinsights.com
Sorrento Therapeutics Inc (NASDAQ: SRNE): Members Made A Hefty 15% Profit In 24 Hours
Well, as we know there are two types of person in the stock market one is trader and another is investor. Investors tend to put money for longer time, while traders make short term bets. We know, its not at all easy to make money in the short term especially in the equity markets. However, premium members at Traders Insights are making awesome money on our calls on our swing trading calls. WE ARE OFFERING A SPECIAL 7-Day Trial Period at Just $5 (so that everybody can make money with us and join us if satisfied). Register Here http://tradersinsights.com/pricing/
 JOIN US NOW: For Details Contact us at info@tradersinsights.com
 Or You can send me a friend request on facebook here https://www.facebook.com/sebastian.gomestradersinsights
Now let me show you how we made quick 43% in just 1-week which was posted to our premium members:-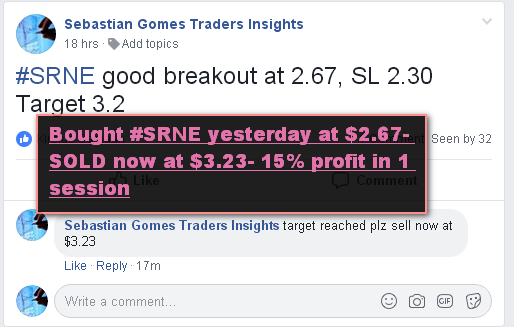 We told our members in facebook private group to buy Sorrento Therapeutics Inc (NASDAQ: SRNE) yesterday (march 18th) at $2.67. Now look at the price of the stock – its up 15% at $3.23 from our buy price. This is how easy money they made. If you had invested $5,000 in SRNE, it could had been moved up to $5,750.  It's not yet late, join us at info@tradersinsights.com