NVIDIA Corporation (NVDA) Shares Are Still Far Away From all time highs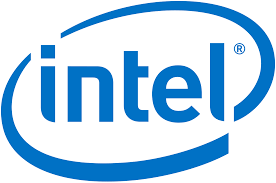 One stock has fell short of chipmakers' big comeback.
NVIDIA Corporation (NVDA) remains nearly 50 percent below its 52-week high set back in October, while the SMH semiconductor ETF is around 10 percent from sealing its own new record.
Todd Gordon , founder of TradingAnalysis.com, sees a bigger break lower for the semis stock.
"You can see that we're in a fairly well established downtrend here in Nvidia," said Gordon. "I don't even think we've retraced a third of what we've lost since the 2018 high… not even a quarter of what we've lost from the high. That shows relative weakness."
Why AMZN is Overvalued and Why ASDN Could Outperform NVDA in 2019
The Nasdaq 100 QQQ ETF, by comparison, has retraced around 61 percent of its decline from highs in September, while the SMH ETF has seen a retracement of more than three-quarters its loss, Gordon adds. The QQQ ETF is less than 8 percent from its highs.
"On top of that, what we'll see is Nvidia has traced out the classic three wave corrective pattern," he said. "The primary trend is clearly down at this point. We've bounced from $130, you've gone up, the volume was ok, it wasn't great on the bounce, sold back down on a gap here and now we're coming back for a three wave move."
Nvidia looks to be in the middle of an Elliott Wave movement, a technical theory that maps out prices moves based on investor behavior. In this formation, it could see the last of the three corrective waves that typically form, meaning further downside.
"I want to just try to get down and retest these lows around the $130 level," he added.
A move down to $130 represents a 16 percent decline from Thursday's close.
To play for a move to the downside, Gordon is buying the March 150/145 put spread for $1.25. This is a bearish bet that targets a move to $145 in the new two weeks.
ConforMIS Inc (NASDAQ: CFMS): Premium Members Made A Quick 65% Profit In Just 1 week
Well, as we know there are two types of person in the stock market one is trader and another is investor. Investors tend to put money for longer time, while traders make short term bets. We know, its not at all easy to make money in the short term especially in the equity markets. However, premium members at Traders Insights are making awesome money on our calls on our swing trading calls. WE ARE OFFERING A SPECIAL 7-Day Trial Period at Just $5 (so that everybody can make money with us and join us if satisfied). Register Here http://tradersinsights.com/pricing/
JOIN US NOW: For Details Contact us at info@tradersinsights.com
Or You can send me a friend request on facebook here https://www.facebook.com/sebastian.gomestradersinsights
Now let me show you how we made quick 43% in just 1-week which was posted to our premium members:-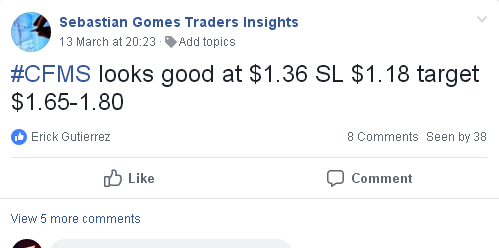 We told our members in facebook private group to buy ConforMIS Inc (NASDAQ: CFMS) yesterday (march 13th) at $1.36. Now look at the price of the stock – its up 65% at $2.25 from our buy price. This is how easy money they made. If you had invested $5,000 in CFMS, it could had been moved up to $8,250. It's not yet late, join us at info@tradersinsights.com
Rockwell Medical Inc (NASDAQ: RMTI): Premium Members Made A Quick 20% Profit In 24 Hours
Well, as we know there are two types of person in the stock market one is trader and another is investor. Investors tend to put money for longer time, while traders make short term bets. We know, its not at all easy to make money in the short term especially in the equity markets. However, premium members at Traders Insights are making awesome money on our calls on our swing trading calls. WE ARE OFFERING A SPECIAL 7-Day Trial Period at Just $5 (so that everybody can make money with us and join us if satisfied). Register Here http://tradersinsights.com/pricing/
JOIN US NOW: For Details Contact us at info@tradersinsights.com
Or You can send me a friend request on facebook here https://www.facebook.com/sebastian.gomestradersinsights
Now let me show you how we made quick 43% in just 1-week which was posted to our premium members:-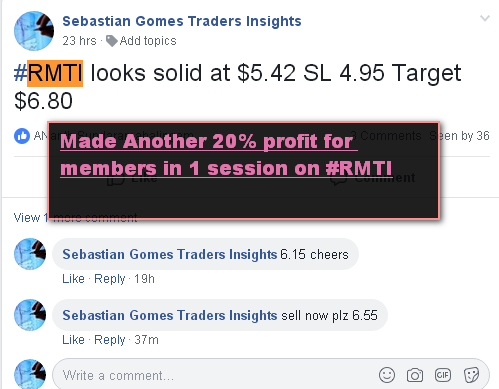 We told our members in facebook private group to buy Rockwell Medical Inc (NASDAQ: RMTI) yesterday (march 18th) at $5.42. Now look at the price of the stock – its up 20% at $6.55 from our buy price. This is how easy money they made. If you had invested $5,000 in RMTI, it could had been moved up to $6,000. It's not yet late, join us at info@tradersinsights.com
Sorrento Therapeutics Inc (NASDAQ: SRNE): Members Made A Hefty 15% Profit In 24 Hours
Well, as we know there are two types of person in the stock market one is trader and another is investor. Investors tend to put money for longer time, while traders make short term bets. We know, its not at all easy to make money in the short term especially in the equity markets. However, premium members at Traders Insights are making awesome money on our calls on our swing trading calls. WE ARE OFFERING A SPECIAL 7-Day Trial Period at Just $5 (so that everybody can make money with us and join us if satisfied). Register Here http://tradersinsights.com/pricing/
 JOIN US NOW: For Details Contact us at info@tradersinsights.com
 Or You can send me a friend request on facebook here https://www.facebook.com/sebastian.gomestradersinsights
Now let me show you how we made quick 43% in just 1-week which was posted to our premium members:-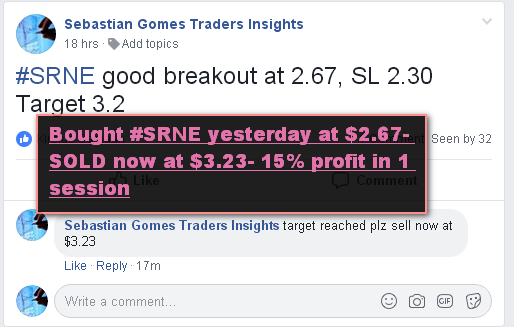 We told our members in facebook private group to buy Sorrento Therapeutics Inc (NASDAQ: SRNE) yesterday (march 18th) at $2.67. Now look at the price of the stock – its up 15% at $3.23 from our buy price. This is how easy money they made. If you had invested $5,000 in SRNE, it could had been moved up to $5,750.  It's not yet late, join us at info@tradersinsights.com