Caesars Entertainment (NASDAQ:CZR), Mersana Therapeutics (NASDAQ:MRSN) Are in News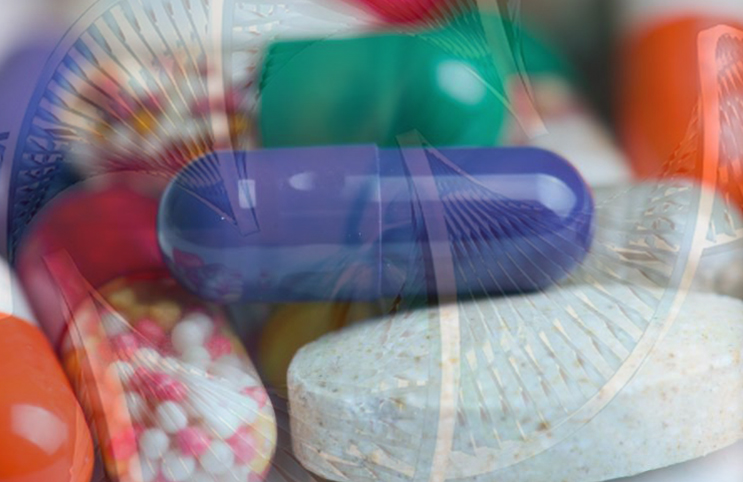 Caesars Entertainment (NASDAQ:CZR) announces that it struck a deal with Carl Icahn regarding the company's board.
Under the terms of the agreement, Keith Cozza, Courtney Mather and James Nelson are being appointed to Caesars' board, effective immediately. The agreement also provides the Icahn Group the right to appoint a fourth representative to the board if a new CEO who is acceptable to new directors is not named within 45 days of this agreement.
The Icahn Group will be subject to a standstill provision as part of the agreement.
Have you seen the article Forbes wrote about the ASDN Flying Passenger Drone and its technology?
Icahn statement on Caesars: "I believe the best path forward for Caesars requires a thorough strategic process to sell or merge the company to further develop its already strong regional presence, which will allow Caesars to continue to take advantage of the Caesars Rewards program bringing more and more players into Caesars' Vegas market. I expect this to make Caesars the most powerful competitor in Vegas, the gaming capital of the world.  Caesars would be a great opportunity for certain investors who have already expressed interest, and I'm glad the Board will explore these opportunities."
The Icahn Group owns 9.78% of Caesars' outstanding shares.
CZR +2.90% premarket to $8.87.
Thinly traded micro cap Mersana Therapeutics (NASDAQ:MRSN) slumps 29% premarket on light volume in response to its public offering of 21.25M shares of common stock at $4 per share.
Wow the future of Autonomous flight is finally here with the launch of ASDN passenger drone Elroy
Underwriters over-allotment is an additional ~3.2M shares. Closing date is March 5.
Yesterday's close was $5.51.
ConforMIS Inc (NASDAQ: CFMS): Premium Members Made A Quick 65% Profit In Just 1 week
Well, as we know there are two types of person in the stock market one is trader and another is investor. Investors tend to put money for longer time, while traders make short term bets. We know, its not at all easy to make money in the short term especially in the equity markets. However, premium members at Traders Insights are making awesome money on our calls on our swing trading calls. WE ARE OFFERING A SPECIAL 7-Day Trial Period at Just $5 (so that everybody can make money with us and join us if satisfied). Register Here http://tradersinsights.com/pricing/
JOIN US NOW: For Details Contact us at info@tradersinsights.com
Or You can send me a friend request on facebook here https://www.facebook.com/sebastian.gomestradersinsights
Now let me show you how we made quick 43% in just 1-week which was posted to our premium members:-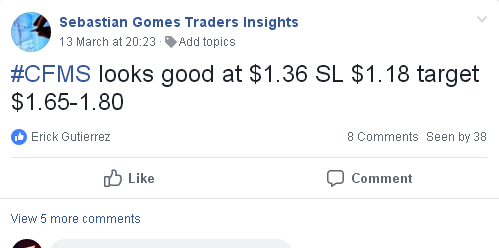 We told our members in facebook private group to buy ConforMIS Inc (NASDAQ: CFMS) yesterday (march 13th) at $1.36. Now look at the price of the stock – its up 65% at $2.25 from our buy price. This is how easy money they made. If you had invested $5,000 in CFMS, it could had been moved up to $8,250. It's not yet late, join us at info@tradersinsights.com
Rockwell Medical Inc (NASDAQ: RMTI): Premium Members Made A Quick 20% Profit In 24 Hours
Well, as we know there are two types of person in the stock market one is trader and another is investor. Investors tend to put money for longer time, while traders make short term bets. We know, its not at all easy to make money in the short term especially in the equity markets. However, premium members at Traders Insights are making awesome money on our calls on our swing trading calls. WE ARE OFFERING A SPECIAL 7-Day Trial Period at Just $5 (so that everybody can make money with us and join us if satisfied). Register Here http://tradersinsights.com/pricing/
JOIN US NOW: For Details Contact us at info@tradersinsights.com
Or You can send me a friend request on facebook here https://www.facebook.com/sebastian.gomestradersinsights
Now let me show you how we made quick 43% in just 1-week which was posted to our premium members:-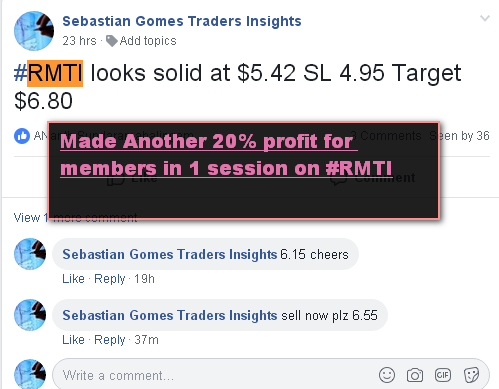 We told our members in facebook private group to buy Rockwell Medical Inc (NASDAQ: RMTI) yesterday (march 18th) at $5.42. Now look at the price of the stock – its up 20% at $6.55 from our buy price. This is how easy money they made. If you had invested $5,000 in RMTI, it could had been moved up to $6,000. It's not yet late, join us at info@tradersinsights.com
Sorrento Therapeutics Inc (NASDAQ: SRNE): Members Made A Hefty 15% Profit In 24 Hours
Well, as we know there are two types of person in the stock market one is trader and another is investor. Investors tend to put money for longer time, while traders make short term bets. We know, its not at all easy to make money in the short term especially in the equity markets. However, premium members at Traders Insights are making awesome money on our calls on our swing trading calls. WE ARE OFFERING A SPECIAL 7-Day Trial Period at Just $5 (so that everybody can make money with us and join us if satisfied). Register Here http://tradersinsights.com/pricing/
 JOIN US NOW: For Details Contact us at info@tradersinsights.com
 Or You can send me a friend request on facebook here https://www.facebook.com/sebastian.gomestradersinsights
Now let me show you how we made quick 43% in just 1-week which was posted to our premium members:-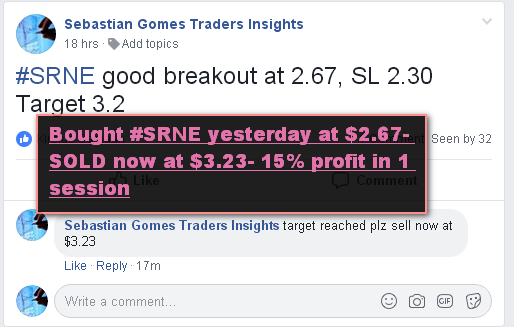 We told our members in facebook private group to buy Sorrento Therapeutics Inc (NASDAQ: SRNE) yesterday (march 18th) at $2.67. Now look at the price of the stock – its up 15% at $3.23 from our buy price. This is how easy money they made. If you had invested $5,000 in SRNE, it could had been moved up to $5,750.  It's not yet late, join us at info@tradersinsights.com