Tesla (NASDAQ:TSLA), Caterpillar (NYSE:CAT) Fall Hard In Pre Market After Notable News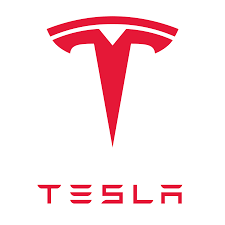 Wedbush analyst Dan Ives weighs in on last night's request by the SEC to hold Tesla (NASDAQ:TSLA) CEO Elon Musk in contempt for a tweet on February 19.
"Another boxing match with the SEC is the last thing investors wanted to see last night as Tesla is already in such a pivotal period with Musk & Co. trying to ramp up Model 3 production/demand for China/Europe, and thread the needle to profitability with roughly $1.5 billion of debt to be paid this year," warns Ives (Outperform rating on TSLA, $390 PT).
Why Investors Are Calling ASDN the TSLA of the Sky!
"While the jury is still out around the direction this SEC court action could have on Musk's activities going forward, it will be a near-term overhang on shares until investors can better gauge the impact," he adds.
Elon Musk doesn't seem overly contrite over the issue, tweeting out "something is broken with SEC oversight" this morning in response to a supportive tweet from another user.
Shares of Tesla are down 3.11% in premarket trading to $289.50.
Caterpillar (NYSE:CAT) has been downgraded by two notches to Sell from Buy at UBS, which also slashed its PT on the Dow heavyweight by around 20% to $125 per share.
Have you seen the article Forbes wrote about the ASDN Flying Passenger Drone and its technology?
"We expect 2020 EPS to decline ~8% year-on-year, as continued growth in mining and buybacks will not be enough to offset headwinds in construction and oil and gas, in our view," UBS analyst Steven Fisher wrote. "We do not believe an earnings decline in priced in to the stock. We expect downward earnings revisions to pressure the stock over the next 12 months."
CAT shares are off 3.5% premarket, indicating an opening bell price of $136.40 each, a move that would cut the stock's three-month gain to around 9.7%.
ConforMIS Inc (NASDAQ: CFMS): Premium Members Made A Quick 65% Profit In Just 1 week
Well, as we know there are two types of person in the stock market one is trader and another is investor. Investors tend to put money for longer time, while traders make short term bets. We know, its not at all easy to make money in the short term especially in the equity markets. However, premium members at Traders Insights are making awesome money on our calls on our swing trading calls. WE ARE OFFERING A SPECIAL 7-Day Trial Period at Just $5 (so that everybody can make money with us and join us if satisfied). Register Here http://tradersinsights.com/pricing/
JOIN US NOW: For Details Contact us at info@tradersinsights.com
Or You can send me a friend request on facebook here https://www.facebook.com/sebastian.gomestradersinsights
Now let me show you how we made quick 43% in just 1-week which was posted to our premium members:-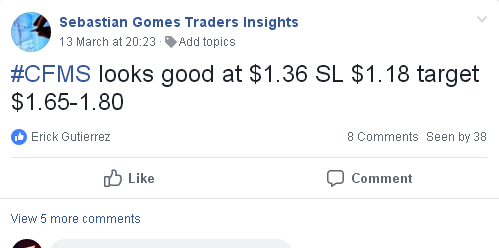 We told our members in facebook private group to buy ConforMIS Inc (NASDAQ: CFMS) yesterday (march 13th) at $1.36. Now look at the price of the stock – its up 65% at $2.25 from our buy price. This is how easy money they made. If you had invested $5,000 in CFMS, it could had been moved up to $8,250. It's not yet late, join us at info@tradersinsights.com
Rockwell Medical Inc (NASDAQ: RMTI): Premium Members Made A Quick 20% Profit In 24 Hours
Well, as we know there are two types of person in the stock market one is trader and another is investor. Investors tend to put money for longer time, while traders make short term bets. We know, its not at all easy to make money in the short term especially in the equity markets. However, premium members at Traders Insights are making awesome money on our calls on our swing trading calls. WE ARE OFFERING A SPECIAL 7-Day Trial Period at Just $5 (so that everybody can make money with us and join us if satisfied). Register Here http://tradersinsights.com/pricing/
JOIN US NOW: For Details Contact us at info@tradersinsights.com
Or You can send me a friend request on facebook here https://www.facebook.com/sebastian.gomestradersinsights
Now let me show you how we made quick 43% in just 1-week which was posted to our premium members:-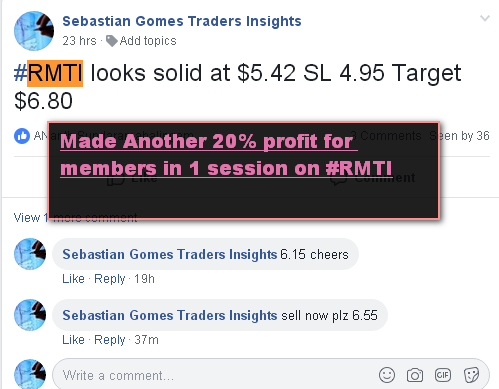 We told our members in facebook private group to buy Rockwell Medical Inc (NASDAQ: RMTI) yesterday (march 18th) at $5.42. Now look at the price of the stock – its up 20% at $6.55 from our buy price. This is how easy money they made. If you had invested $5,000 in RMTI, it could had been moved up to $6,000. It's not yet late, join us at info@tradersinsights.com
Sorrento Therapeutics Inc (NASDAQ: SRNE): Members Made A Hefty 15% Profit In 24 Hours
Well, as we know there are two types of person in the stock market one is trader and another is investor. Investors tend to put money for longer time, while traders make short term bets. We know, its not at all easy to make money in the short term especially in the equity markets. However, premium members at Traders Insights are making awesome money on our calls on our swing trading calls. WE ARE OFFERING A SPECIAL 7-Day Trial Period at Just $5 (so that everybody can make money with us and join us if satisfied). Register Here http://tradersinsights.com/pricing/
 JOIN US NOW: For Details Contact us at info@tradersinsights.com
 Or You can send me a friend request on facebook here https://www.facebook.com/sebastian.gomestradersinsights
Now let me show you how we made quick 43% in just 1-week which was posted to our premium members:-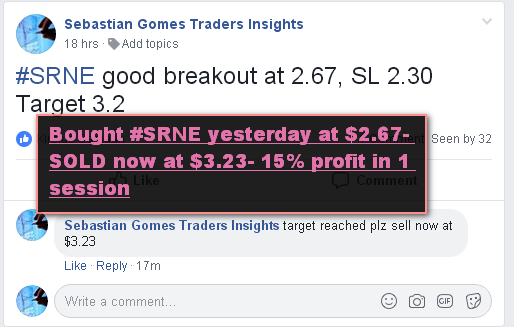 We told our members in facebook private group to buy Sorrento Therapeutics Inc (NASDAQ: SRNE) yesterday (march 18th) at $2.67. Now look at the price of the stock – its up 15% at $3.23 from our buy price. This is how easy money they made. If you had invested $5,000 in SRNE, it could had been moved up to $5,750.  It's not yet late, join us at info@tradersinsights.com