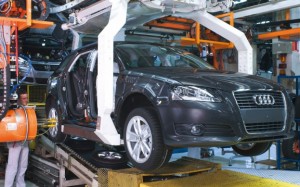 In the Oct sales of luxury cars, BMW's 1 series and X1 compact models is wheezing ahead of its competitors Audi and Mercedes – Benz. The demand of these two BMW models has gone up in last month as compare to the other German cars in the same segment.
The total sales of BMW cars and (SUV) sport utility vehicles in the month of October has gone up by 15% i.e. 132823 machines. BMW tops the chart in October with Audi at a very close second with a 14% increase and Mercedes at distant third with a growth of 6%.
The European market is presently experiencing debt crisis due to which the demand of luxury cars and SUVs has decreased in Europe. Even in such circumstances, the German luxury car manufacturers have been able to sustain the growth in sales by taking advantage of the tremendous demands in the U. S. and China. All the German car manufacturers like BMW, Volkswagen, Audi and Mercedes expect unprecedented sales this year while their European counterparts dread for the least demand in 17 years.
All the German luxury car brands together have shown gain in October and thus lifted the sales. The increase in deliveries for BMW in first ten months has reached to 1.24 cars and SUVs (increase of 9.3%), Audi has shown an increase of 13% to 1.22 million whereas Mercedes delivered 1.07 million (a jump of 5.1%)
Increase in Market share for BMW
In the share market, BMW has climbed to 64.78 euros (up by 1.7%) while Volkswagen and Daimler have not shown any significant variation.
The demand for compact SUV X1 had a sudden increase of 38% in the month of October. In the same way the series 1 small car's deliveries also increased to 36%.
Audi and Mercedes both are trying to cross BMW in sales as it is eventually a question of grabbing the most market share. As per the latest release from BMW, the sale margins in the automotive division have gone down to 9.6% from 11.9% of last year.
So, we'll have to wait and watch if Bimmer manages to retain the lead for October.
---