Opening Stock Movers: J.C. Penney (JCP), Novavax, Inc. (NVAX)
J.C. Penney (JCP) posted stronger-than-expected fourth quarter earnings Thursday and said it expects to be free-cash-flow positive in the coming year, sending share sharply higher in early Wall Street trading.
J.C. Penney said earnings for the three months ending on February 2 came in at 18 cents per share, down 68% from the same period last year but 7 cents ahead of the consensus Street forecast. Group sales were pegged at $3.67 billion, the company said, down 8.9% from last year and just shy of the $3.78 billion consensus collected by Refinitiv. JC Penney also said same-store sales fell 4% from the same period last year, a figure that beat the 4.3% analysts' estimate.
Have you seen the article Forbes wrote about the ASDN Flying Passenger Drone and its technology?
Looking into 2019, J.C. Penney said it would close 18 full-line stores, including 3 that were announced last month, as well as 9 ancillary home and furniture stores, that will collectively cost the group $15 million in non-cash asset impairments and transition charges.
Novavax, Inc. (NVAX) slumped 65% to $0.745 after the company said on Thursday its vaccine to prevent RSV infection, a leading cause of a respiratory disease in infants, failed to meet the main goal of a late stage study.
Wow the future of Autonomous flight is finally here with the launch of ASDN passenger drone Elroy
The vaccine was not able to lower respiratory tract infection caused by RSV, or respiratory syncytial virus, the company said.
ResVax is a vaccine administered to mothers during pregnancy intended to protect infants against RSV disease.
ConforMIS Inc (NASDAQ: CFMS): Premium Members Made A Quick 65% Profit In Just 1 week
Well, as we know there are two types of person in the stock market one is trader and another is investor. Investors tend to put money for longer time, while traders make short term bets. We know, its not at all easy to make money in the short term especially in the equity markets. However, premium members at Traders Insights are making awesome money on our calls on our swing trading calls. WE ARE OFFERING A SPECIAL 7-Day Trial Period at Just $5 (so that everybody can make money with us and join us if satisfied). Register Here http://tradersinsights.com/pricing/
JOIN US NOW: For Details Contact us at info@tradersinsights.com
Or You can send me a friend request on facebook here https://www.facebook.com/sebastian.gomestradersinsights
Now let me show you how we made quick 43% in just 1-week which was posted to our premium members:-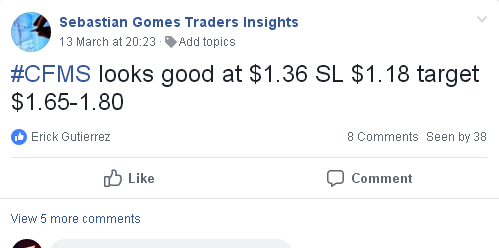 We told our members in facebook private group to buy ConforMIS Inc (NASDAQ: CFMS) yesterday (march 13th) at $1.36. Now look at the price of the stock – its up 65% at $2.25 from our buy price. This is how easy money they made. If you had invested $5,000 in CFMS, it could had been moved up to $8,250. It's not yet late, join us at info@tradersinsights.com
Rockwell Medical Inc (NASDAQ: RMTI): Premium Members Made A Quick 20% Profit In 24 Hours
Well, as we know there are two types of person in the stock market one is trader and another is investor. Investors tend to put money for longer time, while traders make short term bets. We know, its not at all easy to make money in the short term especially in the equity markets. However, premium members at Traders Insights are making awesome money on our calls on our swing trading calls. WE ARE OFFERING A SPECIAL 7-Day Trial Period at Just $5 (so that everybody can make money with us and join us if satisfied). Register Here http://tradersinsights.com/pricing/
JOIN US NOW: For Details Contact us at info@tradersinsights.com
Or You can send me a friend request on facebook here https://www.facebook.com/sebastian.gomestradersinsights
Now let me show you how we made quick 43% in just 1-week which was posted to our premium members:-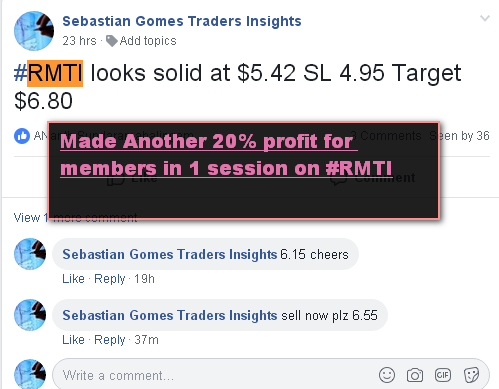 We told our members in facebook private group to buy Rockwell Medical Inc (NASDAQ: RMTI) yesterday (march 18th) at $5.42. Now look at the price of the stock – its up 20% at $6.55 from our buy price. This is how easy money they made. If you had invested $5,000 in RMTI, it could had been moved up to $6,000. It's not yet late, join us at info@tradersinsights.com
Sorrento Therapeutics Inc (NASDAQ: SRNE): Members Made A Hefty 15% Profit In 24 Hours
Well, as we know there are two types of person in the stock market one is trader and another is investor. Investors tend to put money for longer time, while traders make short term bets. We know, its not at all easy to make money in the short term especially in the equity markets. However, premium members at Traders Insights are making awesome money on our calls on our swing trading calls. WE ARE OFFERING A SPECIAL 7-Day Trial Period at Just $5 (so that everybody can make money with us and join us if satisfied). Register Here http://tradersinsights.com/pricing/
 JOIN US NOW: For Details Contact us at info@tradersinsights.com
 Or You can send me a friend request on facebook here https://www.facebook.com/sebastian.gomestradersinsights
Now let me show you how we made quick 43% in just 1-week which was posted to our premium members:-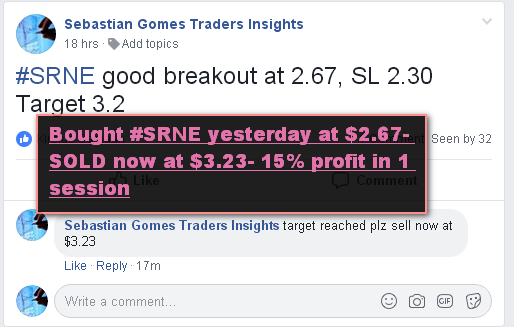 We told our members in facebook private group to buy Sorrento Therapeutics Inc (NASDAQ: SRNE) yesterday (march 18th) at $2.67. Now look at the price of the stock – its up 15% at $3.23 from our buy price. This is how easy money they made. If you had invested $5,000 in SRNE, it could had been moved up to $5,750.  It's not yet late, join us at info@tradersinsights.com