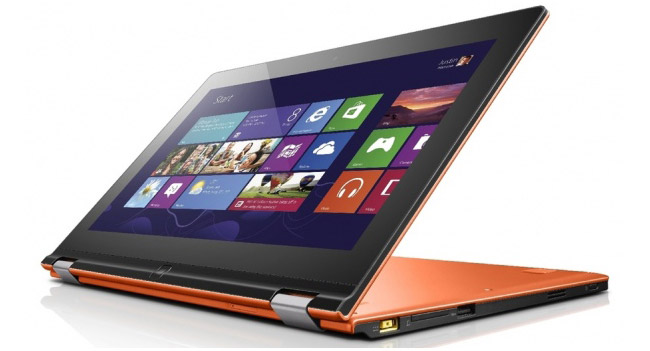 The launch of the new Windows 8 PCs will be here in a couple of months; so the other manufacturers have to find something that can make their devices to compete in the race. Lenovo has taken some special interest in designing its new computer IdeaPad Yoga 13. There are more laptops that can turn in to a tablet, but the new IdeaPad Yoga 13 has a 360 degree pivot, which makes it look a lot like a convertible.
Design
The new Yoga 13 comes with a sliver color chassis on top and bottom with a black trim on the sides. Lenovo has come up with the same silver neutral color many times in order to attract more customers.
To the left side of the new device, we can find a USB 3.0 port, a HDMI port in full-size, 3.5mm headphone jack, and the volume keys to use when in tablet mode. Moving to the right we have power jack, a 2-in-1 card slot, a USB 2.0 port, and the screen-lock key. The screen-lock key keeps the screen from shifting orientation. And in the front side it has a One Key Recovery button that can be seen on most of the Lenovo laptops. There is no Ethernet port for the new Yoga 13.
The 13.3-inch display and the keyboard are pretty good looking and it features a Windows 8 button so that it can quickly come back to the screen. The new Yoga 13's trackpad and keyboard are totally black, which deviates from the standard boring sliver color. The black keyboard is hard to see in dim lights as there is no backlighting in the new laptop.
The 360-degree hinge makes the user to turn the new Yoga 13 into many positions; there are four positions that Lenovo has been advertising. First is the traditional laptop mode, in which both the trackpad and keyboard will function. Next is the stand mode, where the user can fold the screen back so that the machine rests on keyboard. It is suited to watch movies in this mode.
Then the third mode is the tent mode in which the user can bend the computer on its end so that it resembles a tent when resting on a surface. The last is the tablet mode in which the user can fold the computer completely to form like a slate. One good thing is that the trackpad and keyboard will get deactivated for all the modes except for the laptop mode.
The new IdeaPad Yoga 13 doesn't offer much like the current ultrabooks. It is expected that the Hardware package contains 4GB of RAM, Intel Core i5-3317U clocked at 1.7GHz, and SSD with 128 GB. But, the speed will be disappointing for the new Yoga 13.
---