MyoKardia (MYOK), Xenetic Biosciences (NASDAQ:XBIO) Are In News On Monday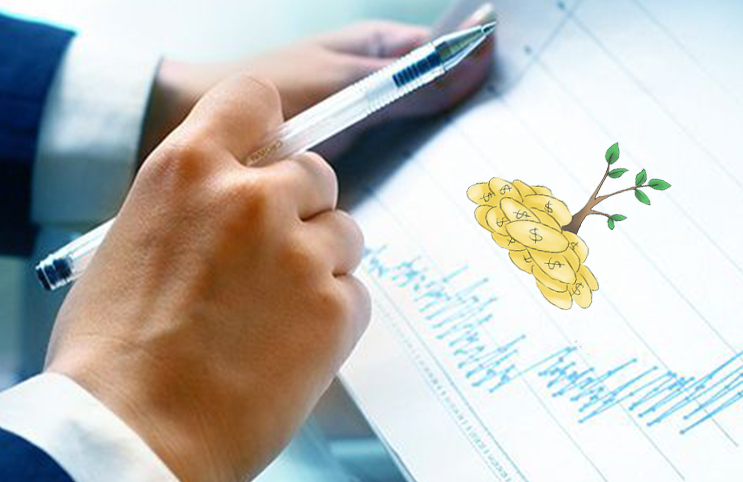 MyoKardia (MYOK) is up in early trade in response to positive results from an open-label extension study, PIONEER-OLE, evaluating mavacamten in 13 patients with symptomatic obstructive hypertrophic cardiomyopathy (HCM) who completed the Phase 2 PIONEER-HCM study. The data will be presented at the American College of Cardiology's Annual Scientific Session in New Orleans on Sunday, March 17.
Preliminary results showed that treatment with mavacamten produced significant reductions in left ventricle obstruction while preserving left ventricle ejection fraction above normal over a sustained period of time. Significant improvements in symptoms were also observed.
Mavacamten is an orally available small molecule designed to reduce left ventricular contractility by modulating the function of cardiac myosin, the protein that drives heart muscle contraction.
HCM is an inherited heart disorder characterized by thickened walls of the heart which prevents the left ventricle from expanding, reducing pumping capacity.
Why Investors Are Calling ASDN the AMZN of the Sky!
Thinly traded nano cap Xenetic Biosciences (NASDAQ:XBIO) is up 11% premarket on light volume in reaction to its acquisition of a CAR T platform technology called XCART, developed at The Scripps Research Institute (together with the Shemyakin-Ovchinnikov Institute of Bioorganic Chemistry) which can potentially improve the safety and effectiveness of cell therapy for B-cell lymphomas via generating patient- and tumor-specific CAR T cells.
Under the terms of the deal, the company will acquire all the outstanding shares of Hesperix S.A., a newly formed Swiss entity that owns all non-Scripps XCART rights, for an undisclosed sum. It will exclusively license Scripps' rights in exchange for 7.5M XBIO common shares.
The transaction should close next quarter.
Have you seen the article Forbes wrote about the ASDN Flying Passenger Drone and its technology?
ConforMIS Inc (NASDAQ: CFMS): Premium Members Made A Quick 65% Profit In Just 1 week
Well, as we know there are two types of person in the stock market one is trader and another is investor. Investors tend to put money for longer time, while traders make short term bets. We know, its not at all easy to make money in the short term especially in the equity markets. However, premium members at Traders Insights are making awesome money on our calls on our swing trading calls. WE ARE OFFERING A SPECIAL 7-Day Trial Period at Just $5 (so that everybody can make money with us and join us if satisfied). Register Here http://tradersinsights.com/pricing/
JOIN US NOW: For Details Contact us at info@tradersinsights.com
Or You can send me a friend request on facebook here https://www.facebook.com/sebastian.gomestradersinsights
Now let me show you how we made quick 43% in just 1-week which was posted to our premium members:-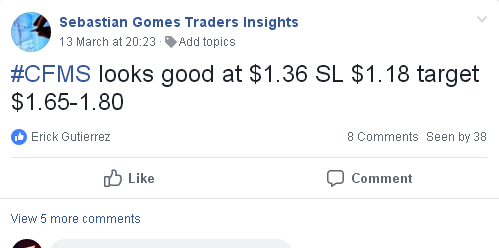 We told our members in facebook private group to buy ConforMIS Inc (NASDAQ: CFMS) yesterday (march 13th) at $1.36. Now look at the price of the stock – its up 65% at $2.25 from our buy price. This is how easy money they made. If you had invested $5,000 in CFMS, it could had been moved up to $8,250. It's not yet late, join us at info@tradersinsights.com
Rockwell Medical Inc (NASDAQ: RMTI): Premium Members Made A Quick 20% Profit In 24 Hours
Well, as we know there are two types of person in the stock market one is trader and another is investor. Investors tend to put money for longer time, while traders make short term bets. We know, its not at all easy to make money in the short term especially in the equity markets. However, premium members at Traders Insights are making awesome money on our calls on our swing trading calls. WE ARE OFFERING A SPECIAL 7-Day Trial Period at Just $5 (so that everybody can make money with us and join us if satisfied). Register Here http://tradersinsights.com/pricing/
JOIN US NOW: For Details Contact us at info@tradersinsights.com
Or You can send me a friend request on facebook here https://www.facebook.com/sebastian.gomestradersinsights
Now let me show you how we made quick 43% in just 1-week which was posted to our premium members:-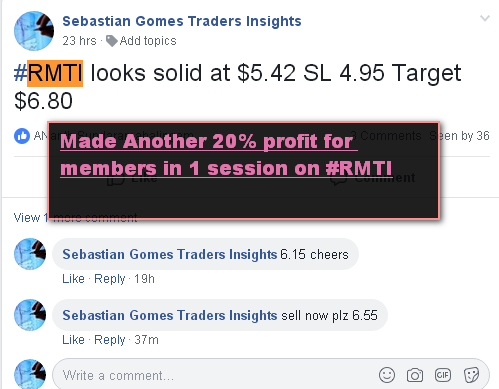 We told our members in facebook private group to buy Rockwell Medical Inc (NASDAQ: RMTI) yesterday (march 18th) at $5.42. Now look at the price of the stock – its up 20% at $6.55 from our buy price. This is how easy money they made. If you had invested $5,000 in RMTI, it could had been moved up to $6,000. It's not yet late, join us at info@tradersinsights.com
Sorrento Therapeutics Inc (NASDAQ: SRNE): Members Made A Hefty 15% Profit In 24 Hours
Well, as we know there are two types of person in the stock market one is trader and another is investor. Investors tend to put money for longer time, while traders make short term bets. We know, its not at all easy to make money in the short term especially in the equity markets. However, premium members at Traders Insights are making awesome money on our calls on our swing trading calls. WE ARE OFFERING A SPECIAL 7-Day Trial Period at Just $5 (so that everybody can make money with us and join us if satisfied). Register Here http://tradersinsights.com/pricing/
 JOIN US NOW: For Details Contact us at info@tradersinsights.com
 Or You can send me a friend request on facebook here https://www.facebook.com/sebastian.gomestradersinsights
Now let me show you how we made quick 43% in just 1-week which was posted to our premium members:-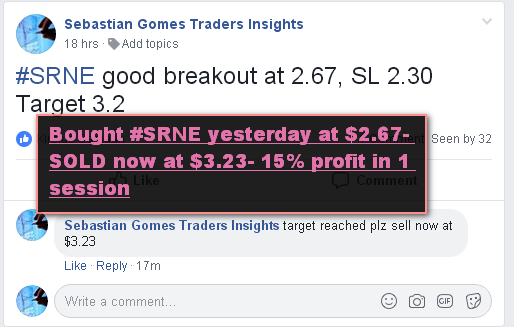 We told our members in facebook private group to buy Sorrento Therapeutics Inc (NASDAQ: SRNE) yesterday (march 18th) at $2.67. Now look at the price of the stock – its up 15% at $3.23 from our buy price. This is how easy money they made. If you had invested $5,000 in SRNE, it could had been moved up to $5,750.  It's not yet late, join us at info@tradersinsights.com