HP (NYSE:HPQ), Fitbit (NYSE:FIT) Stocks Slump After Earnings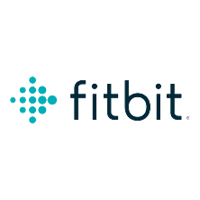 HP (NYSE:HPQ) drops 2.4% post-close after it reports Q1 results that missed on revenue and met on EPS with declines in desktops, notebooks, and supplies.
Personal Systems revenue grew 2% Y/Y, Commercial was up 3%, and Consumer was up 1%. Total units dropped 3% Y/Y with Notebooks dipping 1% and Desktops dropping 8%.
Printing net revenue was flat on the year. Total hardware units gained 3% with Commercial +4% and Consumer +2%. Supplies net revenue dropped 3%.
In-line Q2 guidance expects EPS from $0.50 to $0.53 (consensus: $0.53).
Have you seen the article Forbes wrote about the ASDN Flying Passenger Drone and its technology?
HP reiterates its FY19 guidance with EPS from $2.12 to $2.22 (consensus: $2.20) and FCF from at least $3.7B.
Fitbit (NYSE:FIT) has tumbled 10% after hours following a Q4 profit beat that nonetheless featured disappointing guidance for the current quarter.
Revenues were near flat and essentially in line, as gains in Asia Pacific offset drops in the Americas and EMEA (and with U.S. sales down fractionally).
Gross margin (non-GAAP) was 38.7%, down slightly as the mix shifted toward smartwatches.
Active users grew 9% to 27.6M.
The company sold 5.6M wearables in Q4 (up 3%); average selling price dropped 2% to $100/device due to mix shift from adding Fitbit Charge 3.
Revenue by region: United States, $328.4M (down 0.5%); Americas excluding U.S., $44.5M (down 4.6%); Europe, Middle East and Africa, $149.5M (down 3.6%); APAC, $48.7M (up 25.7%).
Wow the future of Autonomous flight is finally here with the launch of ASDN passenger drone Elroy
For Q1, it's guiding to revenues of $250M-$268M (1-8% Y/Y gains, and short of consensus for $272.3M); gross margin of 34-35%; EBITDA of -$72M to -$64M; and EPS of -$0.24 to -$0.22 (below consensus for -$0.15).
For the full year, with expected device sales increasing but average selling price coming down, it's guiding to revenue of $1.52B-$1.58B (1-4% growth, and vs. consensus for $1.57B) and EBITDA of -$30M to break-even.
ConforMIS Inc (NASDAQ: CFMS): Premium Members Made A Quick 65% Profit In Just 1 week
Well, as we know there are two types of person in the stock market one is trader and another is investor. Investors tend to put money for longer time, while traders make short term bets. We know, its not at all easy to make money in the short term especially in the equity markets. However, premium members at Traders Insights are making awesome money on our calls on our swing trading calls. WE ARE OFFERING A SPECIAL 7-Day Trial Period at Just $5 (so that everybody can make money with us and join us if satisfied). Register Here http://tradersinsights.com/pricing/
JOIN US NOW: For Details Contact us at info@tradersinsights.com
Or You can send me a friend request on facebook here https://www.facebook.com/sebastian.gomestradersinsights
Now let me show you how we made quick 43% in just 1-week which was posted to our premium members:-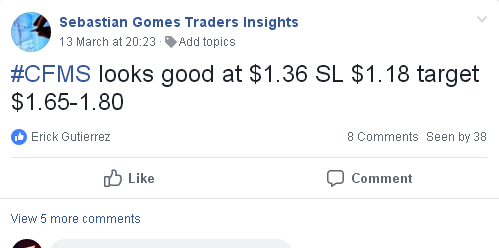 We told our members in facebook private group to buy ConforMIS Inc (NASDAQ: CFMS) yesterday (march 13th) at $1.36. Now look at the price of the stock – its up 65% at $2.25 from our buy price. This is how easy money they made. If you had invested $5,000 in CFMS, it could had been moved up to $8,250. It's not yet late, join us at info@tradersinsights.com
Rockwell Medical Inc (NASDAQ: RMTI): Premium Members Made A Quick 20% Profit In 24 Hours
Well, as we know there are two types of person in the stock market one is trader and another is investor. Investors tend to put money for longer time, while traders make short term bets. We know, its not at all easy to make money in the short term especially in the equity markets. However, premium members at Traders Insights are making awesome money on our calls on our swing trading calls. WE ARE OFFERING A SPECIAL 7-Day Trial Period at Just $5 (so that everybody can make money with us and join us if satisfied). Register Here http://tradersinsights.com/pricing/
JOIN US NOW: For Details Contact us at info@tradersinsights.com
Or You can send me a friend request on facebook here https://www.facebook.com/sebastian.gomestradersinsights
Now let me show you how we made quick 43% in just 1-week which was posted to our premium members:-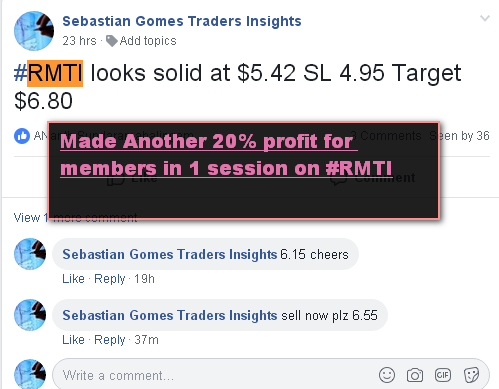 We told our members in facebook private group to buy Rockwell Medical Inc (NASDAQ: RMTI) yesterday (march 18th) at $5.42. Now look at the price of the stock – its up 20% at $6.55 from our buy price. This is how easy money they made. If you had invested $5,000 in RMTI, it could had been moved up to $6,000. It's not yet late, join us at info@tradersinsights.com
Sorrento Therapeutics Inc (NASDAQ: SRNE): Members Made A Hefty 15% Profit In 24 Hours
Well, as we know there are two types of person in the stock market one is trader and another is investor. Investors tend to put money for longer time, while traders make short term bets. We know, its not at all easy to make money in the short term especially in the equity markets. However, premium members at Traders Insights are making awesome money on our calls on our swing trading calls. WE ARE OFFERING A SPECIAL 7-Day Trial Period at Just $5 (so that everybody can make money with us and join us if satisfied). Register Here http://tradersinsights.com/pricing/
 JOIN US NOW: For Details Contact us at info@tradersinsights.com
 Or You can send me a friend request on facebook here https://www.facebook.com/sebastian.gomestradersinsights
Now let me show you how we made quick 43% in just 1-week which was posted to our premium members:-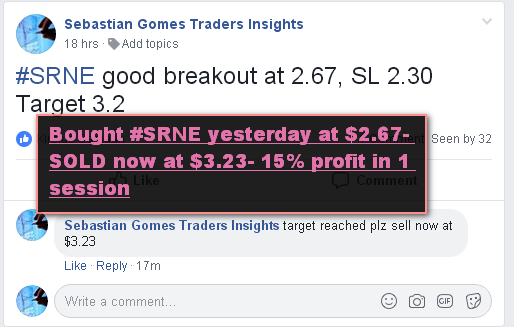 We told our members in facebook private group to buy Sorrento Therapeutics Inc (NASDAQ: SRNE) yesterday (march 18th) at $2.67. Now look at the price of the stock – its up 15% at $3.23 from our buy price. This is how easy money they made. If you had invested $5,000 in SRNE, it could had been moved up to $5,750.  It's not yet late, join us at info@tradersinsights.com