General Electric Company (NYSE: GE)'s Stock In focus After Latest Attempt To Rebound
After announcing it had reached a deal to sell its BioPharma business to Danaher, General Electric Company (NYSE: GE) continued showing investors that it is focused and serious on selling non-core assets in order to clean the balance sheet and return focus its core revenue-generating operations. The move not only freed up its balance sheet and increased investor confidence in the stock, but is expected to push off the IPO of its Healthcare unit to beyond 2019.
Why ASDN Could Massively Outperform GE in 2019
Heymann believes that GE received way more for its BioPharma business than what its worth. The analyst says that he "had estimated the Life Sciences business (including Biopharma) might be worth about $10 billion-$12 billion," of the Healthcare unit's total $46 billion-$48 billion enterprise value. Not only did GE receive significantly more than his estimate, but the company still retains some of its Life Sciences business.
As a result of the sale, Heymann says he has "increased [his] 2019 EPS estimate to $0.71 (from $0.58 previously) to reflect the expectation that all of GE Healthcare is now likely to be retained by GE throughout 2019 until Biopharma is sold to Danaher by year-end."
The analyst continues, "perhaps in early 2020, GE will then consider the IPO of its remaining healthcare operations. Instead of taking just under 50% of GE Healthcare public by midyear, if all of GE Healthcare is retained until year-end 2019, we estimate GE's recent industrial 2019 EBITDA forecast of $10.3 billion could rise by as much as $2.1 billion (roughly half our full-year estimate of GE Healthcare's 2019 EBITDA)."
ConforMIS Inc (NASDAQ: CFMS): Premium Members Made A Quick 65% Profit In Just 1 week
Well, as we know there are two types of person in the stock market one is trader and another is investor. Investors tend to put money for longer time, while traders make short term bets. We know, its not at all easy to make money in the short term especially in the equity markets. However, premium members at Traders Insights are making awesome money on our calls on our swing trading calls. WE ARE OFFERING A SPECIAL 7-Day Trial Period at Just $5 (so that everybody can make money with us and join us if satisfied). Register Here http://tradersinsights.com/pricing/
JOIN US NOW: For Details Contact us at info@tradersinsights.com
Or You can send me a friend request on facebook here https://www.facebook.com/sebastian.gomestradersinsights
Now let me show you how we made quick 43% in just 1-week which was posted to our premium members:-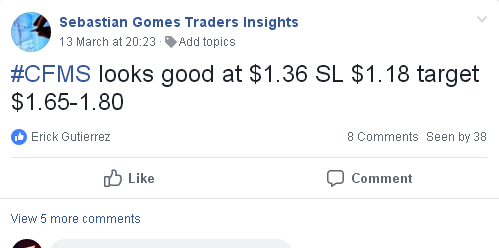 We told our members in facebook private group to buy ConforMIS Inc (NASDAQ: CFMS) yesterday (march 13th) at $1.36. Now look at the price of the stock – its up 65% at $2.25 from our buy price. This is how easy money they made. If you had invested $5,000 in CFMS, it could had been moved up to $8,250. It's not yet late, join us at info@tradersinsights.com
Rockwell Medical Inc (NASDAQ: RMTI): Premium Members Made A Quick 20% Profit In 24 Hours
Well, as we know there are two types of person in the stock market one is trader and another is investor. Investors tend to put money for longer time, while traders make short term bets. We know, its not at all easy to make money in the short term especially in the equity markets. However, premium members at Traders Insights are making awesome money on our calls on our swing trading calls. WE ARE OFFERING A SPECIAL 7-Day Trial Period at Just $5 (so that everybody can make money with us and join us if satisfied). Register Here http://tradersinsights.com/pricing/
JOIN US NOW: For Details Contact us at info@tradersinsights.com
Or You can send me a friend request on facebook here https://www.facebook.com/sebastian.gomestradersinsights
Now let me show you how we made quick 43% in just 1-week which was posted to our premium members:-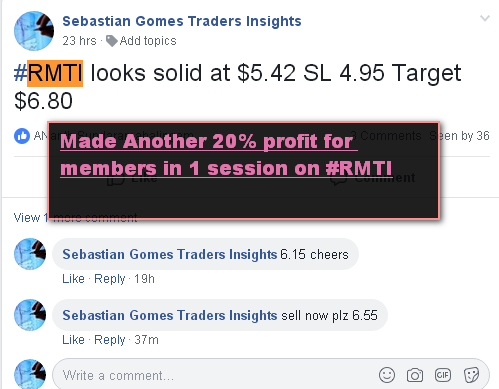 We told our members in facebook private group to buy Rockwell Medical Inc (NASDAQ: RMTI) yesterday (march 18th) at $5.42. Now look at the price of the stock – its up 20% at $6.55 from our buy price. This is how easy money they made. If you had invested $5,000 in RMTI, it could had been moved up to $6,000. It's not yet late, join us at info@tradersinsights.com
Sorrento Therapeutics Inc (NASDAQ: SRNE): Members Made A Hefty 15% Profit In 24 Hours
Well, as we know there are two types of person in the stock market one is trader and another is investor. Investors tend to put money for longer time, while traders make short term bets. We know, its not at all easy to make money in the short term especially in the equity markets. However, premium members at Traders Insights are making awesome money on our calls on our swing trading calls. WE ARE OFFERING A SPECIAL 7-Day Trial Period at Just $5 (so that everybody can make money with us and join us if satisfied). Register Here http://tradersinsights.com/pricing/
 JOIN US NOW: For Details Contact us at info@tradersinsights.com
 Or You can send me a friend request on facebook here https://www.facebook.com/sebastian.gomestradersinsights
Now let me show you how we made quick 43% in just 1-week which was posted to our premium members:-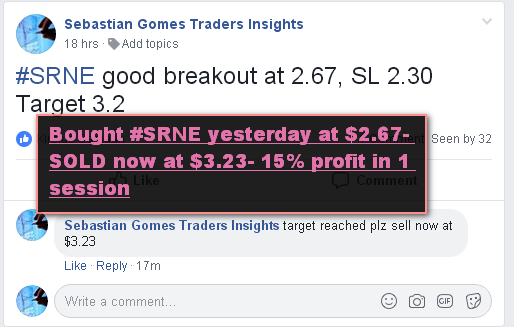 We told our members in facebook private group to buy Sorrento Therapeutics Inc (NASDAQ: SRNE) yesterday (march 18th) at $2.67. Now look at the price of the stock – its up 15% at $3.23 from our buy price. This is how easy money they made. If you had invested $5,000 in SRNE, it could had been moved up to $5,750.  It's not yet late, join us at info@tradersinsights.com