Gawk Inc. (OTCMKTS: GAWK) Positions Itself Within Two Growing Industries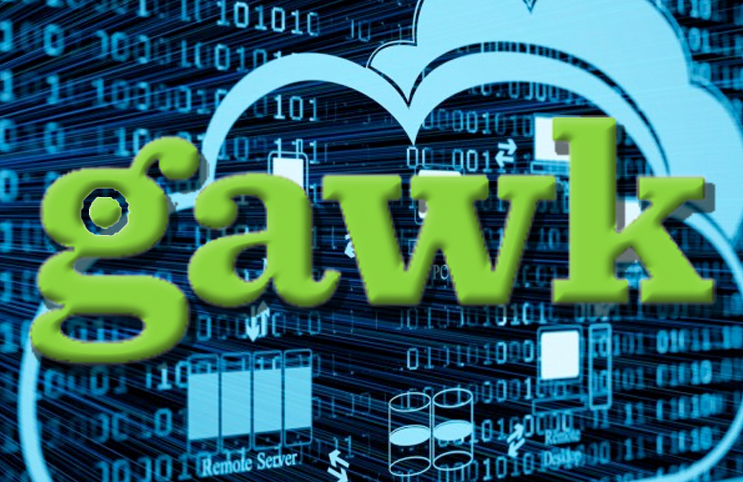 Both the cloud computing and telecommunications industries are projected to grow at steady rates in the coming years. A recent study has projected that cloud-computing infrastructure and platforms spending will increase at an annually compounded growth rate of nearly 30% from 2013 to 2018. Public cloud Infrastructure as a Service spending in 2015 was reported at $33 billion, while in 2016 it is projected to reach $50 billion, and grow to $104 billion as soon as 2018. This growth is accentuated by the fact that IT managers were polled and reported that cloud-computing is within their top three organizational focuses for the coming year.
Meanwhile, the telecommunication industry is positioned to grow at a steady rate as well. In 2015, the telecommunications industry grew at a rate of 2.2% with projected growth through 2019 remaining stable at a rate of over 2.0%. In 2014, North American spending on telecommunications was reported at $399 billion with 2017 spending projected to reach levels as high as $424 billion. In addition, Asian and Pacific spending on telecommunication services is expected to reach $568 billion after closing at reported levels of $519 billion in 2014.
The micro-cap company, Gawk, Inc. (OTCMKTS:GAWK), has been increasing its market share in both the telecommunication and cloud-computing industries through various acquisitions. Gawk, Inc. is in the business of meeting its client's telecommunication and cloud-computing needs through services that are global, can be utilized by companies of various sizes, and are cutting edge from a technical standpoint. Headquartered in Los Angeles, Gawk, Inc. has recently acquired three companies: Connexum LLC., WebRunners, Inc., and NetD Consulting, Inc. in an effort to orchestrate their mission to provide services of the utmost quality.
On February 23rd, the company released a statement to its shareholders highlighting its increasing revenue streams. The release displays how at the beginning of the past fiscal year, Gawk, Inc. (OTCMKTS:GAWK)'s revenues were nearing $19,000 a month, yet following its recent acquisition of Connexum LLC., their revenues were growing closer to $19,000 a day. This increase has launched Gawk, Inc. into becoming a positive net cash flow company, and no longer is dependent on outside capital to further its growth strategy. On December 17th, 2015, Gawk, Inc. released its quarterly report, which highlighted how its yearly revenue was up 1089% from the same time in the previous year. Meanwhile, the quarterly report also displayed how their annual operating expenses were reduced by 374% and their liabilities were reduced by $1,239,571 in the final quarter of 2015.
In a previous press release, Gawk, Inc. officially announced it's acquisition of Connexum LLC, which bolstered the companies standing within the telecommunications industry. When speaking on the acquisition's effect on his company, Gawk, Inc.'s CEO Scott Kettle said, "We now are also a Full Service business class telecom provider, providing Hosted PBX services, competing directly with 8X8, Vonage, and other market leaders… Our new software development team will accelerate our time to market with new, innovative features and customized solutions that our customers need, now and into the future." Kettle continued with his statement, now pertaining to his vision regarding further acquisitions in the future, "We are moving forward with negotiations for several data centers we have identified in the Midwest and on the East Coast. We have announced recently a series of important customer wins, and our business plan calls for a national chain of GAWK data centers, and expanding internationally from there."
The Connexum LLC acquisition press release was published on February 2nd, and the market reacted favorably to the announcement. Looking back to January 12th, GAWK closed at $0.0074, and then moving to the day of the press release, GAWK closed at $0.0089. Over this time period, Gawk, Inc.'s stock GAWK saw a total return of 20.27%. Looking more closely, GAWK grew at an average daily rate of 1.61% highlighting the equity's ability to grow steadily. However, the company also displayed its ability to produce returns to its shareholder's in short amounts of time. For example, on February 1st GAWK produced a daily return of 12.50% and then grew again the next day at a rate of 9.88%.
In summation, Gawk, Inc. offers its customers a premier suite of services to meet both their telecommunications and cloud-computing needs. Those two industries have shown steady recent historical growth, with projections in line with continuing this trend. Gawk, Inc. has grown, through acquisitions of profitable companies, to a point of sustained internal growth, and the market has since reflected this information.
ConforMIS Inc (NASDAQ: CFMS): Premium Members Made A Quick 65% Profit In Just 1 week
Well, as we know there are two types of person in the stock market one is trader and another is investor. Investors tend to put money for longer time, while traders make short term bets. We know, its not at all easy to make money in the short term especially in the equity markets. However, premium members at Traders Insights are making awesome money on our calls on our swing trading calls. WE ARE OFFERING A SPECIAL 7-Day Trial Period at Just $5 (so that everybody can make money with us and join us if satisfied). Register Here http://tradersinsights.com/pricing/
JOIN US NOW: For Details Contact us at info@tradersinsights.com
Or You can send me a friend request on facebook here https://www.facebook.com/sebastian.gomestradersinsights
Now let me show you how we made quick 43% in just 1-week which was posted to our premium members:-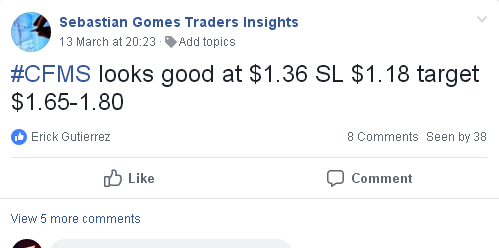 We told our members in facebook private group to buy ConforMIS Inc (NASDAQ: CFMS) yesterday (march 13th) at $1.36. Now look at the price of the stock – its up 65% at $2.25 from our buy price. This is how easy money they made. If you had invested $5,000 in CFMS, it could had been moved up to $8,250. It's not yet late, join us at info@tradersinsights.com
Rockwell Medical Inc (NASDAQ: RMTI): Premium Members Made A Quick 20% Profit In 24 Hours
Well, as we know there are two types of person in the stock market one is trader and another is investor. Investors tend to put money for longer time, while traders make short term bets. We know, its not at all easy to make money in the short term especially in the equity markets. However, premium members at Traders Insights are making awesome money on our calls on our swing trading calls. WE ARE OFFERING A SPECIAL 7-Day Trial Period at Just $5 (so that everybody can make money with us and join us if satisfied). Register Here http://tradersinsights.com/pricing/
JOIN US NOW: For Details Contact us at info@tradersinsights.com
Or You can send me a friend request on facebook here https://www.facebook.com/sebastian.gomestradersinsights
Now let me show you how we made quick 43% in just 1-week which was posted to our premium members:-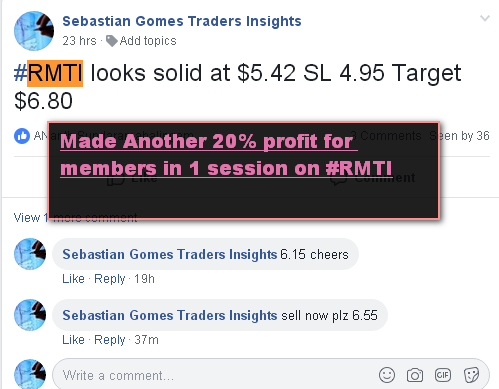 We told our members in facebook private group to buy Rockwell Medical Inc (NASDAQ: RMTI) yesterday (march 18th) at $5.42. Now look at the price of the stock – its up 20% at $6.55 from our buy price. This is how easy money they made. If you had invested $5,000 in RMTI, it could had been moved up to $6,000. It's not yet late, join us at info@tradersinsights.com
Sorrento Therapeutics Inc (NASDAQ: SRNE): Members Made A Hefty 15% Profit In 24 Hours
Well, as we know there are two types of person in the stock market one is trader and another is investor. Investors tend to put money for longer time, while traders make short term bets. We know, its not at all easy to make money in the short term especially in the equity markets. However, premium members at Traders Insights are making awesome money on our calls on our swing trading calls. WE ARE OFFERING A SPECIAL 7-Day Trial Period at Just $5 (so that everybody can make money with us and join us if satisfied). Register Here http://tradersinsights.com/pricing/
 JOIN US NOW: For Details Contact us at info@tradersinsights.com
 Or You can send me a friend request on facebook here https://www.facebook.com/sebastian.gomestradersinsights
Now let me show you how we made quick 43% in just 1-week which was posted to our premium members:-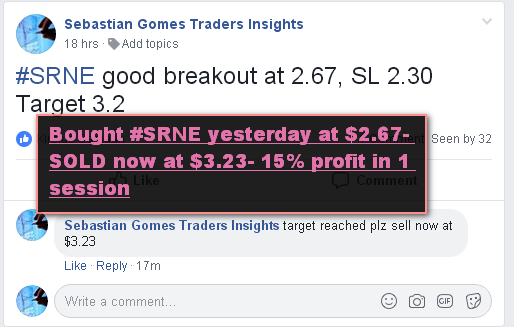 We told our members in facebook private group to buy Sorrento Therapeutics Inc (NASDAQ: SRNE) yesterday (march 18th) at $2.67. Now look at the price of the stock – its up 15% at $3.23 from our buy price. This is how easy money they made. If you had invested $5,000 in SRNE, it could had been moved up to $5,750.  It's not yet late, join us at info@tradersinsights.com