Corn Futures Fall Down by 1.7%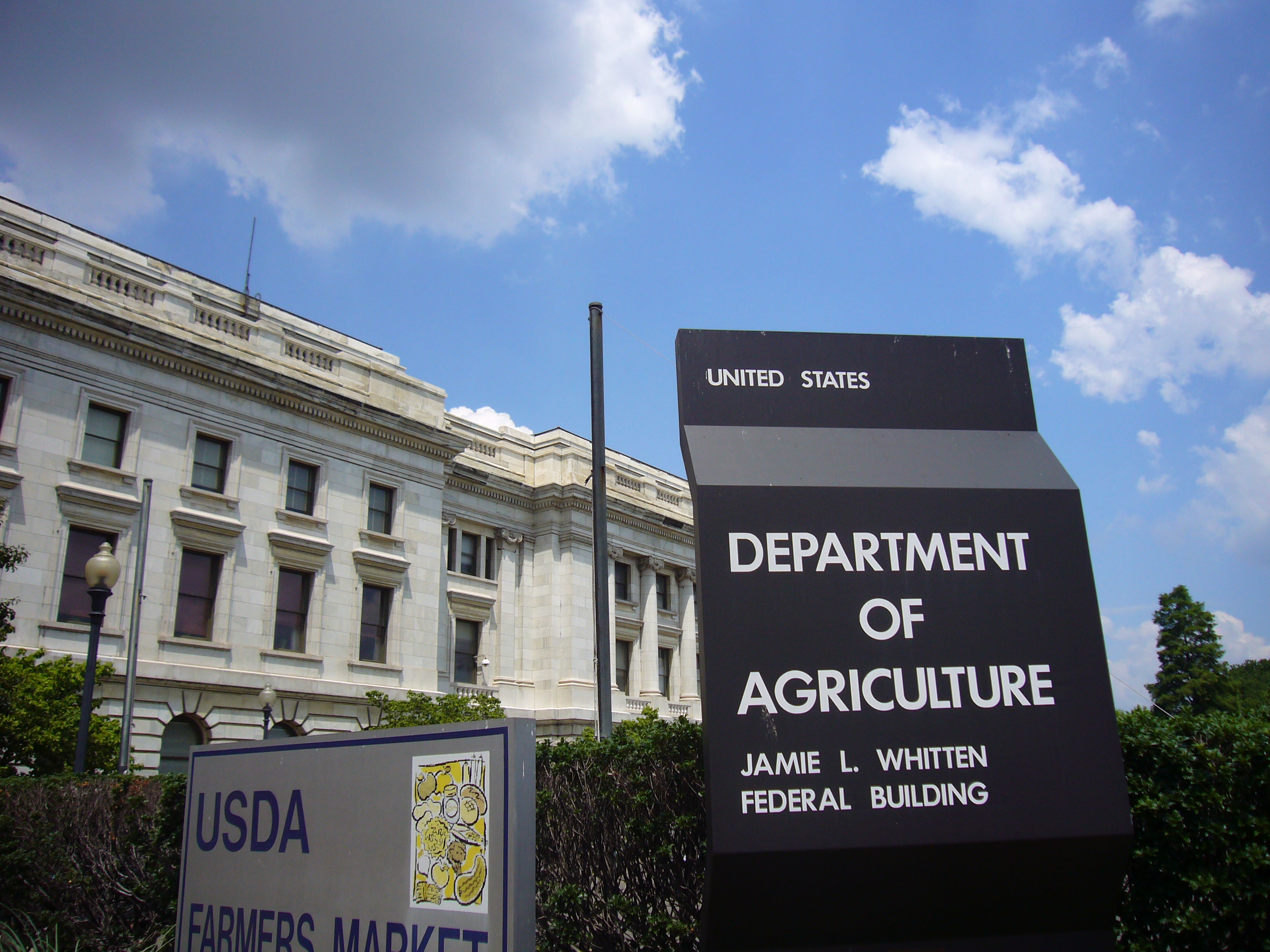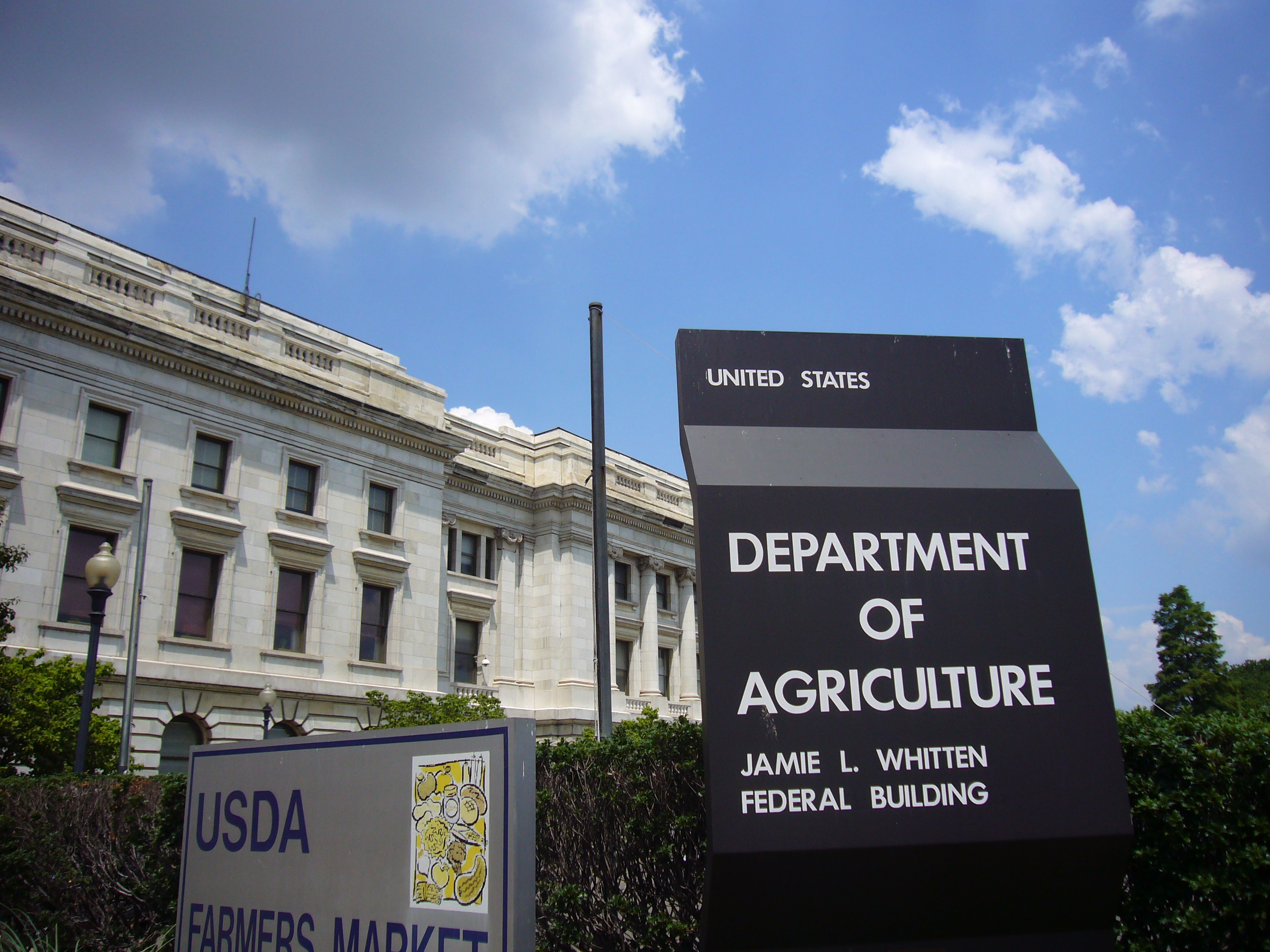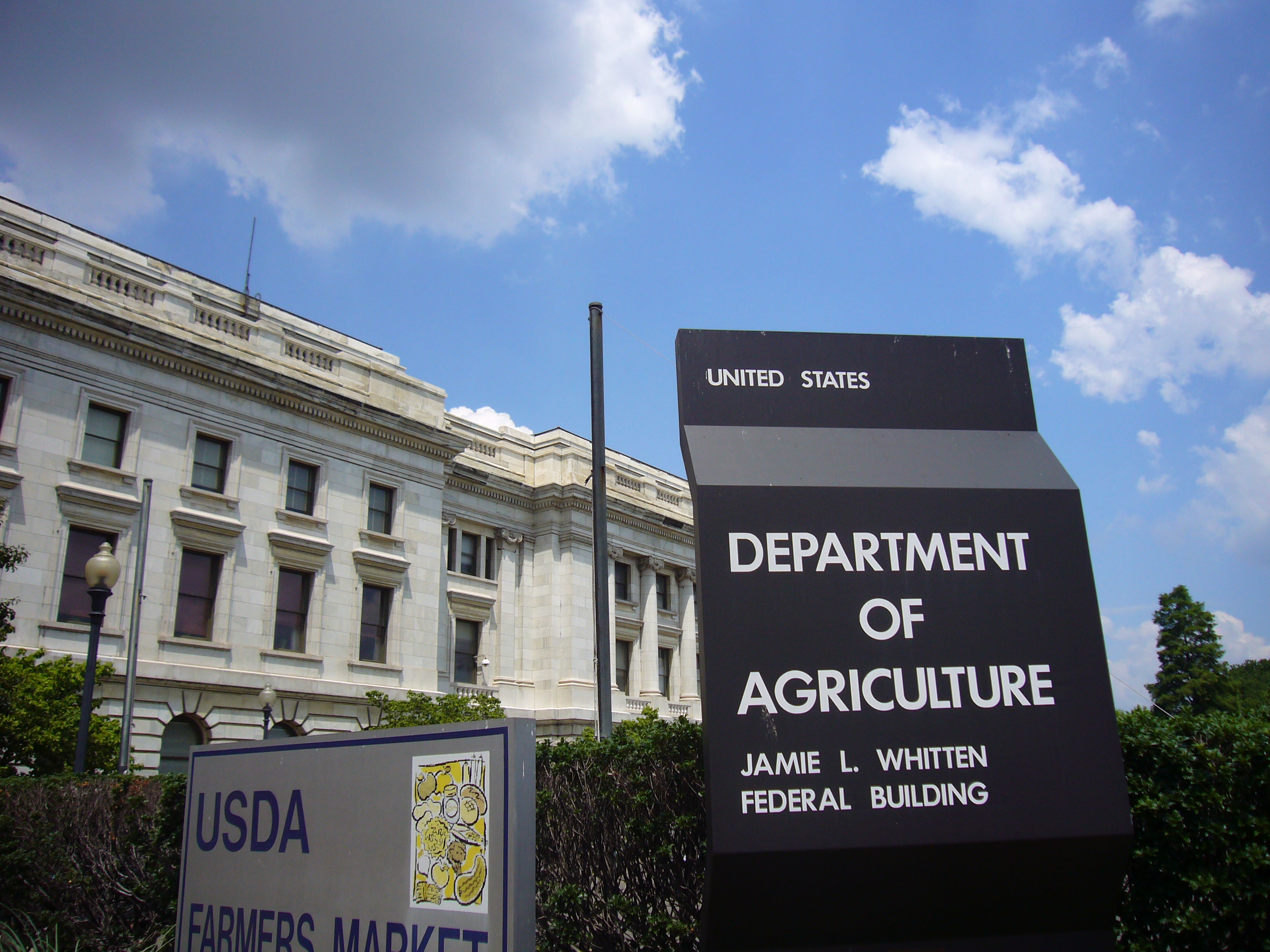 Corn futures dropped 1.7 percent accompanied by renewed concerns regarding the moderate export demand for the crop. At the Chicago Board of Trade, December delivery of Corn fell 12.5 cents to $7.42 a bushel, lowering the front-month contract by one-week.
According to the U.S. Department of Agriculture, the net export sales of corn for the whole week till October 18 are 142,300 metric tons, which was below the estimates of the analysts who assessed it to be around 150,000 to 375,000 tons. The drop in the percentage came after the report was released.
The report highlighted that the foreign importers, Japan and China had bypassed the U.S corn after the prices raised to peak due to severe drought that damaged the crops during the last summer.
Steve DeCook, President of Four Seasons Commodities Corp., said that the sales figures were not good and it hasn't been good for many weeks now. He said that there was no reason to buy the corn. Four Seasons Commodities Corp is an advisory firm that manages around $40 million.
Corn futures dropped to 10.7 percent from their all-time closing of $8.3125 a bushel on 21 August, forced by weak demand as the peak prices prevented corn buyers.
Both the production and sales from exports of corn-based ethanol have drooped down, and the traders are worried about the reducing demand from poultry farmers and livestock, who use corn for animal feed.
Earlier this year, the purchase of the U.S corn was very high by China, but it gradually slowed down due to the raise in the price. Exports to Taiwan, Japan, and South Korea so far this year are dull from last year.
The analysts are warning that with the rigid supplies, the price of the corn needs to remain high to maintain the demand down. Farmers have almost done harvesting the corn crop; it will be the smallest USDA project in six years.
Mr. DeCook said "If you get up to $8 [a bushel] then you lose the demand, but we can't really afford to break it to $7 or lower because then there's too much demand for the size of crop we had."
Wheat futures are also falling due to the pressures from worse corn prices. Wheat and corn move in cycle as both grains are required to feed the animals. Wheat futures fell 1 percent, which was its huge loss in two weeks.
Soyabean futures also fell on Thursday, after having gains in past three days.
ConforMIS Inc (NASDAQ: CFMS): Premium Members Made A Quick 65% Profit In Just 1 week
Well, as we know there are two types of person in the stock market one is trader and another is investor. Investors tend to put money for longer time, while traders make short term bets. We know, its not at all easy to make money in the short term especially in the equity markets. However, premium members at Traders Insights are making awesome money on our calls on our swing trading calls. WE ARE OFFERING A SPECIAL 7-Day Trial Period at Just $5 (so that everybody can make money with us and join us if satisfied). Register Here http://tradersinsights.com/pricing/
JOIN US NOW: For Details Contact us at info@tradersinsights.com
Or You can send me a friend request on facebook here https://www.facebook.com/sebastian.gomestradersinsights
Now let me show you how we made quick 43% in just 1-week which was posted to our premium members:-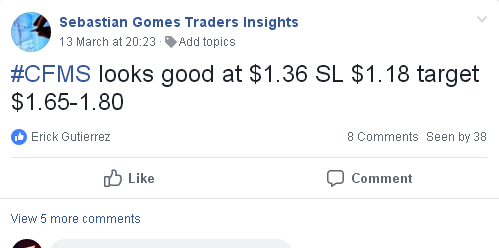 We told our members in facebook private group to buy ConforMIS Inc (NASDAQ: CFMS) yesterday (march 13th) at $1.36. Now look at the price of the stock – its up 65% at $2.25 from our buy price. This is how easy money they made. If you had invested $5,000 in CFMS, it could had been moved up to $8,250. It's not yet late, join us at info@tradersinsights.com
Rockwell Medical Inc (NASDAQ: RMTI): Premium Members Made A Quick 20% Profit In 24 Hours
Well, as we know there are two types of person in the stock market one is trader and another is investor. Investors tend to put money for longer time, while traders make short term bets. We know, its not at all easy to make money in the short term especially in the equity markets. However, premium members at Traders Insights are making awesome money on our calls on our swing trading calls. WE ARE OFFERING A SPECIAL 7-Day Trial Period at Just $5 (so that everybody can make money with us and join us if satisfied). Register Here http://tradersinsights.com/pricing/
JOIN US NOW: For Details Contact us at info@tradersinsights.com
Or You can send me a friend request on facebook here https://www.facebook.com/sebastian.gomestradersinsights
Now let me show you how we made quick 43% in just 1-week which was posted to our premium members:-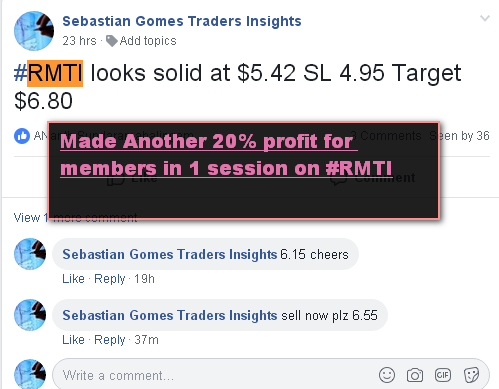 We told our members in facebook private group to buy Rockwell Medical Inc (NASDAQ: RMTI) yesterday (march 18th) at $5.42. Now look at the price of the stock – its up 20% at $6.55 from our buy price. This is how easy money they made. If you had invested $5,000 in RMTI, it could had been moved up to $6,000. It's not yet late, join us at info@tradersinsights.com
Sorrento Therapeutics Inc (NASDAQ: SRNE): Members Made A Hefty 15% Profit In 24 Hours
Well, as we know there are two types of person in the stock market one is trader and another is investor. Investors tend to put money for longer time, while traders make short term bets. We know, its not at all easy to make money in the short term especially in the equity markets. However, premium members at Traders Insights are making awesome money on our calls on our swing trading calls. WE ARE OFFERING A SPECIAL 7-Day Trial Period at Just $5 (so that everybody can make money with us and join us if satisfied). Register Here http://tradersinsights.com/pricing/
 JOIN US NOW: For Details Contact us at info@tradersinsights.com
 Or You can send me a friend request on facebook here https://www.facebook.com/sebastian.gomestradersinsights
Now let me show you how we made quick 43% in just 1-week which was posted to our premium members:-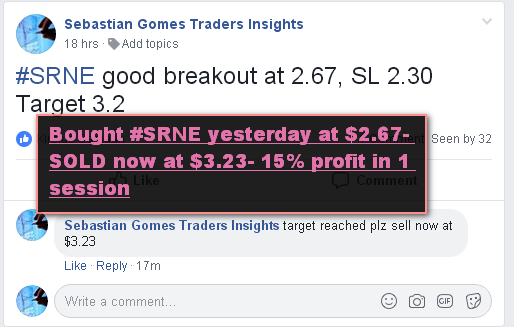 We told our members in facebook private group to buy Sorrento Therapeutics Inc (NASDAQ: SRNE) yesterday (march 18th) at $2.67. Now look at the price of the stock – its up 15% at $3.23 from our buy price. This is how easy money they made. If you had invested $5,000 in SRNE, it could had been moved up to $5,750.  It's not yet late, join us at info@tradersinsights.com